Customized Capacitive Touch Screen Industrial Computer
The TouchThink capacitive touch screen industrial computer is a fully-integrated all-in-one panel PC' it
combines high-reliability self-developed projected capacitive touch technology (PCT or PCAP) in an in-
dustrial-grade flat panel, the front panel IP65 rated dust-proof and water-proof protection. This PCAP
technology is a capacitance system that delivers sensitive and accurate two-touch interactive experience,
together with self-developed tempered glass cover. Touch Think industrial widescreen multi-point flat
panel displays are widely used in industrial automation, transport system, medical, healthcare, education,
hospitality, security systems, koisk, as well as other various interactive digital signage applications.
Touch Think 4th Generation Industrial Panel PC Display

Features of Touch Think Industrial All in One PC:
1. The 4th generation industrial panel PC adopts newest design, elegant and full of sense of modernity.
2. Fanless heating-dissipation, better protection for inner electronic components.
3. Self-developed motherboard with industrial-grade level, GB2423 standard anti-vibration, components
are well-protected, which prolongs the whole industrial panel PC's service life.
4. The industrial panel PC is pre-installed with Win 7 OS, and we also support software customization
service, for detailed information, please feel free to contact us directly.
5. The industrial panel PCs adopts aluminum alloy material, better heating-dissipation, and strong anti-
oxidant capacity.
6. Full-flat front panel with IP65 rated dust-proof and water proof, well-performanced under wet environ-
ments and outdoor devices, such as self-service vending machines, express cabinets, ATM, etc.
7. The industrial panel PC offer multi-interfaces for various of application, we also support customization

service for interfaces expansion.
8. Self-developed industrial grade motherboard, support upgrade configuration version.
9. Touch Think offer full screen sizes for the panel PC, from 8-inch to 21.5-inch.
Comprehensive Customization Service for Touch Think Industrial All-in-one PC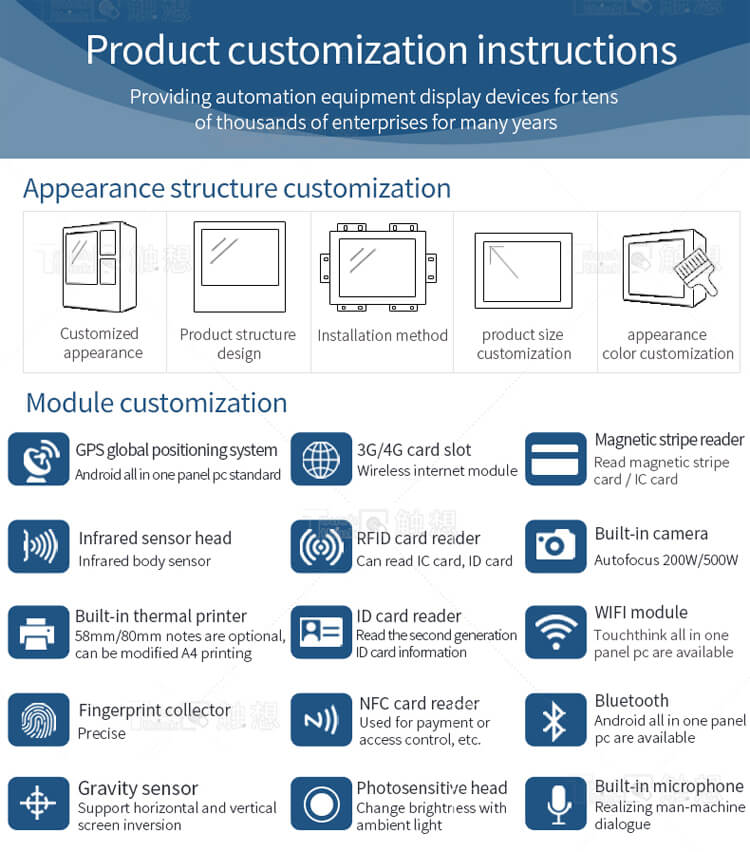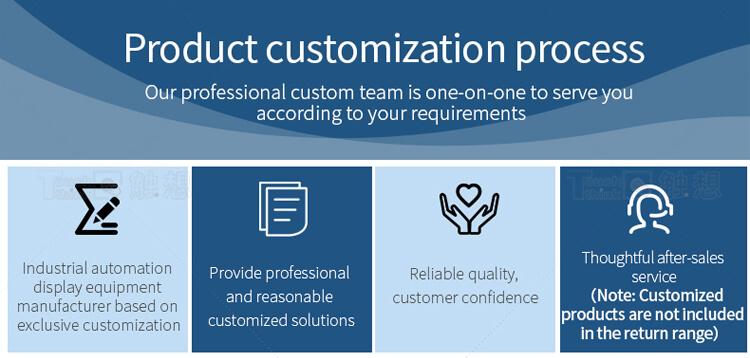 1. Get understanding of customer's requirements and plans of the project.
2. Offer professional and effective solutions as suggestion.
3. Technical agreement will be signed after evaluated the possibility of customized products.
4. Product design, production and function test will be provided by our experienced project engineer.
5. Trial production for the purpose of sample test.
6. Offer high quality product and mass production for customer.