Desktop All In One Computer Industrial Grade 11.6"
Touch Think standard industrial touchscreen PCs. All-in-one and rugged tablets are produced to
perform perfect and stable under extreme industrial environments. Designed with the newest indus-
trial aesthetic appearance, full of sense of technology and modernity. More durable and impact resis-
tant. We can customize industrial grade panel PCs for many application and workstation condition.
The industrial computers adopt latest electronic components and core parts to ensure offer high-lever
performance tablets for customers.
Touch Think Industrial Panel PC Display

Touch Think All In One Computer Features
1. It adopts J1900 industrial-grade quad-core processor, which can run multiple web pages smoothly.
2. Aluminum alloy materials structure and shell, more durable and better heating-dissipation, low power
consumption.
3. Compact-designed body, support running for a long time under harsh environments.
4. We pay more attention to reliability, environmental adaptability, real-time performance,
5. Interfaces support I/O expansion.
6. Strong compatibility for OS. Widely used in industrial control, military, communications, electro power,
network, AI, IoT and other intelligent fields.
7. TFT LCD display with LED backlight.
8. Fanless design with Celeron® processor.
9. Aluminun alloy enclosure and IP65-rated front bezel.
10. Easy access RAM design and storage.
11. Supports desktop stand and panel mount, wall mount, VESA arm.
12. Programmable OSD function key on the back panel.
Customization Service for Touch Think Industrial All-in-one PC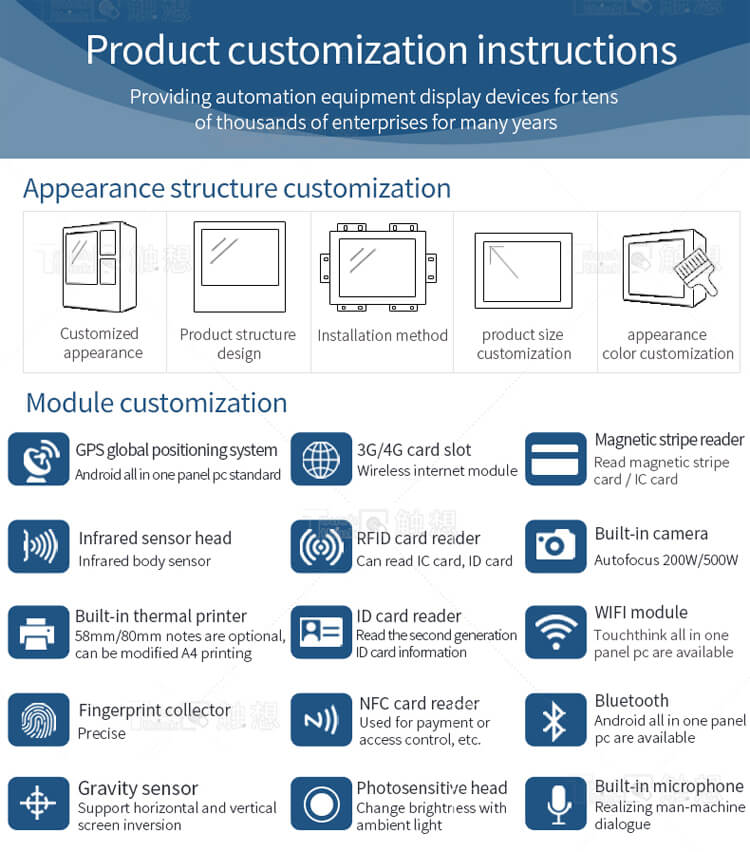 Application of Touch Think Industrial Panel PC