Android Touchscreen Tablet PC & Panel PC for Industrial Control
Touch Think industrial Android tablet PC with HMI touch screen panel offers comfortable touching control & display experience for users. Based on Touch Think's independent R&D and cost-control department, these industrial tablet PCs are produced with affordable, reliable, and stable performance, suitable for industrial automation fields, such as process control, PLC system, Internet of Things (IoT), smart building automation, smart education, HVAC control, access control, check-in systems, visitor authorization, room reservation, room scheduling, interactive security systems, interactive patient room information displays, as well as interactive scheduling systems in hotels, campus, government, and hospitals.
And these industrial-grade Android all-in-one panel PCs support PoE technology features a system that safely transfers electrical power, along with data, to remote devices over standard category 5 cable in an Ethernet network. It does not require modification of the existing Ethernet cabling infrastructure, so deployment is simplified. The panel PC support kinds of customization service on terms of functional modules, screen sizes, installation methods, etc.
Touch Think Industrial Android All-in-one Panel PC Display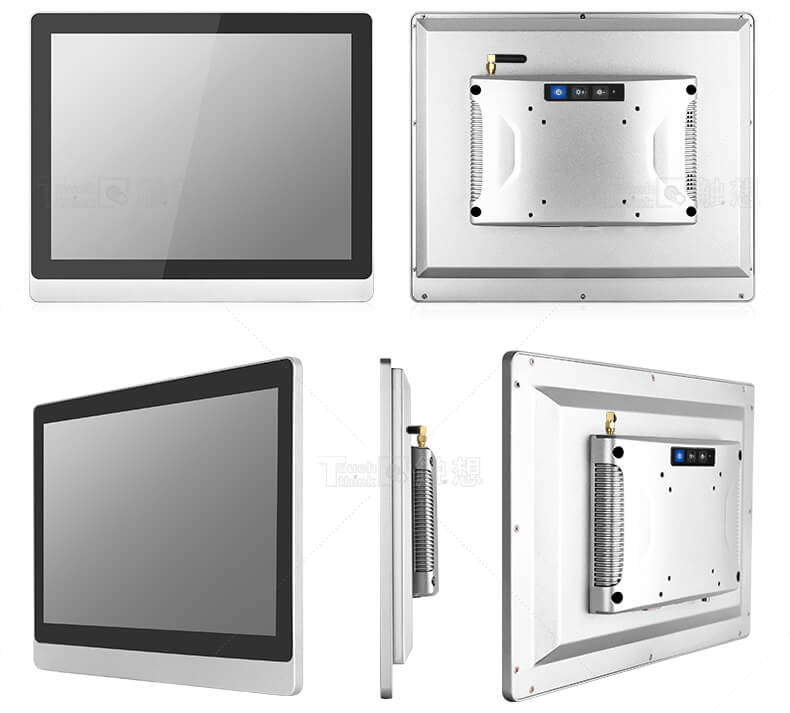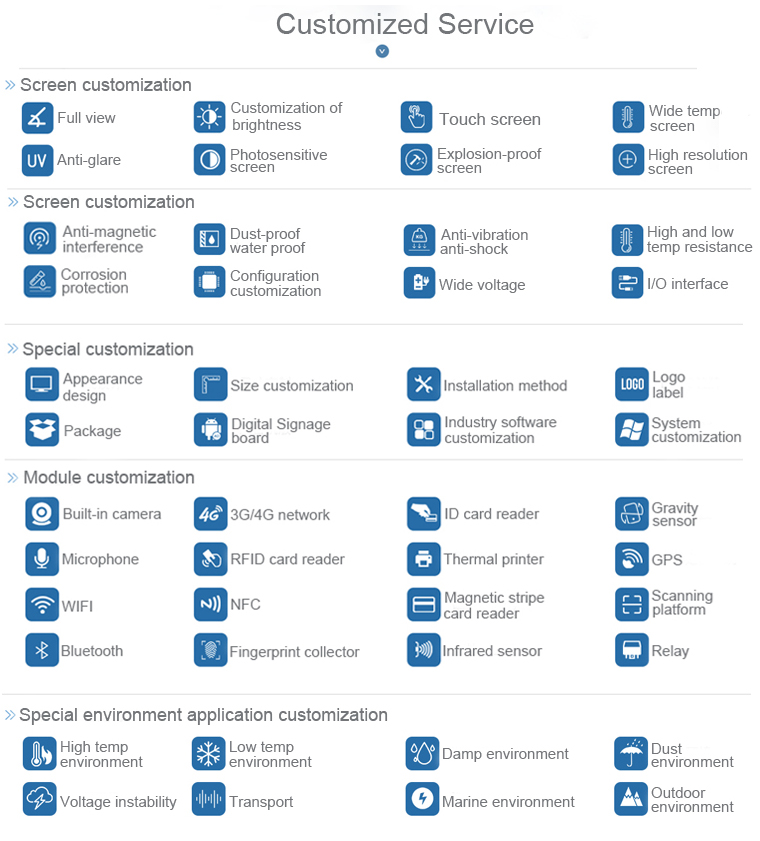 Touch Think All-in-one Android PC Features
1. Full-flat seamless front panel design, easy to maintain, suitable for embedded installation.
2. IP65 rated waterproof and dustproof, effectively withstanding the infiltration of dust and water vapor.
3. Aluminum alloy shell offers a strong antioxidant performance.
4. Surface hardness of screen up Mohs' 7H level, providing well impact resistance.
5. Shock-proof, high and low-temperature resistance, working temperature range up to - 20 ~70°C.
6. The rear cover of the panel PC designed with a circular arc structure, good for heat dissipation.
7. Anti-EMI: it meets the EMI/EMC standards, performs perfectly in harsh conditions.
8. Reserved dustproof and waterproof speaker hole: adopting the industrial sound transmission material.
9. External key adjustment function: built-in button for adjusting screen brightness, it reduced complex and tedious operation.
10. Low power consumption due to advanced heating-dissipation features.
11. Short boot-up time, generally only a few seconds.
12. Excellent performance in terms of video multimedia, data communication, and other aspects.
13. Supports the plug-and-play function.
14. Industrial-grade motherboards for harsh environment,
15. Working temperature: - 20 ~ +70 degrees Celsius.
16. Support multi installation methods for different applications.