10.1" LCD Displays For Mobile Medical Carts
Model: TPC101-MT02
This Touch Think LCD monitor with medical-grade quality and performance, is a medical LCD display, specially designed for mobile medical carts or medical workstations, with its shockproof, anti-interference, anti-static, radiation-resistant, dustproof, and waterproof, etc. This medical cart monitor adopts RTD2513 chip, ESD up to ±8KV/±15KV, avoid some problems such as grey screen, grainy and pixelated screen. It is suitable for hospitals' strong electromagnetic environments, fully meeting mobile medical carts' various requirements, providing multi-functions in medical applications.
Product Features
● LCD display: 10.1-inch / 1280*800 / 16:10.
● Touchscreen: Multi-touch capacitive technology, supports touch by wearing gloves.
● Medical EN60601-1 certified.
● Aviation interface design: dust-proof, waterproof, oil-proof, shock-proof and fall off.
● Front panel IP65 dustproof and waterproof: effectively prevent damage from splashed water droplets.
● High and low-temperature resistance: The whole monitor is resistant to high and low temperatures, up to -20℃~+70℃.
● 12-36V wide voltage power supply: Effectively respond to voltage instability and trouble-free operation.
● Designed to meet requirements of medical carts, including shockproof, anti-interference, anti-static, dustproof, and waterproof.
● Adopting RTD2513 chip configuration, internal anti-interference layout, to prevent problems like gray screen, screen particles.
● High adaptability to the strong electromagnetic environment in the hospital.
● Support multiple installation methods (VESA, wall-mounted, adjustable ceiling-mounted, 360-degree rotating ball head mount, standing mounted).
● Self-developed industrial-grade display driver board with outstanding performance.
● Rich interfaces support I/O ports expansion.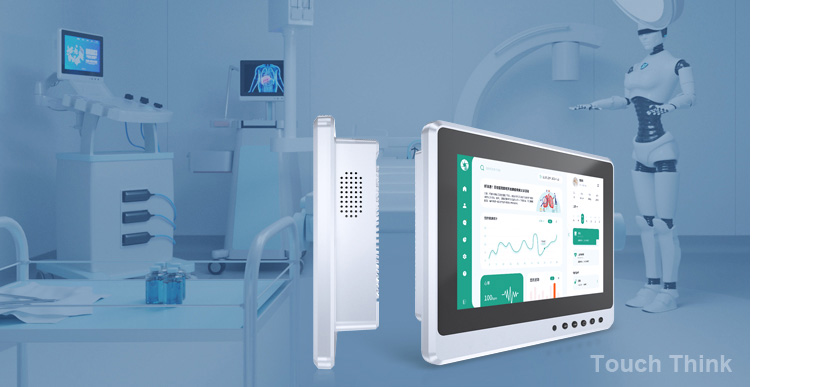 ---