Wall Mounted Industrial PCs 10.1 Inch
Touch Think newest designed industrial all-in-one panel PCs are durable and reliable under harsh environ-
ments. Supporting wall-mounted for various of industrial or commercial terminal applications. OEM/ODM
service for global customers is available. We have provided numbers of one-step solution for customers from
industrial automation fields, IoT, artificial intelligent and commercial terminal device etc.

Features of Touch Think Industrial All in One PC:
1. Touch Think newest generation of industrial tablet PCs use fashion and modern design.
2. Fan-free for heat-dissipation, good heating-dissipation, inner electronic components are well-protected.
3. Self-developed main board with industrial-grade quality, offer reliable operation in industrial conditions.
4. Pre-installed with Win 7 operation system, other Windows version is available.
5. Aluminum alloy material housing for better heating-dissipation and strong antioxidant capacity.
6. True flat panel with IP65 rated dust-proof and waterproof, well-performanced under wet environments and
outdoor projects, such as self-service vending machines, express cabinets, etc.
7. Multiple interfaces to meet your needs: DC, HDMI, VGA, RJ-45, USB, and COM. Offer I/O expansion.
8. Standard configuration for motherboard, support upgrade version according to requirements.
Comprehensive Customization Service for Touch Think Industrial All-in-one PC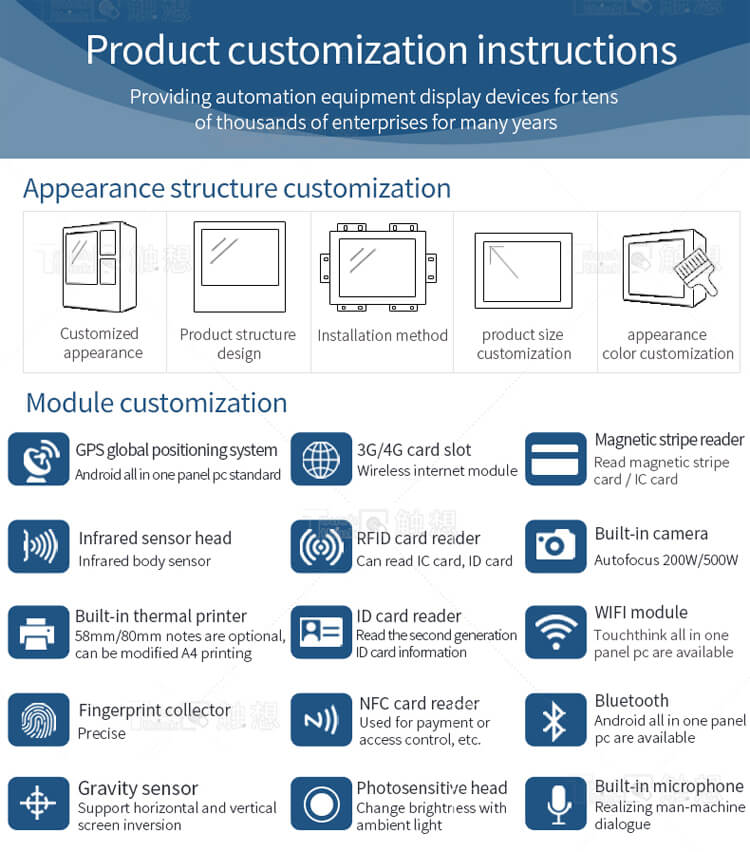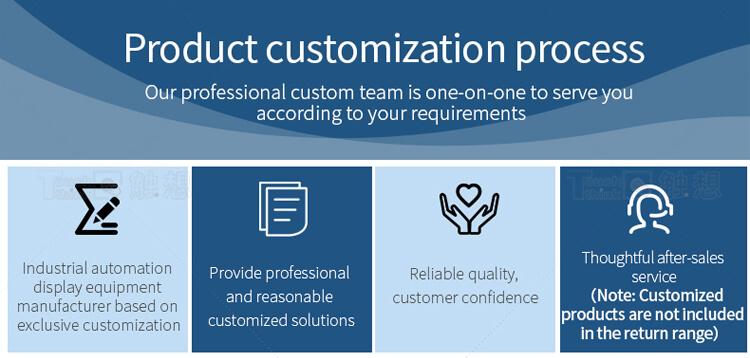 1. Get understanding of customer's requirements and plans of the project.
2. Offer professional and effective solutions as suggestion.
3. Technical agreement will be signed after evaluated the possibility of customized products.
4. Product design, production and function test will be provided by our experienced project engineer.
5. Trial production for the purpose of sample test.
6. Offer high quality product and mass production for customer.