Industrial Touch Panel Computer with VESA Mount for Food, Chemical Production Line
Touch Think 10.4 inch Windows system industrial touch PC is perfect for fields like food, chemical, and outdoor workstation. Supporting VESA mount in these applications. They're designed to meet durability standards in harsh industrial conditions, IP65 rated dustproof and water-proof, also, anti-vibration, anti-interference. Support interfaces, appearance, and functional modules customizable.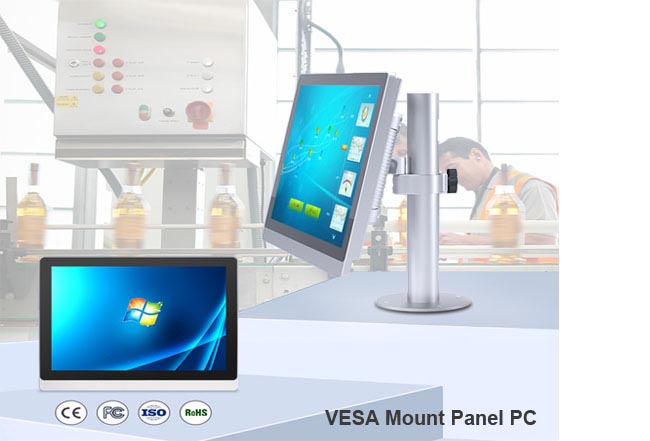 Touch Think Industrial Panel PC Features
● Industrial technology appearance, thin frame design, small size, wide picture display.
● 10mm thickness for the front panel, stronger impact-resistant in harsh environments. Arc edge angle design, good touching experience for the operator.
● IP65 rated dust-proof and waterproof, light and thin for whole panel PC, which meets the development trend for industrial panel PC.
● Self-developed motherboard, more stable performance, lower power consumption.
● Professional independent R&D team to provide comprehensive technical support.
● The industrial panel PC is a pre-installed Windows system, supports other system customization.
● Wide operating temperature range: -10°C to +60°C.
● Fanless design with Intel® Core™ J1900 processor.
● Optional Wi-Fi/3G/4G kit for wireless network connectivity.
● Supports VESA 75/100mm and suspension mount.
● Industrial-grade connectors for harsh environments.
---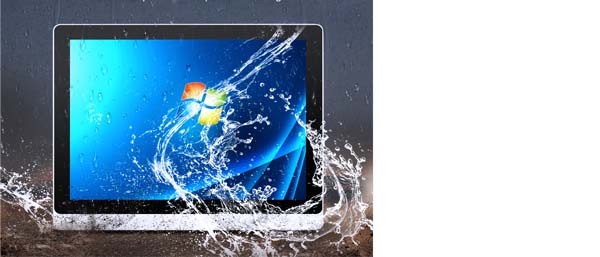 IP65 Panel PC Industrial-Grade
Touch Think is a leading manufacturer that provides 7" to 23.8" IP65-rating industrial touch panel PCs with a fanless design that support Intel Core i3/ i5/ i7 processors.
The Touch Think 4th-GEN series was developed for factory sites, like food packaging, processing, and pharmaceutical industries, where there is a need for water-resistant devices that can withstand daily washdowns to keep a clean production facility.
---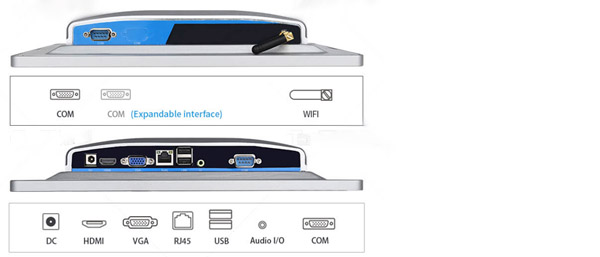 Multi-I/O Interfaces
This fanless Industrial Panel PC with rich I/O ports, be able to meet your various different industrial computing projects, especially suitable for space-limited.
---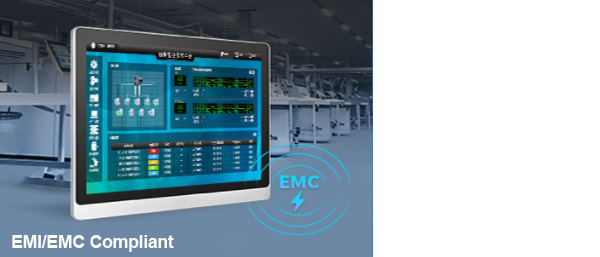 EMC & EMI Certified Industrial HMI Panel PC
Touch Think's HMI panel PCs are designed for equipment manufacturing, production lines, assembly lines, meeting Electromagnetic Compatibility (EMC) Standards and Certifications.
---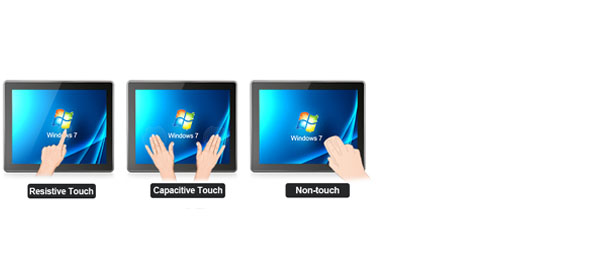 Types of Touch Screen Panel PCs
There are three basic types of touch screen displays for this industrial panel PC: resistive, capacitive, and Non-touch(That is mouse control). Resistive and capacitive touch screens are the most common.
Supports glass-cover, bonding, anti-glare, etc.
---
VESA Mount Panel PC - Product Model Quick Guide
| | | | | | |
| --- | --- | --- | --- | --- | --- |
| Model | LCD Display | Resolution | Aspect Ratio | Touch Screen Type | Get A Quote Now! |
| TPC070-W-QD | 7" | 1024*600 | 16:9 | Capacitive / Resistive / Non-touch | Inquiry |
| TPC080-W-QD | 8" | 1024*768 | 4:3 | Capacitive / Resistive / Non-touch | Inquiry |
| TPC101-W4 | 10.1" | 1280*800 | 16:10 | Capacitive / Resistive / Non-touch | Inquiry |
| TPC104-W4 | 10.4" | 1024*768 | 4:3 | Capacitive / Resistive / Non-touch | Inquiry |
| TPC116-W4 | 11.6" | 1920*1080 | 16:9 | Capacitive / Resistive / Non-touch | Inquiry |
| TPC120-W4 | 12" | 1024*768 | 4:3 | Capacitive / Resistive / Non-touch | Inquiry |
| TPC150-W4 | 15" | 1024*768 | 4:3 | Capacitive / Resistive / Non-touch | Inquiry |
| TPC156-W4 | 15.6" | 1920*1080 | 16:9 | Capacitive / Resistive / Non-touch | Inquiry |
| TPC170-W4 | 17" | 1280*1024 | 5:4 | Capacitive / Resistive / Non-touch | Inquiry |
| TPC173-W4 | 17.3" | 1920*1080 | 16:9 | Capacitive / Resistive / Non-touch | Inquiry |
| TPC190-W4 | 19" | 1280*1024 | 5:4 | Capacitive / Resistive / Non-touch | Inquiry |
| TPC191-W4 | 19.1" | 1440*900 | 16:10 | Capacitive / Resistive / Non-touch | Inquiry |
| TPC215-W4 | 21.5" | 1920*1080 | 16:9 | Capacitive / Resistive / Non-touch | Inquiry |
| TPC238-W4 | 23.8" | 1920*1080 | 16:9 | Capacitive / Resistive / Non-touch | Inquiry |
---