Industrial Grade 11.6 Inch LCD Monitor 16: 9 Wide Screen LCD Monitor Display
Rugged panel mount industrial monitor with 11.6 inch color LCD display. Housed in aluminum alloy bezel
enclosure, this rugged monitor is suitable for industrial environments, military applications. A variety of other
options are also available in terms of color, size, thickness of front bezel, so you can customize this monitor
to fit all your applications.
Touch Think Industrial Computer Monitor Display


Touch Think Industrial Monitor Details:
Allowing the sound directly produce from computing device with integrated stereo speakers


USB and HDMI interface used for connecting user's computer device by cable, and support other

ports expansion customization.

11.6-inch industrial LCD display with On Screen Display (OSD) on back panel

Aluminum alloy air-craft grade bezel enclosure, durable, better heating-dissipation.

Rugged flat panel fittable for limited-space, perfect-embedded any cabinets, reduces power con-

sumption.

Designed for harsh industrial applications and commercial terminal devices, outdoor self-service

equipments.

Resolution of 1920×1080, offer high brightness to meet customers' viewing needs.

Offer anti-scratch resistive touch screen and flexible multi-point capacitive touch, non-touch is

available.

Support multi-version of Windows, Linux and Android OS.
Touch Think Industrial Monitor Customer Case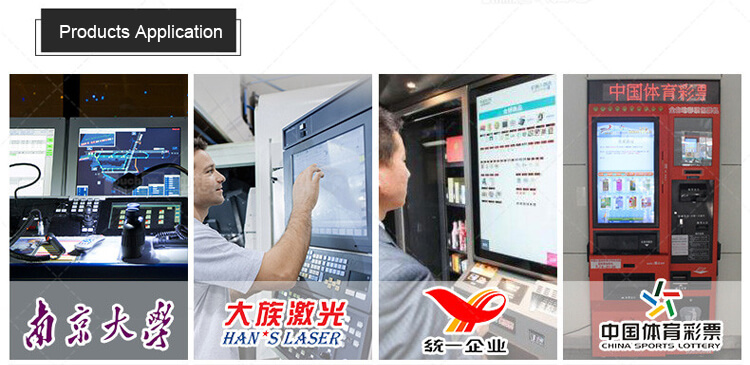 1. Nanjing University Lab: Touch Think 3mm embedded monitor are applied in Nanjing University Lab, it
requires perfect anti-interference, and well-performed under extreme temperature laboratory environments.
2. HAN'S LASER: Touch Think 3mm embedded monitors are applied in Han's Laser production line, it re-
quires fast running speed, high efficiency in data processing.
3. UNI-PRESIDENT: Touch Think industrial monitors are applied in UNI-PRESIDENT's Android panel PC
terminal self-service machines. It support long-time running, up to 7*24 hours without interruption.
4. China Sport Lottery: Touch Think industrial monitors are applied in China Sport Lottery's Android tablet
PC, it support SDK application development, more flexible application development condition.
Customization Service