Touch Think Flat Panel Touch Panel PC Android OS
Model: TPC215-A41
Touch Think offers an industrial-grade Android industrial tablet PC with a changeable front bezel thickness for kinds of industrial applications, this model is our new arrival in 2019 with a 10 mm front bezel, widely used in harsh conditions environments, commercial terminal equipment, and various IoT scenarios.
It's the best-seller in the market at present due to its upgraded fashion appearance. It adopts Aluminum alloy material for the whole shell, fanless full-enclosure design, lower power consumption, the compact body design meets all kinds of embedded mounting under harsh environments for 7days*24hours long time running. Moreover, we pay more attention to the features of reliability, environmental adaptability, real-time, expansion, and EMC compatibility, etc. The industrial Android tablet PCs are widely used in intelligent fields such as industrial control, military, communication, power, network, etc.
Touch Think Industrial Android Panel PC Features
1. 21.5" true-flat TFT LCD with projected capacitive touch control, the aspect ratio is 16:9, 1920x1080.
2. Fanless design, no noise operation with low power consumption.
3. Wide range DC support (12 ~ 24 VDC).
4. Supports dual displays.
5. IP65-rated dust-proof and waterproof for the front panel.
6. Embedded Intel® processor, quad-core Celeron® J1900 1.5GHz onboard.
7. Supports VESA 75, wall-mounted, embedded, desktop stand, open frame.
8. True flat: the easy-to-clean, true flat surface is more than just an elegant and stylish appearance. They are easy to clean and maintain. No clogged dust on edges.
---
Touch Think Industrial Android Tablet PC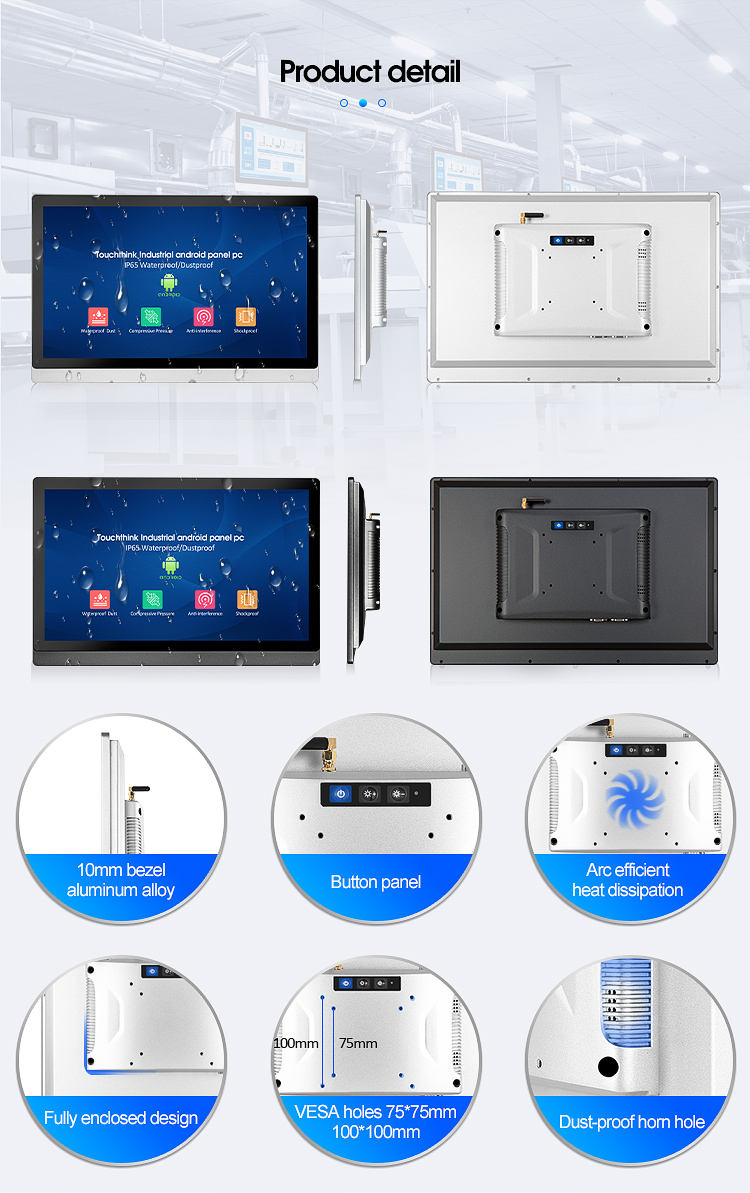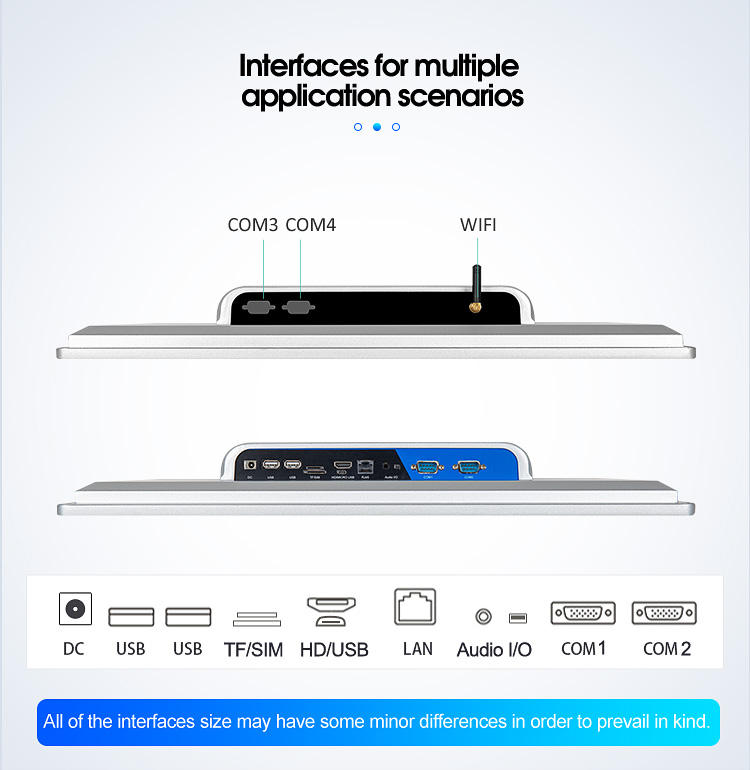 Touch Think Functional Module Customization Service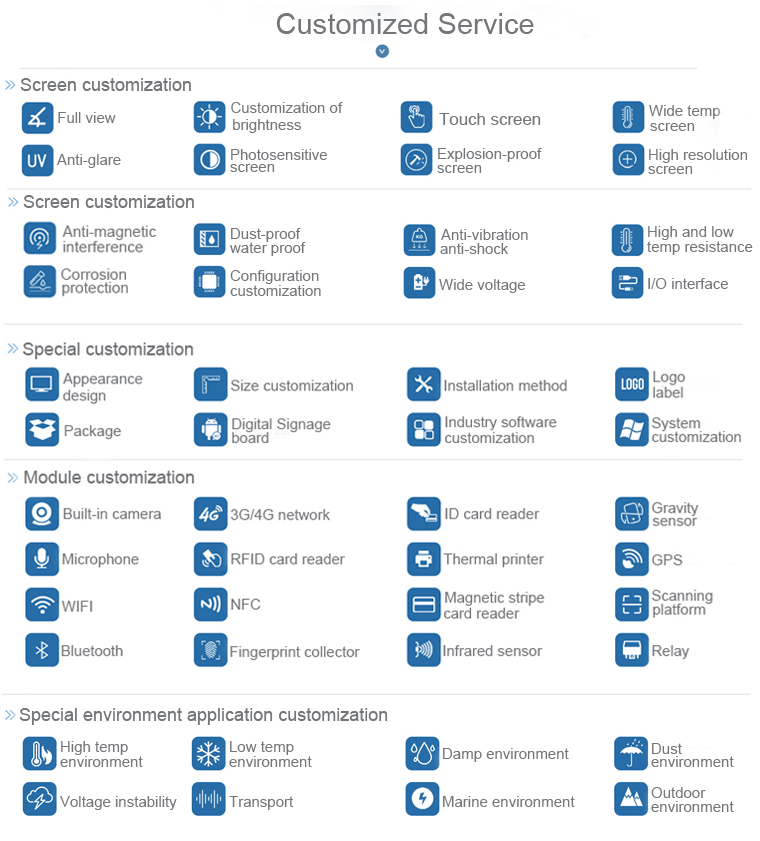 ---
Multi-Touch Android Panel PC - Product Model Quick Guide
| | | | | | |
| --- | --- | --- | --- | --- | --- |
| Model | LCD Display | Resolution | Aspect Ratio | Touch Screen Type | Get A Quote Now! |
| TPC070-A-QD | 7" | 1024*600 | 16:9 | Capacitive / Non-touch | Inquiry |
| TPC080-A-QD | 8" | 1024*768 | 4:3 | Capacitive / Non-touch | Inquiry |
| TPC101-A4 | 10.1" | 1280*800 | 16:10 | Capacitive / Non-touch | Inquiry |
| TPC104-A4 | 10.4" | 1024*768 | 4:3 | Capacitive / Non-touch | Inquiry |
| TPC116-A4 | 11.6" | 1920*1080 | 16:9 | Capacitive / Non-touch | Inquiry |
| TPC120-A4 | 12" | 1024*768 | 4:3 | Capacitive / Non-touch | Inquiry |
| TPC150-A4 | 15" | 1024*768 | 4:3 | Capacitive / Non-touch | Inquiry |
| TPC156-A4 | 15.6" | 1920*1080 | 16:9 | Capacitive / Non-touch | Inquiry |
| TPC170-A4 | 17" | 1280*1024 | 5:4 | Capacitive / Non-touch | Inquiry |
| TPC173-A4 | 17.3" | 1920*1080 | 16:9 | Capacitive / Non-touch | Inquiry |
| TPC190-A4 | 19" | 1280*1024 | 5:4 | Capacitive / Non-touch | Inquiry |
| TPC191-A4 | 19.1" | 1440*900 | 16:10 | Capacitive / Non-touch | Inquiry |
| TPC215-A4 | 21.5" | 1920*1080 | 16:9 | Capacitive / Non-touch | Inquiry |
| TPC238-A4 | 23.8" | 1920*1080 | 16:9 | Capacitive / Non-touch | Inquiry |
---