15.6" Monitor Display For Smart Factory Solution
Touch Think sunlight readable industrial monitors support multi-point capacitive, single point resistive and non-
touch screen with industrial-grade LCD true flat front surface screen, easy to clean and maintain. This monitor
support desktop mounting, suitable for factory workshop, production line. Touch Think industrial grade desktop
monitors provide reliable performance to improve the production efficiency of the factory.
Touch Think Industrial Desktop Monitor Display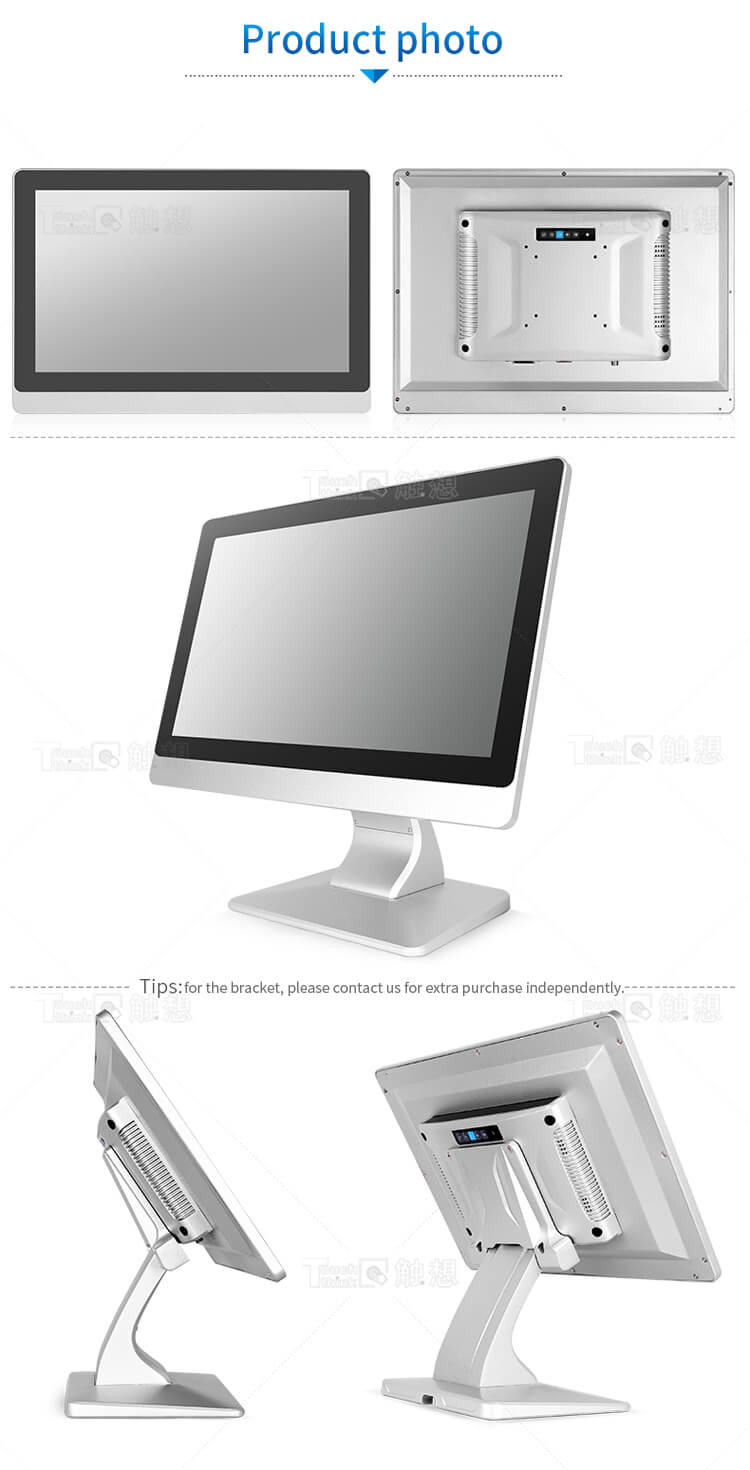 Details of Touch Think Industrial Display
1. 10mm thickness for front bezel, strong impact resistant and well-embedded into other equipment.
2. Full-enclosed aluminum alloy enclosure, high heat-dissipation, prolong product's service life.
3. IP65 protection level of water-proof and dust-proof for front panel.
4. Offer black or silver for product appearance, other color customization is available.
5. Support capacitive touch and resistive touch screen, suitable for all kinds of harsh environments.
6. Thin narrow bezel design, exquisite craft aesthetic design, narrow frame with rounded corners, back
key panel, exquisite arc side, pre-installed water proof speaker hole, 10mm thickness front panel, well
impact resistant.
7. Fanless cooling system, no noise running, better heat-dissipation.
8. Back button panel, easy debugging, the industrial monitor support VGA, HDMI, DVI, etc. Offer auto-
matic identification signal channel.
9. Self-developed industrial-grade motherboard, anti-high/low temperature conditions.
10. Support wide temperature and wide voltage, adopt famous brand of power management chip design,
wide voltage reaches 12-24V. Ensure industrial monitors perform stable under harsh environments.
11. Industrial monitors support long standby time and stable performance, adopt original professional
hardware, support 7*24 hours long-time running without interruption.
12. For all aspects of quality, customers will get a better using experience. The industrial monitor support
anti-jamming, compliance with EMC/EMI standard. Shock proof up to GB2423.
13. Support multi installation methods, such as desktop, VESA, wall-mounted, embedded, etc.