Embedded Industrial Panel PC For Industrial Control 15"
Industrial panel PC is a kind of rugged industrial computer, which is specially designed for industrial fields. It can
operate reliably in industrial environment as an industrial controller.
Common embedded industrial tablet PCs include box PC, fanless industrial tablet PC, etc. The embedded indus-
trial panel PC has the advantages of reliable performance, fanless structure, compact size and affordable price,
and it is widely used in industrial computer application.
Especially in recent years, with the development of embedded technology, the embedded industrial panel PC is
also developing rapidly, and it has been applied to various fields and occupies an increasingly important position
in industrial automation and industrial control fields.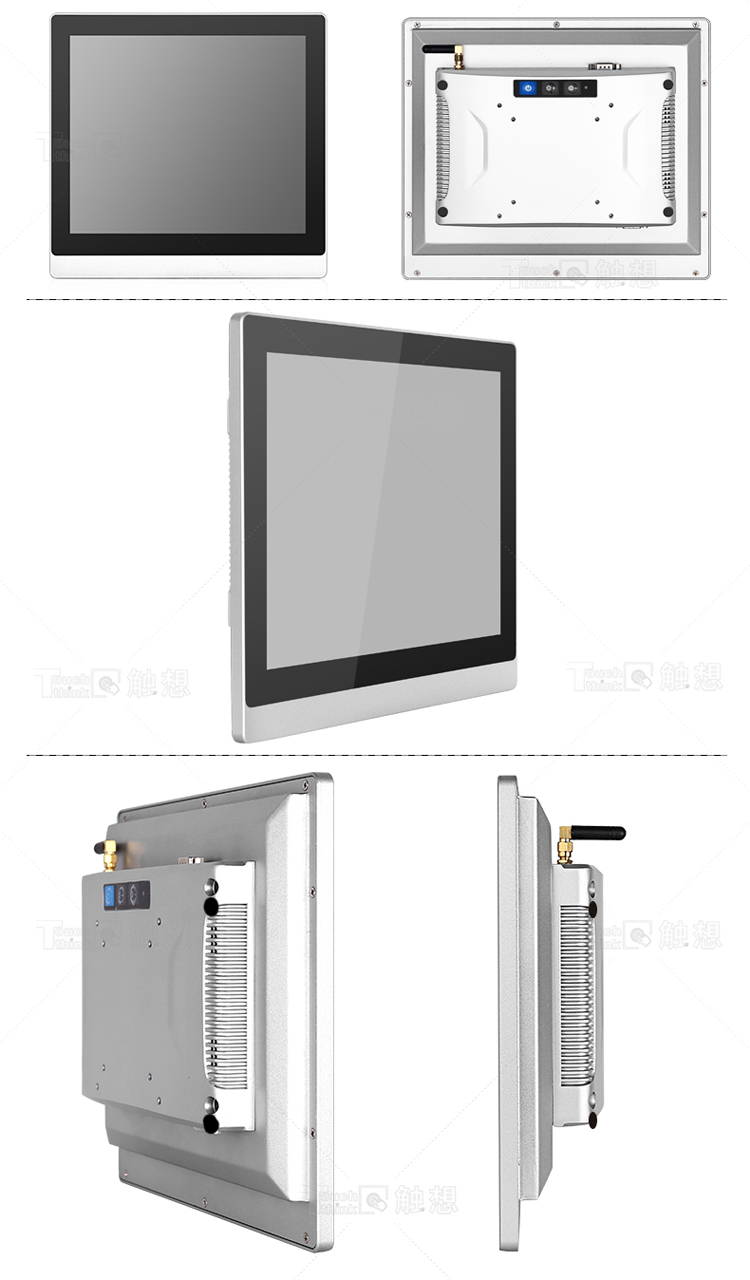 Advantages of Embedded Industrial Tablet PC
1. The product has good function adaptability, almost matches the function of the controlled object under
test, and has certain expansibility but does not take expansion as the main purpose, so the product is
cost-effective.
2. The miniaturization of the device is one of the main embodiment, which is the compact design. There
is no standard for reference in the structural design, so the reasonable utilization of the external inter-
face and installation space should be fully considered.
3. High reliability requirements. On the basis that the electrical function meets the reliability design, care-
fully consider the reliability design contents such as heat dissipation design, electromagnetic compati-
bility design, dust-proof and waterproof design, anti vibration design, etc.
4. Ultra low power and fanless design is the mainstream. Since the miniaturization of the device, the cool-
ing capacity is limited, and the embedded system MTBF (mean time between failures) requirements
are also very high, especially in unattended applications, ultra-low power consumption and fanless
design become necessary.
Touch Think industrial Panel PC Features
● Adopt aluminum alloy one-piece die-casting for the whole panel PC.
● IP65 dust-proof and water proof rated protection level.
● The industrial all in one panel PC is designed with integrated structure: the host computer, LCD
and touch screen are integrated, better stability.
● Fan-free heating-dissipation system, large area fin-shaped aluminium blocks for heat dissipation,
with less power consumption and no noise mute running.
● Touch Think industrial panel PC has high safety, stable performance, wear resistance and co-
rrosion protection, low failure rate and anti-light interference. It is suitable used in high humidity,
high temperature or low temperature environment.
● Support the main popular single-point resistive touch screen and multi-point capacitive touch
screen for applying to harsh industrial environments and commercial terminal device in outdoor.
Touch Think All-in-one Panel PC Customization Service