With the gradual development of computer software and hardware technology, computer operation control systems have gradually entered various fields of industrial production. In recent years, large and medium-sized enterprises have gradually integrated the control technology of industrial tablet computers into the production process to realize the detection, control, optimization and scheduling in the production process, greatly improving production efficiency and ensuring product quality. On the other hand, the close integration of automatic control theory and computer information science has brought new technological innovations to the industrial production process.

However, the industrial production environment is usually harsh, with problems such as high voltage, strong magnetic field, dust, noise, etc. This requires Industrial Touchscreen Panel PC used in industrial production to have better performance, better stability and better Anti-electromagnetic interference ability.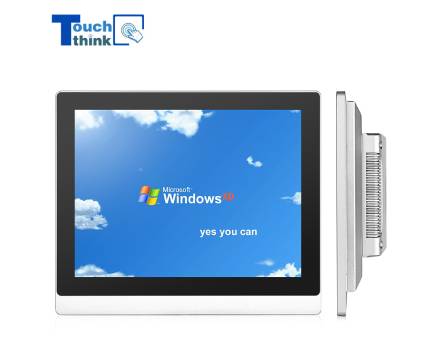 Capacitive Touch Panel PC
Industrial tablet computers are designed according to the characteristics and requirements of industrial production. They are used in industrial production to achieve various control purposes, production process and scheduling management automation, so as to achieve high-quality, real-time, high-efficiency, low-consumption, safe and reliable purposes, reduce labor intensity, and improve work efficiency. surroundings. It is mainly used for industrial process measurement, control, data acquisition, etc.
The design and development of Industrial Tablet PC use low-power multi-core processors, aluminum alloy die-casting, and seamless design of drawing panels. They meet the IP65 level of dust and waterproof standards. Rich I/O interface, support interface expansion. Support multi-point capacitive touch and five-wire resistive touch. It also has a special outdoor display that can automatically adjust the brightness of the screen according to ambient light. It has the characteristics of low power consumption, high integration and good stability.
Industrial tablet computers are suitable for various industries. By changing software and operating control systems according to certain operating and control principles on the Internet, through the Internet and software and hardware control, they can be applied to various industrial production workshops, electrical control, logistics and transportation. Among them, the Capacitive Touch Panel PC is an important part of the entire operation control system and the core of the entire system.
In the future, continuous optimization of product design will provide better industrial tablet computers for various industries to realize production automation.