IP65 Industrial Touch Screen LCD Monitor Display 19"
Model: TPC190-M4
The Touch Think 19-inch 4th new generation of industrial touch screen monitor delivers high-quality pictures for users no matter for indoor or outdoor devices. The monitors are designed for multi applications and withstand a wide operating temperature range.
Industrial Monitors Features
1. Touch Think 4th generation industrial monitors offer multiple interfaces for customers to meet various needs, support interfaces expansion.
2. Aluminum alloy wiring drawing process technology, presenting professional quality, polishing for layer up layer, showing natural texture and luster metal.
3. Strong surface, good mechanical properties, modular forming of aluminum alloy, one-piece die casting whole monitor body, showing a delicate appearance.
4. Widely used in industrial automation, kiosk, factory production line, self-service vending machines, medical self-service devices, public self-help service devices, etc.
5. IP65 rated water-proof and dust-proof for the front panel.
OEM/ODM Service
Screen Customization for Touch Think Industrial Monitors
1. High-light screen: default 400cd/m2, support customization to 1500cd/m2.
2. Photosensitive head: customize the screen brightness automatically based on ambient light.
3. All perspectives: standard 160°, 178° WVA customized.
4. Touch screen: industrial monitor, resistive touch screen, capacitive touch screen, IR touch screen.
5. High-resolution screen: customize higher resolution than the standard LCD screen.
6. Screen size: support the customized screen.
7. Others: explosion-proof, anti-glare, dust-proof, water-proof, electromagnetic screen.
Other Customizations for Touch Think Industrial Monitors
1. Appearance customization: support appearance design, sample customization.
2. Working temperature: standard temp is -20~+70°C, we can customize wider working temp: -30~+80°C.
3. LOGO customization
4. System software customization: compatible with all software requirements.
5. I/O ports customization: support adding more ports according to your demands.
6. Wide voltage: 12V-24V.
7. Special materials: for special occasions.
8. IP grade: The industrial monitors can be customized fully sealed dust-proof and waterproof.
---
Touch Think 19-inch Industrial Monitor Display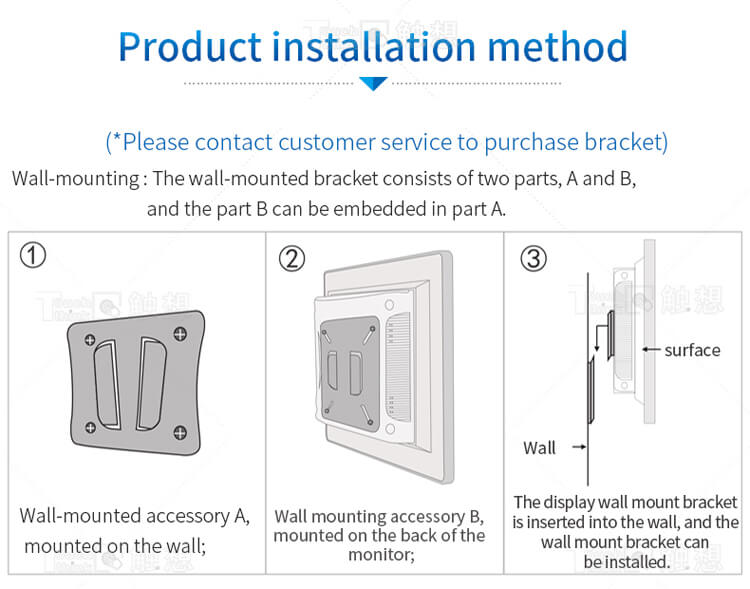 ---