17.3" Touchscreen Monitor Used For Industrial Internet of Things
Model: TPC173-M4
Touch Think sunlight readable LCD industrial monitor displays offer high-performance capacitive, resistive, and non-touchscreen in industrial-grade LCD flat panels, with thin flat front surface industrial design. The touch screen LCD monitor is designed for indoor and outdoor applications, such as kiosks, self-service devices, digital signage applications.
Details of Touch Think Industrial Display
1. The updated fourth generation of Touch Think industrial displays are designed with a 10mm thickness front bezel, strong impact-resistant, and well-embedded into other equipment.
2. The fully-enclosed aluminum alloy enclosure, higher heat-dissipation than iron materials.
3. IP65 level waterproof and dust-proof for the front panel. The standard color is black, silver, We also support appearance customization for monitors, even for one unit.
4. Support capacitive touch and resistive touch screens, suitable for all kinds of harsh environments.
5. Thin narrow bezel design, exquisite craft aesthetic design, narrow frame with rounded corners, back key panel, exquisite arc side, pre-installed waterproof speaker hole, 10mm thickness front panel, well impact resistant.
6. Fanless cooling system, no noise running, better heat dissipation.
7. Back button panel, easy debugging, the industrial monitor support VGA, HDMI, DVI, etc. Offer automatic identification signal channel.
8. Self-developed industrial-grade display drive board, quality is well-guaranteed.
9. Support wide temperature and wide voltage, adopt the famous brand of power management chip design, the wide voltage reaches 12-24V. Ensure industrial monitors perform stably under harsh environments.
10. Industrial monitors support long standby time and stable performance, adopt original professional hardware, support 7*24 hours long-time running without interruption.
11. For all aspects of quality, customers will get a better user experience. The industrial monitor support anti-jamming, compliance with EMC/EMI standard. Shockproof up to GB2423.
12. Support multi-installation methods, such as desktop, VESA, wall-mounted, embedded, etc.
---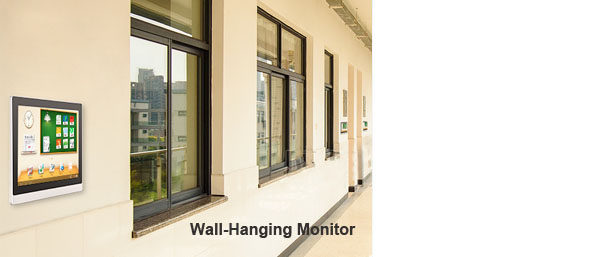 Wall-Hanging LCD Displays With Touchscreen
This 17.3" industrial monitor with a high definition of 1920x1080 (16:9 widescreen aspect ratio), very suitable for high-quality information and image display, providing enhanced visualization in smart campuses, hospitals.
---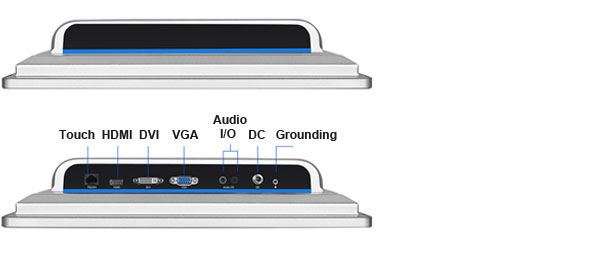 Multi-I/O Ports, and Supports Customizable Expansion
This industrial touch screen monitor defaults with multi-standard input/output ports, including Touch interfaces, HDMI, DVI, VGA, Audio I/Os, DC, and Grounding connectors, etc. Supports more I/O ports customization.
---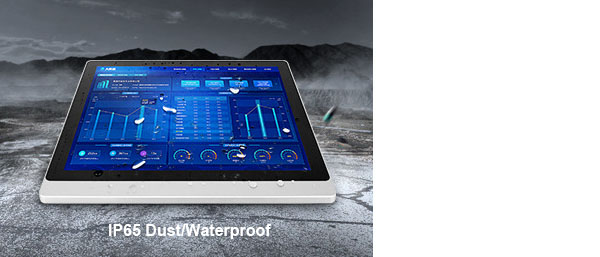 IP65-Rated LCD Displays - Wall Mounted
Our IP65-rated industrial-grade displays with entirely enclosed design, and supports high brightness screen. Suitable for outdoor applications. Support glass-covered, protect the displays from damage and moisture penetration.
---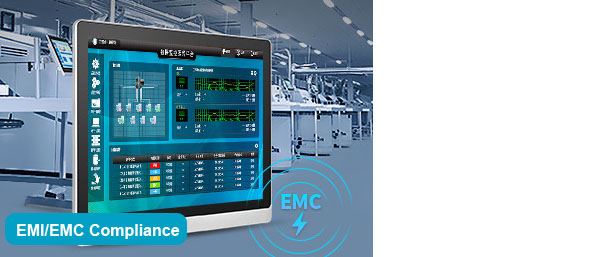 Industrial Touch Displays with ElectroMagnetic Compatibility (EMC)
This industrial LCD touch display is engineered with EMC, EMI, Electromagnetic Compatibility, presenting good Electro-Magnetic Interference, anti-Electrostatic performance, and optimized EMI and ESD robustness of LCDs and drive boards, improving system performance.
---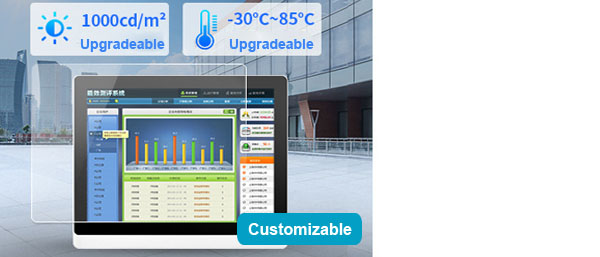 High-Brightness Monitors For Outdoor Use
Usually, wall-mounted touch screen monitors are widely used indoor or outdoor in fields of building automation, smart campus, smart hospitals to realize data and operation visualization, then sunlight readable displays are needed to meet outdoor use, Touch Think monitors supports 300 t0 1500 nits screens for options in different cases.
---
Full Series Wall-Mounted Monitor - Model Fast Guide
---