Rugged LCD Monitor Wall Mount Industrial System
Touch Think manufactures reliable performance touch screen display monitors to meet the client's various
needs, including signal inputs, resistive or capacitive touch screens, high bright screen, wide operation
temperature, multi-viewing angles, wide voltage, etc. And more customization items that you can add or
remove to fit needs.
All of Touch Think industrial monitors meet the needs of almost any applications. They are produced for

the toughest of environments with the industrial-grade motherboard, offer a wide range of sizes from 7-inch to
21.5-inch, and aspect ratios of 4:3 or 16:9. All the monitors are tested by impact resistance, vibration re-
sistance, extreme high and low temperature resistant, dust-proof and water proof certified IP65 making
the industrial monitors stable performance under any industrial environment.
Touch Think Wall Mount Industrial Monitor Display

Touch Think Industrial Monitors Features
1. High brightness, contrast, and ultra-wide viewing angle displays.
2. Small Form Factor Industrial touch Panel HMIs sizes 7 inch to 21.5 inch touchscreens or non-touch.
3. Support 24/7 operation under all-weather conditions.
4. Offer variety of customized features to fit needs.
5. Black or silver for the rugged enclosures, full of sense of modernity.
6. FCC, CE, RoHs certification approved.
7. Support 3 years of after-sales service.
8. Long backlight life, high-quality LCDs.
9. Highly customizable to fit your industrial system requirements and applications.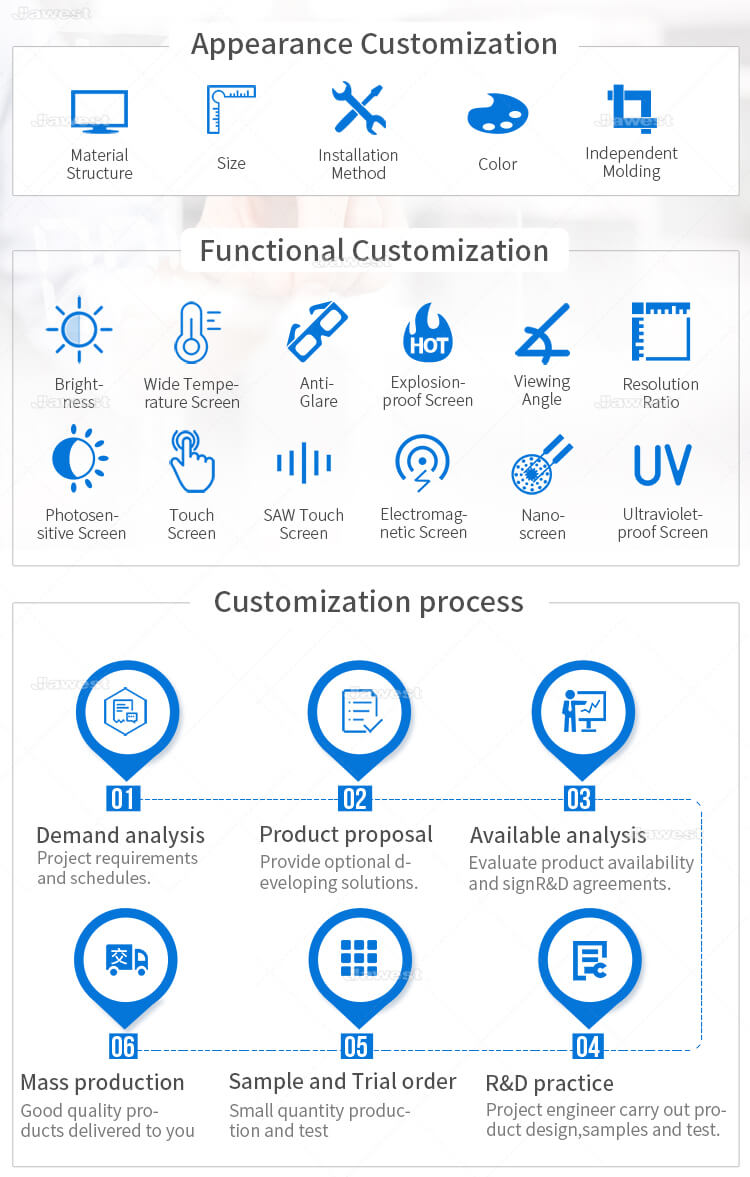 FAQ:
1. How to maintain industrial display correctly ?
Answer: The internal design of industrial display is very precise. If the environment is humid, it is easy to
oxidize and corrode the internal circuit, resulting in short circuit and other phenomena, which will bring
huge economic losses to users. Therefore, we should try our best to keep the environment of industrial
display dry. Clean the industrial display screen correctly. Once the industrial display has been used for
a long time, it is easy to absorb some dust and dirt. Cleaning up industrial display screen is inevitable.
Correct cleaning methods should be adopted when cleaning: use soft, non-fibre degreased cotton, lens
paper or soft cloth to dip a little glass detergent and gently wipe off the dust or dirt on the screen.