Android Industrial Rugged Touch Panel PC WIFI RJ45 Port Capacitive Touch Screen 15.6"
Model: TPC156-A4
Touch Think offers a full range of industrial all-in-one touch panel PCs for professional industrial applications. They are equipped with excellent A or A + perfect screen and fit with fanless advanced box PC, can be used for indoor and outdoor applications. What's more, they perform perfectly under high bright sunlight or harsh environments. With self factory and complete production line, our industrial tablet PCs with Android OS are of premium quality, low-cost, and economically competitive.
Product Features
● LCD Display: 15.6", 1920*1080, 16:9 ratio.
● 7" to 23.8" displays for optional.
● CPU: A64 quad-core 64-bit, main frequency 1.5GHz.
● RAM: 2GB DDR3 (8GB optional)
● Storage: 16GB eMMC (32/64GB optional)
● Operating system: Android 6.0 (Android 7.1 optional)
● 10mm thickness bezel for the front panel, good impact-resistant in harsh environments.
● IP65 rated dust-proof and waterproof, light and thin for whole panel PC.
● Industrial-grade motherboard, highly stable performance, low power consumption.
● Pre-installed Android system, supports other systems: Windows, Linux, Ubuntu.
● Wide operating temperature: -10°C to +60°C.
● Fanless design: suitable for harsh environments.
● Optional Wi-Fi/3G/4G kit for wireless network connectivity.
● Supports VESA 75/100mm and suspension mount.
● CE, RoHS certified
---
Touch Think Industrial Android all-in-one Touch Panel PCs Display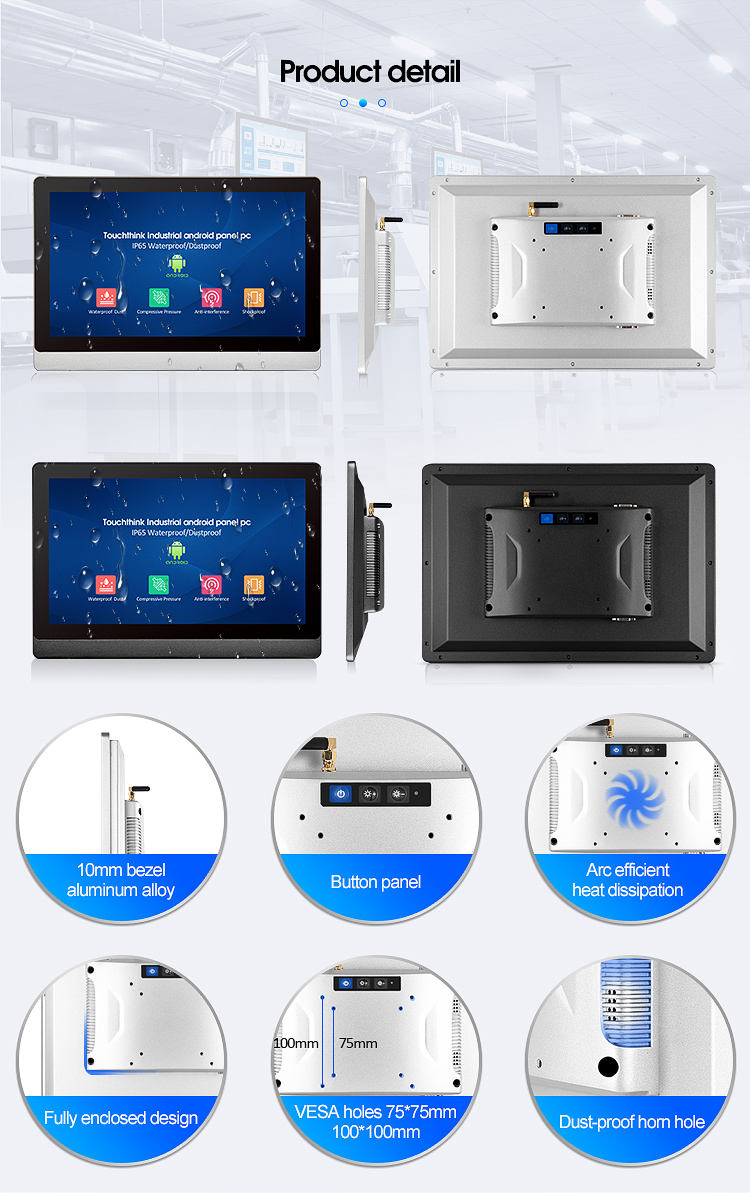 Details of Touch Think All-in-one Panel PCs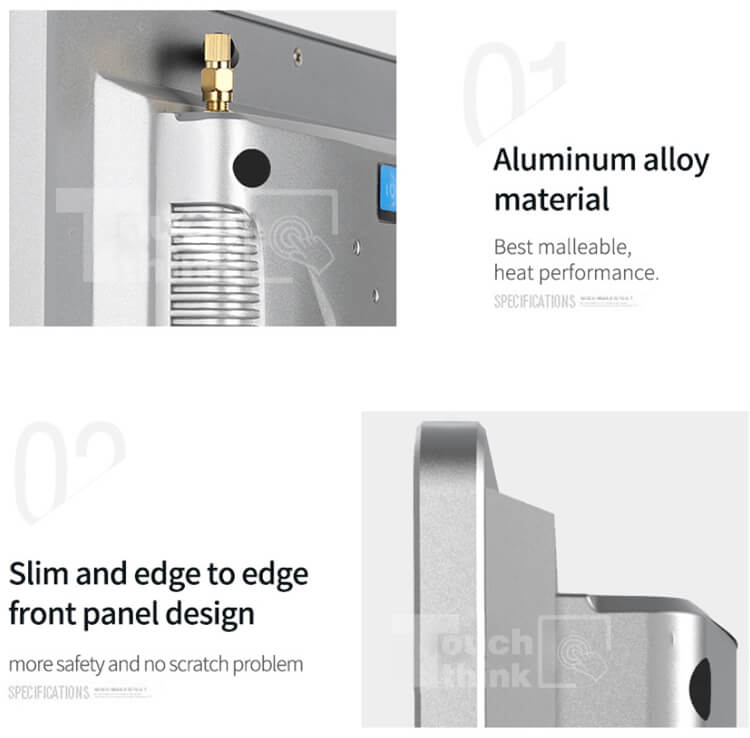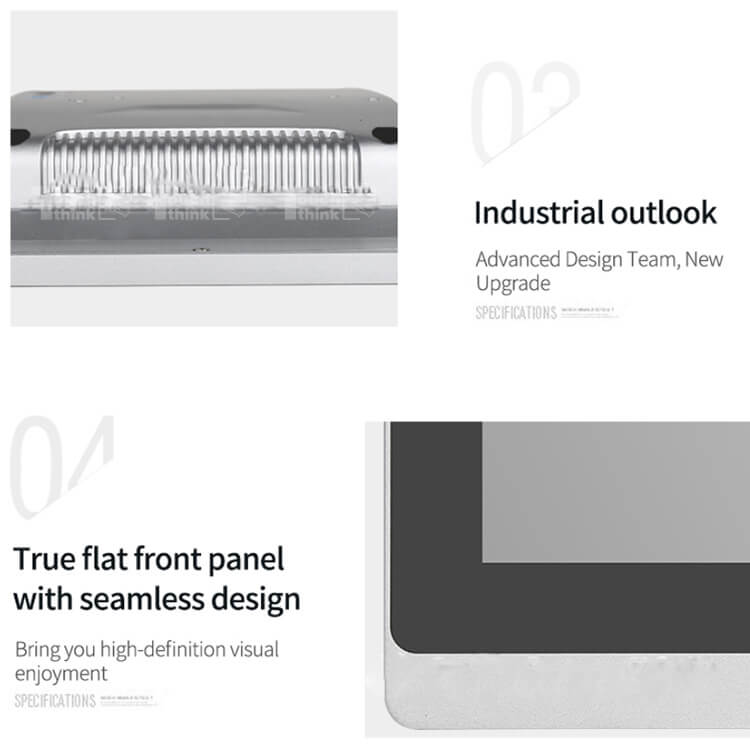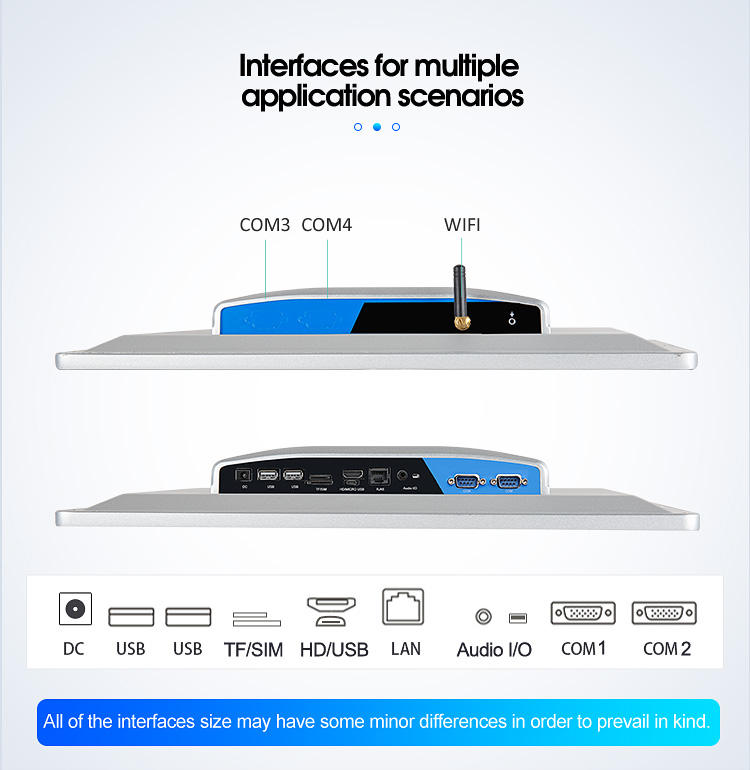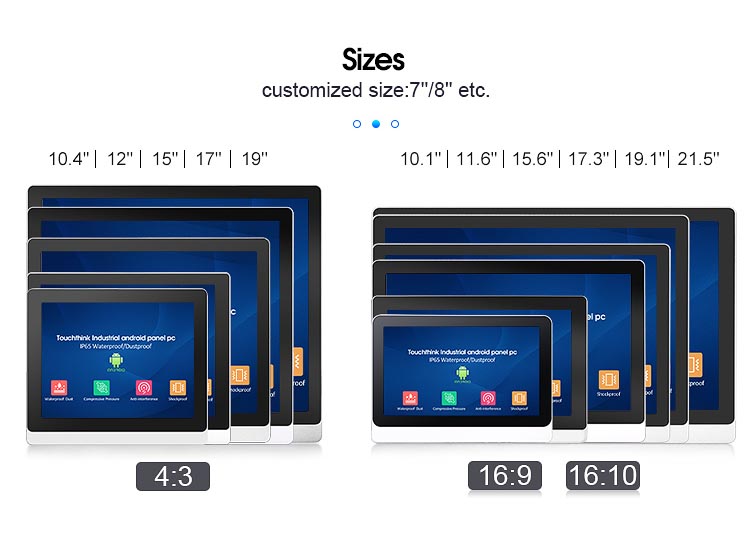 ---
Industrial Android Panel PC - Product Model Quick Guide
| | | | | | |
| --- | --- | --- | --- | --- | --- |
| Model | LCD Display | Resolution | Aspect Ratio | Touch Screen Type | Get A Quote Now! |
| TPC070-A-QD | 7" | 1024*600 | 16:9 | Capacitive / Non-touch | Inquiry |
| TPC080-A-QD | 8" | 1024*768 | 4:3 | Capacitive / Non-touch | Inquiry |
| TPC101-A4 | 10.1" | 1280*800 | 16:10 | Capacitive / Non-touch | Inquiry |
| TPC104-A4 | 10.4" | 1024*768 | 4:3 | Capacitive / Non-touch | Inquiry |
| TPC116-A4 | 11.6" | 1920*1080 | 16:9 | Capacitive / Non-touch | Inquiry |
| TPC120-A4 | 12" | 1024*768 | 4:3 | Capacitive / Non-touch | Inquiry |
| TPC150-A4 | 15" | 1024*768 | 4:3 | Capacitive / Non-touch | Inquiry |
| TPC156-A4 | 15.6" | 1920*1080 | 16:9 | Capacitive / Non-touch | Inquiry |
| TPC170-A4 | 17" | 1280*1024 | 5:4 | Capacitive / Non-touch | Inquiry |
| TPC173-A4 | 17.3" | 1920*1080 | 16:9 | Capacitive / Non-touch | Inquiry |
| TPC190-A4 | 19" | 1280*1024 | 5:4 | Capacitive / Non-touch | Inquiry |
| TPC191-A4 | 19.1" | 1440*900 | 16:10 | Capacitive / Non-touch | Inquiry |
| TPC215-A4 | 21.5" | 1920*1080 | 16:9 | Capacitive / Non-touch | Inquiry |
| TPC238-A4 | 23.8" | 1920*1080 | 16:9 | Capacitive / Non-touch | Inquiry |
---