When choosing an industrial monitor, it is important to consider the environment in which it will be used and its application. Will your monitor come into contact with any liquids? Dust and grime? Does it need good brightness? The type of integration (rack mount, panel mount, etc.) is also important. Which touch screen is optimized for your application and what level of protection do you need?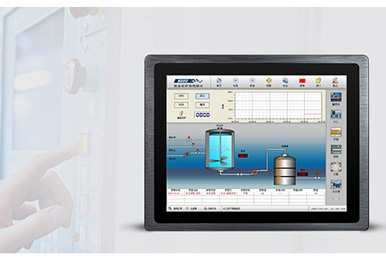 Industrial Touch Screen Monitor With 3mm Front Panel
Depending on your work environment and planned application, you can choose.
Brightness. This is the intensity of the light emitted by the screen. If the screen is not bright enough, you will not be able to see anything during the day. Brightness is expressed in candela per square meter (also called nits). The standard brightness is about 250 cd/m². Today, "sunlight readable" displays can be used in very bright environments. The brightness of these screens must be greater than 1,000 cd/m2.
The resistance of a display is the screen's ability to withstand attacks to avoid short circuits or penetration into your system. Several criteria guide you in selecting the resistance to splashes of various substances (water, oil, solvents, etc.), impacts or more intense splashes in explosive areas (see the paragraphs below on protection criteria).
Monitor integration and mounting. the VESA mounting interface standard or VESA mounting defines the criteria for mounting the monitor: hole size, screws used, and hole configuration on the back of the screen.
Tactile or not. With touch screen monitors being used more and more, if you choose one, you will have to research the environment in which it will be used.
Which technology should you choose for your industrial screen?
LCD (Liquid Crystal Display) screens use pixels with backlighting to obtain a standard image that lacks black density and gray shading. Backlighting systems make LCD screens large and heavy. LCD screens are very energy intensive, but have the advantage of being very affordable.
LED (Light Emitting Diode) screens are very popular in the market. LED screens are illuminated by light emitting diodes. LED screens are a little more expensive than LCD screens, but still affordable.
OLED (organic light-emitting diode) screens offer the best image quality on the market. This type of screen uses a chemical that glows when it comes in contact with an electric current. They offer unparalleled depth of field and color nuance. This type of screen is thinner, lighter and uses less power than other technologies. On the other hand, they are much more expensive.
Plasma screens. Compared to LCD screens, plasma screens offer better image quality; better shades of gray and black, and greater depth. The minimum size of a plasma screen is 107 cm, which makes it quite bulky. They also consume more energy than LCD screens. The technology used is relatively old, so these screens are inexpensive.
If you are looking for high quality industrial monitor, welcome to contact us for detailed information!