Industrial Fanless Embedded Computer J1900 Industrial Panel PC 19"
This 19 inch wide screen industrial all-in-one panel PC has an IP65 rating dust-proof and water proof for
front bezel, high brightness support sunlight readable. Industrial grade motherboard making it suitable for
harsh industrial environments and outdoor devices. Besides, the fanless design making it runs mute, and
it is perfect for heat-dissipation. This panel PC has a powerful Intel Core i3/i5/i7 CPU and is built with high
quality components to ensure the highest reliability for 7/24 use of industrial and commercial applications.
This industrial panel PC is designed with compact structure, saves much space and perfect for embedding
in cabinets, also enables you to fully maximize business output by making your processes more efficient.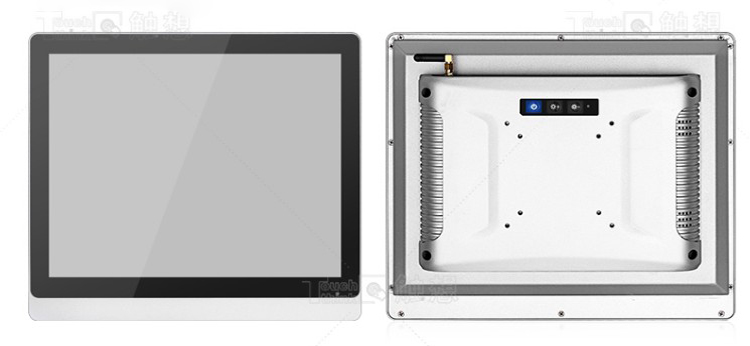 Touch Think Industrial Panel PC Features

● This industrial all in one panel PC designed with full-flat front panel, suitable for embedded installation.
● 10mm front bezel with strong impact resistant under harsh environments.
● Seamless pure front plate, effectively withstanding the infiltration of dust and water vapor.
● Aluminum alloy all in one pc with good heating-dissipation, improves protection performance. dust-proof,

shock-proof, high and low temperature resistance for the whole pc, working temperature range up to
-10 ~60°C, support customized wide temperature -20~70°C.
● The back cover of all-in-one panel PC designed with a circular arc structure, high heating-dissipation
● Meeting the demands from EMI/EMC standard, performs perfect under harsh condition.

● Reserved dust-proof and waterproof speaker hole: the speaker adopts to industrial grade sound
transmission material, it also support dust-proof and water proof.
● OSD: external button adjustment function: built-in button for adjust the touch screen brightness, which
reduced complex and tedious operation.
● 75 x 75mm VESA Mount.

● Three (3) years warranty.
Functional Modules Customization