Sunlight Readable LCD Display Monitor Resistive 19.1"
Touch Think industrial flat panel LCD monitor displays are support sunlight readable with high brightness
for outdoor and indoor devices. The industrial-grade display with IP65 rating water-proof and dust-proof,
can be well-performed in harsh environments. We can offer customization service for high lightness max-
imum up to 1500mcd. The standard lightness is 400mcd for these monitors. The high bright touch screen
monitors are suitable for multi applications.

Touch Think Industrial Monitors Features

The 4th generation industrial LCD display is designed with aluminum material casing, lower power
consumption and perfect heat-dissipation. Touch Think focus on the development of industrial monitor's
reliability, fast respond for touching, environmental compatibility, expandable and EMC compatible ability,
these resistive touch screen industrial monitors widely used in industrial automation, transportation and
commercial terminal devices.
● Display clear, sharp images even in bright, direct sunlight
● Support 300 ~ 1,500 nits brightness
● Industrial components and motherboard ensures maximum vibration and shock resistance
● Support lockable OSD (On-Screen Display) controls
● Available IP65 dust-proof and waterproof enclosure (front face)
● Plug-and-play function
● 3-Year Warranty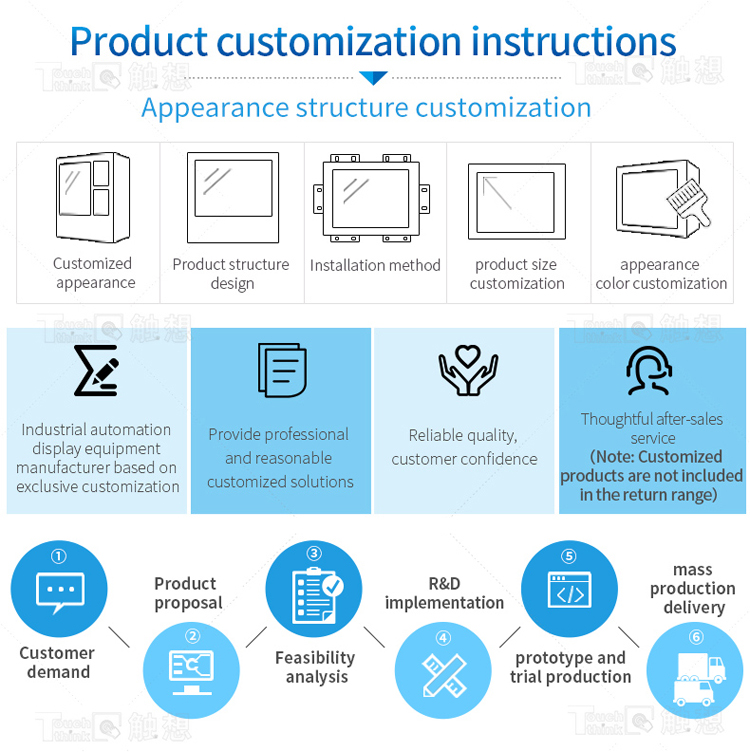 Application of Touch Think Industrial Monitors