Industrial LCD Monitor VGA HD Input 12.1"
Touch Think offer full range of LCD TFT displays for professional industrial and applications. They can be
used for indoor and outdoor applications also can perform perfect under bright sunlight or harsh environ-
ments. With self factory, Our industrial monitors are of premium quality, low-cost and economically com-
petitive.

12.1 inch IP65 rated front waterproof support 1000nits high bright touch screen monitor for industrial
environments.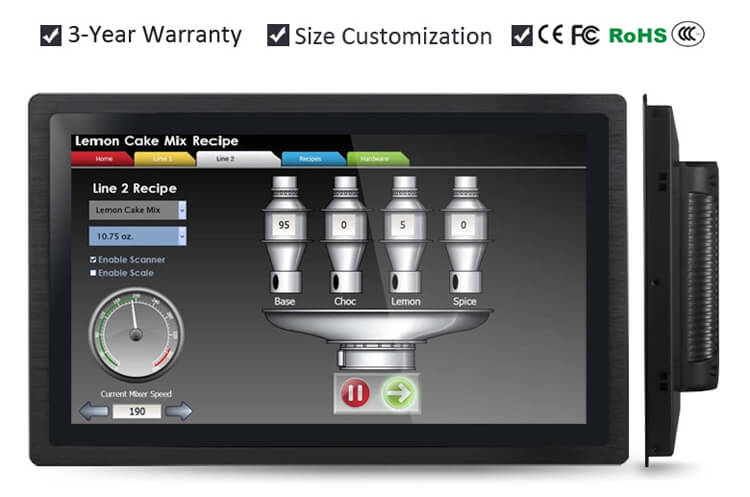 Touch Think Monitors Features
1. Touch Think industrial grade LCD touch screen monitor offer many installation style, such as desktop,
embedded, wall-mounted and rack-mounted, cantilever.
2. Color of monitor: black or silver, offer appearance color customization service.
3. Industrial monitors have passed IP65 dust-proof and waterproof standard.
4. Working temperature for monitor is -20~70 Celsius degree, humidity range is 10%~90%.
5. Support long-term, all-weather operation, 365 days*24 hours and without interruption.
6. It designed with 3mm bezel thin front bezel, suitable for embed into other cabinet.
7. Aluminium alloy shell, better performance for heat-dissipation than ordinary metal material.
8. Support non-touch, resistive touch screen, capacity touch screen and IR touch.
9.The monitor provide standard I/O interface: VGA, HDMI, DVI, automatic identification signal channel,
also support other customized multi interfaces.
10.Special design for DC power port with anti-shedding.
11.Anti-interference design to meet EMI / EMC standards.
12.Triple protection for the monitor: moisture-proof, explosion-proof and flameproof.
13.Shock resistance for monitor reach GB2423, it can be well-protected during transportation.
14.Anti-static level of contact is 4KV, supporting customized MAX 16KV for industrial monitors.
15.The industrial monitors adopt anti surge design, it can be well-protected during instantaneous voltage
rising into 280V.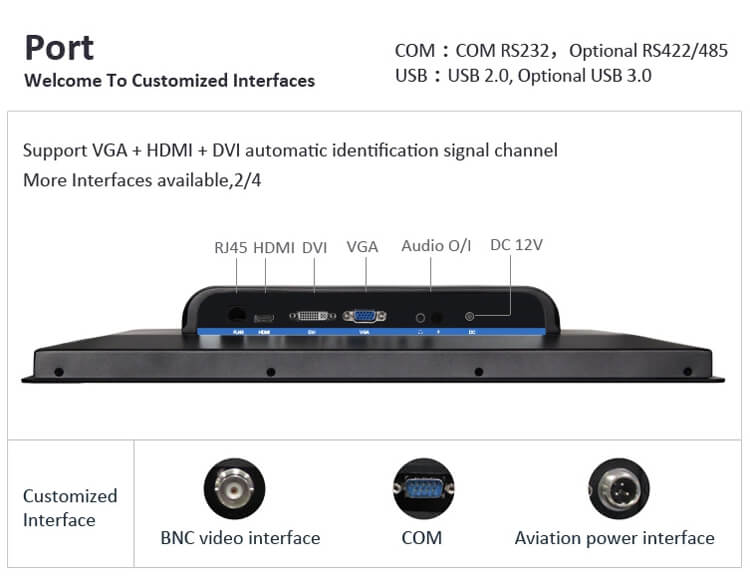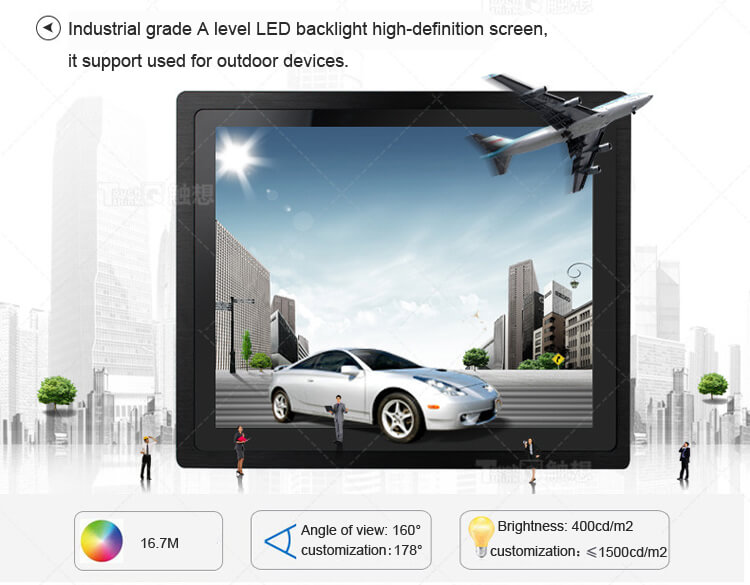 The industrial monitors are support variety of installation methods, details are as below: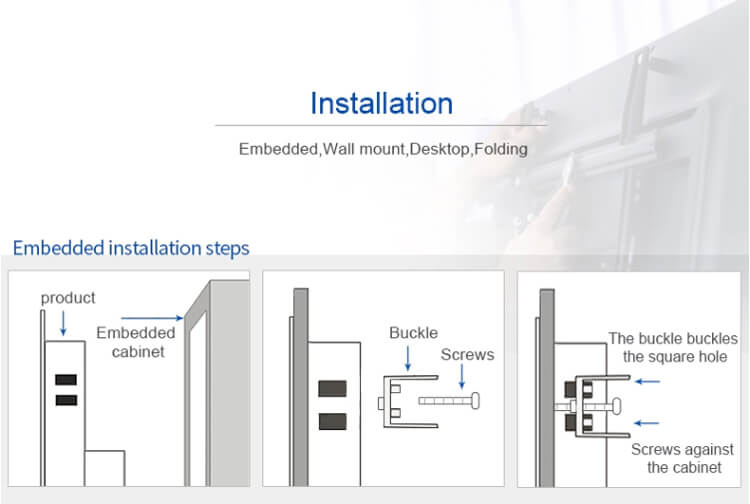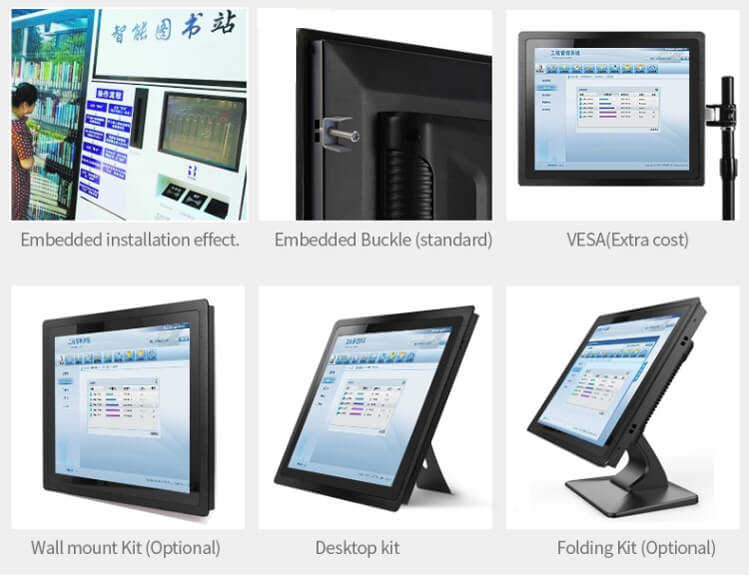 FAQ of Industrial Display
1.Why the color deviation happens of industrial display ?
Reason: If all areas of industrial display show color deviation, it is caused by the deviation of display color
settings or the deviation of display card color settings, or poor contact between the industrial display signal
plug and the host display card.
Solution: Apply the color setting function of the industrial display itself, adjust the color setting, adjust the
color setting of the display card, fix the signal line plug of the industrial display with the display card to
ensure complete contact.
2. Why the industrial monitor didn't show anything on the screen ?
Reason:
1. Power input fault of industrial display;
2. Circuit failure of industrial display;
3. Fault of industrial mainboards;
4. Poor contact between the industrial display signal line and the host dispay card.
Solution:
1. Check whether the industrial mainframe works properly.
2. Check whether the signal lamp at the front of the industrial display is on or not. If not, check whether
the power cord of the industrial display is in normal contact with the display.
3. If the problem is still can't be solved, please contact the professional industrial monitors after-sales
service.