Modern Industrial Panel PC should built with advantages of mature operator interface, complex control algorithm, fast processor system, robustness, reliability, low MTTR index, modularization, real-time, compatibility to be suitable for complex industrial field projects.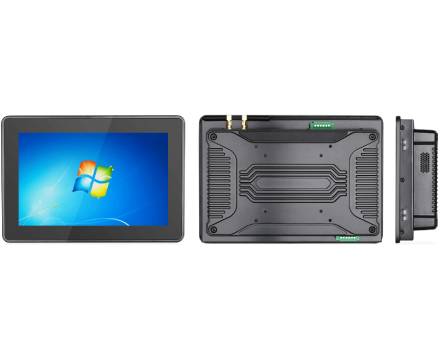 In the field of industrial automation, there are two main architectures of embedded industrial panel PC design, namely closed architecture and open architecture.
The product of closed architecture does not depend on a Bus standard and is specially designed for a specific task, which is called chip-level embedding.
The design of open architecture is based on some kind of open industrial Bus standard. Relying on this kind of openness and standards, Industrial Panel PC Manufacturers have designed products with various characteristics and varieties for users to choose flexibly, such as CPU board, analog I / O board, and digital I / O board. Industrial panel PC users can select a certain number of function templates according to the actual situation of the task, and quickly combine them into corresponding application systems, so as to greatly shorten the development cycle, reduce development costs, and make the upgrading and maintenance of products simple and convenient. This kind of embedding method is called board-level embedding. Traditional industrial panel PC not only has the same speed and performance as personal PC (such as mature operator interface, complex control algorithm, and fast processor) but also has the following characteristics: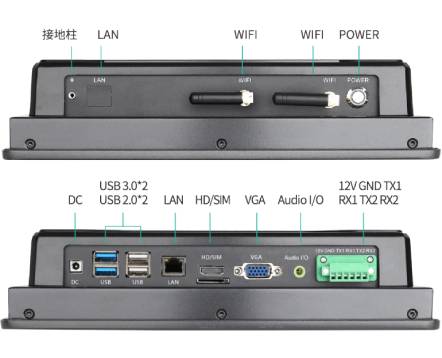 Robustness. Industrial panel PC is used in complex environments, such as high temperature and high dust environment, and may also bear shock and vibration. It is required that the power supply of the industrial panel PC is stable and reliable, the heat-dissipation performance is good and the card can be fixed very well.
Reliability. When the MTBF index is greater than 10000 hours, it requires a conservative circuit and heat dissipation design, solid-state non-rotating disk driver, and fine cable connection to ensure.
Low MTTR index. Industrial panel PC generally uses a passive baseboard or industrial mainboard which removed active circuit, and functions are scattered to other plugboards. Therefore, in case of failure, the plugboard can be replaced quickly.
Modularization. The industrial panel PC of control equipment needs more than two serial ports, analog, and digital I/O, motion control, PLC interconnection ability, and display, etc.
Real-time. Industrial panel PC should have the ability of time and event driving, and can monitor and control the change of production process & working condition in real-time. When process parameters deviate from the set value or even fail, it can quickly deal with the corresponding problems.
Compared with traditional industrial panel PC, the following factors should be considered in the hardware design of embedded industrial panel PC:
Compatibility. The hardware design of embedded industrial panel PC should be compatible with PC and MS-DOS, and the software and hardware resources accumulated by PC should be fully utilized.
Overcome the bottleneck of Bus data width and speed. On the one hand, the standard industrial Bus makes the system open, on the other hand, it hinders the performance of the industrial panel PC processor. The better way is to adopt the design scheme of all-in-one and I/O Bus, which can improve the performance and keep downward compatibility.
With the increase of data acquisition, the control strategy and algorithm become more optimized and complex, and the requirements for the processing ability, memory access speed, and real-time response-ability of industrial panel PCs become higher and higher.
The combination of local high-speed Bus and slow system Bus, that is to say, the CPU, memory, watchdog, hard disk, and I/O interface that need high-speed access are made on an all-in-one template, and the relatively slow I/O part is put on the Bus, which is a reasonable and realistic scheme.
A new memory system based on Flash memory is adopted. The new memory system takes Flash memory as the core, which has the features of a small system, low power consumption, lightweight, strong, and high-reliability, and can meet the requirements of various harsh embedded applications. Flash memory, with its advantages of high density, high speed, nonvolatile, electrically erasable, and high reliability, provides a guarantee for the realization of the ideal operation of industrial control system software. System fault monitoring and automatic recovery.
Nowadays, the watchdog circuit has become an indispensable part of embedded industrial panel PC design. It can give an alarm quickly when the system breaks down, and make the system automatically resume operation without human intervention. PC compatible and highly integrated embedded microprocessor is adopted.
Touch Think is committed to the sales of the embedded industrial panel PC, industrial computer, and industrial monitor, providing high-end touch control & display solutions and OEM / ODM customized services for industrial automation customers. Besides, these products are widely used in medical, industrial control, MES system integration, intelligent equipment, electric power, intelligent transportation, intelligent logistics, and other fields.