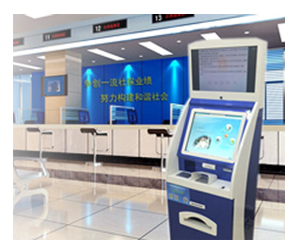 Product Characteristics
This product is a comprehensive self-service equipment which integrates touch screen, anti-counterfeiting fingerprint instrument, social security IC card reader, ID card reader and social security software system. Bar code scanner and voucher printer are optional for this type of equipment.
Product Introduction:
Customized cabinet
Industrial display screen: 19 inch
Touch screen: 19 inch surface acoustic touch screen; single touch 50 million times
Resolution: 4096*4096
Cabinet: steel cabinet body, external surface covered imported metal paint, anti-magnetic, anti-static.
Control panel: power switch (host, display, audio, fan) volume tuning, touch screen operation the monitoring instructions.
Host Configuration:
Motherboard: Gigabyte H61
CPU: G2120 (3.1GHz)
Memory: 4G
Hard disk: 1T
Operating temperatures range from 0° to +35°C.
Storage temperature range from - 20° to +60°C
Working humidity: 20%-80%
Storage humidity: 5%-95%