Multimedia information publishing is a new technology based on digital media, which uses liquid crystal, plasma, LED and multi-screen mosaic as the dynamic information publishing form of display terminal. After the end-to-end specialization solution based on the Internet is put forward, multimedia information publishing has realized digitalization, networking, orientation and intelligence in an all-round way. It can reliably support centralized management and hierarchical zoning control of information publishing. It is very suitable for unified information publishing and secure (confidential) publishing that government departments' demands. Government agencies have gradually become an important application area of this product which combines information technology and media services.
R&D Challenges:
Network Management
The system needs to release, modify, delete and manage remote information through network. Used for local area network, wide area network and Internet. Distributing the material (report, video, report, etc.) to the players, these materials are made by the control host, and the information of the players also can be returned to control host system.
Free split screen
The system can edit the template freely, and the picture can be divided into different parts on one screen by any combination of PPT, picture jpg format, subtitle, video and other information. Users can can arbitrarily adjust the size of each area, synchronization time, weather and other daily information. For editor part, it support adjust words size, color, background and character arbitrarily.
Media Processing
The system can smoothly publish multimedia dynamic information (text, image), static information, network information, and support Flash animation. Slides, pictures (jpg, Bmp, Gif, etc.) video (MPE-1, MPE-2, MPE-4, etc.).
Data docking
Open platform, rich external extension ports, data source integration should be very flexible.
Master Control Requirements
the main and secondary screens should only controlled by the host, touching screens operation for other participants are not available.
Touch Think Solution
Product: Industrial Display
● High quality industrial control LED high-definition high-brightness screen, ultra-wide viewing anle design.
● Supporting multi-screen/split-screen display, it's more flexible in use than standard screens.
● Full-enclosed seamless aluminium alloy flat panel, IP65 rated dust-proof and waterproof for front panel.
● High-speed running of the picture, no drift.
● Resistant to high and low temperatures, up to - 20°C ~ 70°C, adapted to various extreme environments.
● 7*24 hours uninterrupted and stable operation.
Product Features
1. All-aluminium alloy structure is strong and durable, anti-vibration, anti-impact; aluminium alloy wire drawing for front panel; stainless steel switch, all these features enhance the stability of products.
2. Seamless display panel, effectively prevent dust and splashed water droplets from entering the display.
3. The industrial grade temperature-resistant resistive touch screen has many application characteristics in industrial field. Support customized capacitive or infrared screen.
4. High-definition and high-brightness industrial LCD screen, adopting LED backlight technology, the screen display colorful image, high brightness, good contrast, wide viewing angle, long service life.
5. OSD menu control brightness, contrast, automatic adjustment, level adjustment, language selection, etc. Support plug-and-play fuction.
6. High-quality industrial electronic components, professional circuit design, stable and reliable performance, suitable for 7*24 hours of running, fully in line with the industrial environment requirements.
7. Ultra-thin 3mm front bezel, with embedded buckle design, more exquisite installation. Support desktop, wall-mounted, cantilever and other installation methods.
8. The product meets the ROHS environmental protection standard. Its maximum power consumption is less than 48W. It has the characteristics of low voltage, low power consumption, energy saving and mute operation.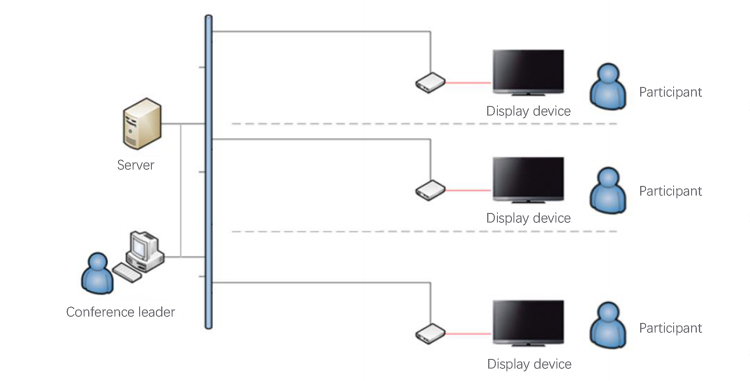 Complete OEM&ODM Extensibility Service:
Wireless Same Screen
Conference rooms often need to transmit notebook signals to the big screen. The traditional way is to connect the signals to the big screen by wired connection. We designed two wireless transmission modes here.
Interaction with Home Screen
Large screens are equipped with computer mainframe, multi-touch control system, and electronic whiteboard functions. Writing operations can be carried out on large screens at any time during demonstration. Increasing the vitality of speeches.
Hand-in-Hand Meeting
The digital conference system supports set up various speech modes, which can be extended to video camera tracking conference system and conference voting system.
Sound Reinforcement System
We adopt the brand, well-known sound reinforcement system, add the Microphone module.
Conference Room Reservation System
Conference room reservation management system, supporting access to Wechat, Web pages, third-party applications (pins) system management
Conference Room Voting System
We develop voting key port, or adopt to feedback of voting system on Wechat.
Remote Video System
Real-time conference including resource sharing, remote training, group meeting are realized by Internet connection.
Paperless Conference
Guarantee data security, save conference costs, multi-terminal on the same screen, support multiple file formats, free labeling, etc. It make meeting arrangement, check-in and statistics easier than traditional conference.