With the coming of information age, people's life has changed dramatically. At the same time, in order to cope with the development trend of the times, all walks of life are also competing for the first layout of information technology construction, which makes in recent years to comprehensively accelerate the construction of employment information highly valued by various Departments. Strengthening the construction of employment information is not only an important means to implement the employment priority strategy and implement various employment policies, but also an important carrier to improve the level of public employment services, and an inevitable choice to realize the equalization, convenience and accuracy of human resources employment services.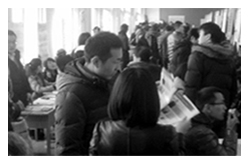 Project Background
In the process of employment informatization, the talent market, as a transfer station for talent circulation, employment data collection, and the collection of employers, has become an information promotion place highly valued by local governments. Some problems of traditional talent recruitment market: the job seeker's' data collection is not comprehensive enough, the information between the job seekers on-site and the employers can not be effectively shared, and the low success rate of job-hunting and low recruitment efficiency of the employers, all these issues are urgently to be solved.
Due to the traditional recruitment market can not meet the current market demand, more and more intelligent recruitment service platforms that meet people's needs have been gradually implemented. These new human resource platforms integrate a series of intelligent recruitment equipment, self-service machine, big data monitoring platform and other intelligent recruitment is becoming the mainstream of industry development, and achieve the integration of online and offline recruitment, accurate recruitment and accurate statistics, to achieve the ultimate goal of promoting the effective flow of talents and the improvement of employment rate.
Project Plan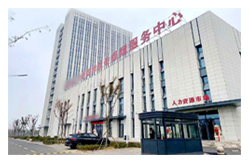 As one of the main transfer stations of talent flow in Jiangsu Province, a human resource market platform in Jiangsu Province has recently purchased a large number of Touch Think industrial all-in-one tablet PCs in order to actively respond to the government's employment information policy and realize the efficient collection of regional employment data, which provides a strong help for the talent market to build a complete intelligent recruitment system. In the whole intelligent recruitment system of human resources, as an important equipment throughout the whole system, the all-in-one PC is not only applied in the self delivery of resumes, but also in the application of the interview table. It is also the main "bridge" for employers and job seekers to understand each other.
As a top leading manufacturer who are focusing on industrial intelligent automatic touch display equipment, Touch Think considers that the industrial all-in-one tablet PC with more outstanding performance is more suitable for this scenario, considering the demand of frequent operation and use of the one-in-one machine in the human resources market, and provides an overall industrial all-in-one tablet PC application solution for creating a comprehensive intelligent recruitment in the human resources market of Jintan District, Jiangsu Province.
Product Application
Name: Touch Think 15 inch embedded industrial tablet PC
Related Keywords: embedded all-in-one PC, Windows operating system, integrated ID card, social security card module, stable performance, convenient operation, fast information sharing.
Product Features
1) Aluminum alloy fuselage, offer better heat dissipation and corrosion resistance.
2) The all-in-one PC is designed with 3mm thin front bezel, excellent for the embedded installation, it fits perfectly with the desktop.
3) Integrated die-casting design, the front panel reaches IP65 dust-proof and water-proof protection, which effectively avoid accidental collision of water cup.
4) Pre-installed Windows operation system, simple and convenient operation interface.
5) Equipped with Intel Celeron J1900 quad-core 2.0G, independent developed industrial grade motherboard, providing stable performance.
6) Support HDMI 4K point screen, good display effect, it is more convenient for job seekers and employers to read information on sites.
7) The all-in-one tablet PC is equipped with USB / COM / VGA / HDMI / RJ45 network port and other ports, with complete functional interfaces, which is convenient for the employer to connect more peripheral equipment and realize data sharing.
8) Integrated gigabit network card, supporting 3G / 4G / WiFi networking, with Bluetooth function, information search and transmission is fast.
9) The integrated ID card reader and social security card reader are customized by the integrated PC, with dual module functions, which is convenient for employers to collect information of job seekers quickly.
Application Advantages
By using Touch Think 15 inch embedded industrial all-in-one tablet PC, job seekers only need to scan ID card, social security card or scan QR code to realize identity recognition. The system then automatically recommend jobs to job seekers, and provides self-service services such as personal resume registration, position query, enterprise information registration and query in real time.
At the same time, through the all-in-one tablet PC, not only the job seekers can consult the on-site enterprise recruitment information, but also the employers can carry out recruitment in various ways such as receiving resumes, independent query, online appointment interview, etc. through the platform, to realize the real-time two-way communication of on-site information, greatly improving the accuracy of matching between the job seekers and the employers, and improving the recruitment efficiency of the employers, at the same time, the success rate of the job seekers also greatly improved.
More real pictures of the project