Medical Devices Resistive Touch Panel PC With Full Screen Size
The resistive touch screen panel is composed of several layers, there are two thin, metallic, electrically
conductive layers separated by a narrow space. When some object, such as a pen or a finger, presses
down on a point on the screen's outer surface, the two metallic layers become connected at that point:
the panel then behaves as a pair of voltage dividers with connected outputs. This causes a change in
the electrical current which sent to the controller for processing. The industrial panel PCs with resistive
touch screen is durable, they are widely used in some extreme industrial environments, or used in huge
power equipments, laser machines or bending machines.
Touch Think Industrial Panel PC Display

Features of Touch Think Industrial All in One PC:
1. The 4th generation industrial panel PC adopts newest design, elegant and full of sense of modernity.
2. Fanless heating-dissipation, better protection for inner electronic components.
3. Self-developed motherboard with industrial-grade level, GB2423 standard anti-vibration, components
are well-protected, which prolongs the whole industrial panel PC's service life.
4. The industrial panel PC is pre-installed with Win 7 OS, and we also support software customization
service, for detailed information, please feel free to contact us directly.
5. The industrial panel PCs adopts aluminum alloy material, better heating-dissipation, and strong anti-
oxidant capacity.
6. Full-flat front panel with IP65 rated dust-proof and water proof, well-performanced under wet environ-
ments and outdoor devices, such as self-service vending machines, express cabinets, medical, etc.
7. The industrial panel PC offer multi-interfaces for various of application, we also support customization

service for interfaces expansion.
8. Self-developed industrial grade motherboard, support upgrade configuration version.
9. Touch Think offer full screen sizes for the panel PC, from 8-inch to 21.5-inch.
Comprehensive Customization Service for Resistive Industrial All-in-one PC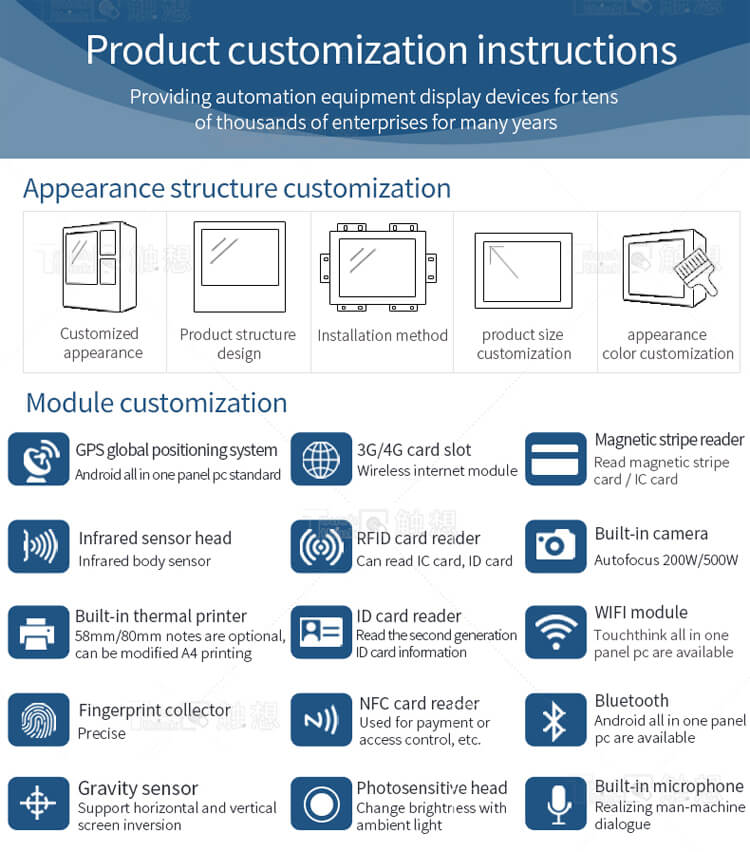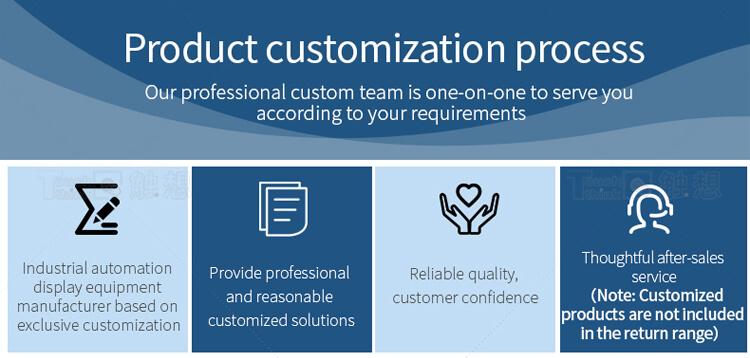 1. Get understanding of customer's requirements and plans of the project.
2. Offer professional and effective solutions as suggestion.
3. Technical agreement will be signed after evaluated the possibility of customized products.
4. Product design, production and function test will be provided by our experienced project engineer.
5. Trial production for the purpose of sample test.
6. Offer high quality product and mass production for customer.