Rugged LCD Monitors Displays For Industrial Production 15.6"
Touch Think manufacturers a wide variety of industrial grade displays with mounting designs and
flexible mounting solutions such as panel mount, wall/VESA mount, fully-enclosed gasket sealed,
embedded mount, open frame and table top. The industrial monitors are available with enhance-
ments such as high brightness and sunlight readable technology, shock & vibration resilient com-
ponents, like industrial-grade motherboards, EMI protection, and wide operational temperatures
and wide voltage. Environmentally sealed protection for the whole shell, IP65 dustproof & water-
proof ratings (front panel) enable these harsh duty displays to be used in applications where dirt,
dust, moisture, water and other foreign debris can be present in the work environment.
Touch Think industrial displays can be custom designed to meet customer's exact needs, and are
available with several touch screen technologies including multi-touch capacitive, single-touch style
resistive, or projective capacitive (PCAP).
Touch Think Industrial Monitor Show


Features of Touch Think Industrial Display

● 15.6-inch bright active matrix TFT display.
● Base video inputs: VGA, HDMI, display port
● High contrast ratio & definition, excellent vivid color and image quality.
● Rugged aluminum alloy housing.
● Fanless design, no-noise running, energy efficient, low power consumption.
● IP65 rating dustproof & waterproof for front panel. High environmental reliability and performance.
● Support anti-reflective protective window.
● Wide screen aspect ratio 16:9 and 1920 x 1080 resolution.
● Wide Operational Temperature Range, -10°C to +60°C. Support extended temperature ranges.
● Full-sealed front bezel, support OSD on back of panel.
● CE, RoHS compliant.
● Three (3) Year Warranty.
Touch Think Industrial Monitors Upgradable Items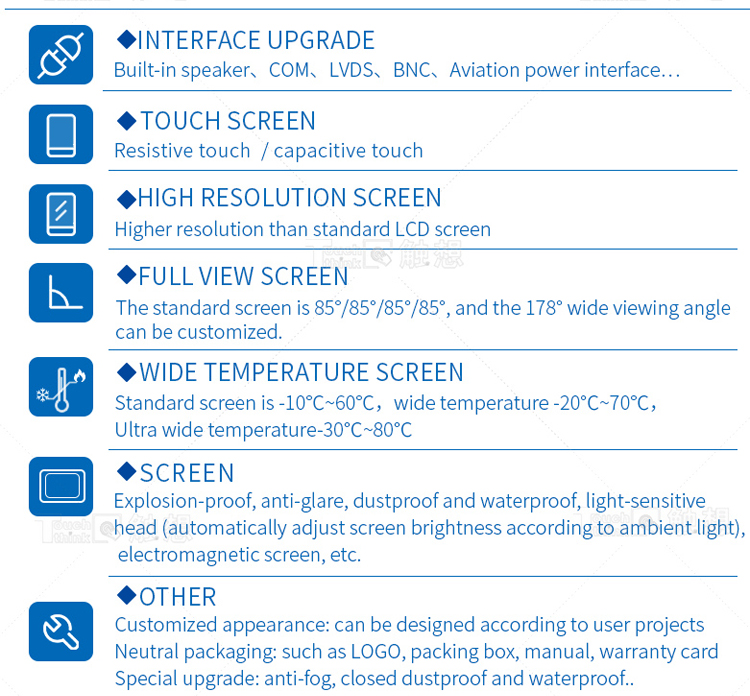 Application of Touch Think Industrial Monitors