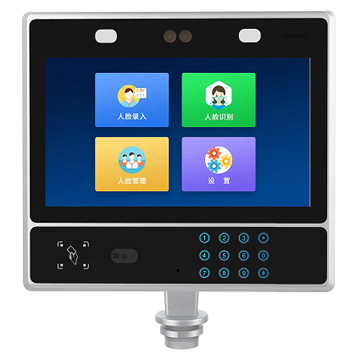 Product Name: Customized Intelligent Access Control All-in-one PC
Appearance:
● This all-in-one machine is formed by one-piece of die casting.
● IP65 dustproof and waterproof; High quality screen with excellent explosion-proof performance.
● High brightness and wide temperature operation for indoor and outdoor applications.
● Best choice for outdoor environment.
Configuration:

● Self-developed industrial-grade RK3288 Android motherboard, quality is guaranteed.
● Core technology guarantee the price of advantages in the market.
● SDK is available to support secondary software development and debugging.
● Support remote control by mobile software.
● GPIO interface can also be used to connect relays to control access control opening function.
Technology:

● 200W Pixel wide dynamic binocular camera.
● Precise face recognition technology.
● Support face liveness detection
● Energy-saving control with infrared recognition within 80CM distance.
● LED waterproof and damp-proof supplementary light lamp.
● Real-time intelligent light supplement at night, support accurately identify
and finish unlock operation.
Functional Module Integration:
● Built-in RFID identity reading module.
● Integrated touch digital key input.
● Capacitive fingerprint acquisition module.
● Support QR scanning and verifying.
● Multiple identification authentication method.
Performance:
This customized all-in-one PC integrating stability, safety and simplicity meeting the needs of safety production and prevention. The all in one PC achieves a complete intelligent access control solution customized to customers.
Application:
● Government projects, scientific research institutions, financial institutions and military facilities.
● Office buildings, intelligent districts, colleges and universities, hospitals and hotels.
● Subway and train station, airport, parking lot, etc.
● Touch Think industrial Android all in one tablet PCs offer other more applications by customization service.