Rugged Android Industrial Tablets 12 inch
Touch Think new fourth industrial tablet PC pre-installed Android system, designed to stable running in harsh complex environments. The front panel designed with standard IP65 rating dust-proof and water-
proof. Android tablets are designed to withstand vibration and shock. They are well-protected during shipment and excellent for transportation applications. Offer multi-point capacitive touch and non-touch style
The 12 inch android tablet is an aluminum-aluminum alloy, which is light in size and beautiful in appearance. Reached military level. Touch android tablets with the characteristics of sturdiness, shockproof, moisture-proof, dustproof, high-temperature resistant multi-slot, and easy expansion.
LCD industrial-grade android tablet computer material is made of aluminum alloy, which is light in size and beautiful in appearance. It reaches the military level. It has the characteristics of sturdiness, shockproof, moistureproof, dustproof, high-temperature resistant multi-slot, and easy expansion. It is a variety of industrial control, The best platform for automation applications such as traffic control and environmental protection control. The machine is equipped with 12.1" wide temperature, high brightness LCD liquid crystal display, integrated industrial-grade low-power embedded motherboard, supports CF, HDD, and has multiple I/O Interface, resistive touch screen; 12.1-inch LCD display, brightness, and contrast can be adjusted, and has a standby energy-saving mode.
Display of Touch Think 12-inch Industrial Android Tablet All-in-one Panel PC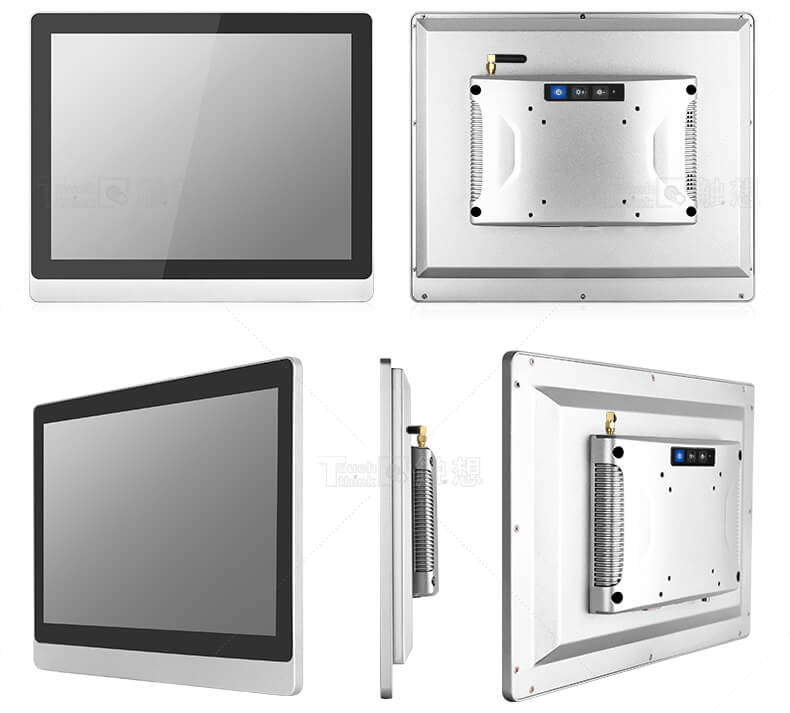 Touch Think All-in-one Android PC Features
1. The industrial tablet computer panel PC is designed to the full-flat seamless front panel, easy to maintain, more suitable for embedded installation.
2. IP65 rated waterproof and dust-proof, effectively withstanding the infiltration of dust and water vapor.
3. Aluminum alloy shell with high hardness, 7H level, which enhanced protection performance for the screen.
4. Shock-proof, high and low-temperature resistance, working temperature range up to - 20 ~70°C.
5. The rear cover of the panel PC designed with a circular arc structure, high heat-dissipation.
6. Anti-EMI: it meets the EMI/EMC standard, performs perfectly in harsh conditions.
7. Reserved dustproof&waterproof horn hole: the horn adapts to the technology of industrial sound transmission material, it also supports dust-proof and waterproof.
8. External key adjustment function: built-in button for adjustment of screen brightness, it reduced complex and tedious operation.
9. The power consumption of Touch Think Android industrial touch all in one PC is low.
10. Low calorific value: The self-developed motherboard has very small calorific value, and the temperature of the motherboard is generally normal temperature, the industrial all-in-one PC support long-time stable running for the whole year.
11. Android industrial touch screen all-in-one boot-up time is short, generally only a few seconds.
12. An excellent performance like X86 in terms of video multimedia, data communication, and other aspects.
13. Android industrial all-in-one tablet PC applied to a complex environment, it can work all the time without personnel to maintain, and in the case of power regulation, it supports the plug-and-play function. Industrial-grade motherboards are generally not affected by the environment, the lowest temperature can be - 20 degrees Celsius, the highest temperature can be about 70 degrees Celsius.
14. Touch Think panel PC offers rich ports for customers: RJ45, HDMI, DVI, VGA, and special anti-drop DC.

15. The Android all-in-one PC support multi-type of installation methods in a different application.
Application of Touch Think 12-inch Industrial Android Tablet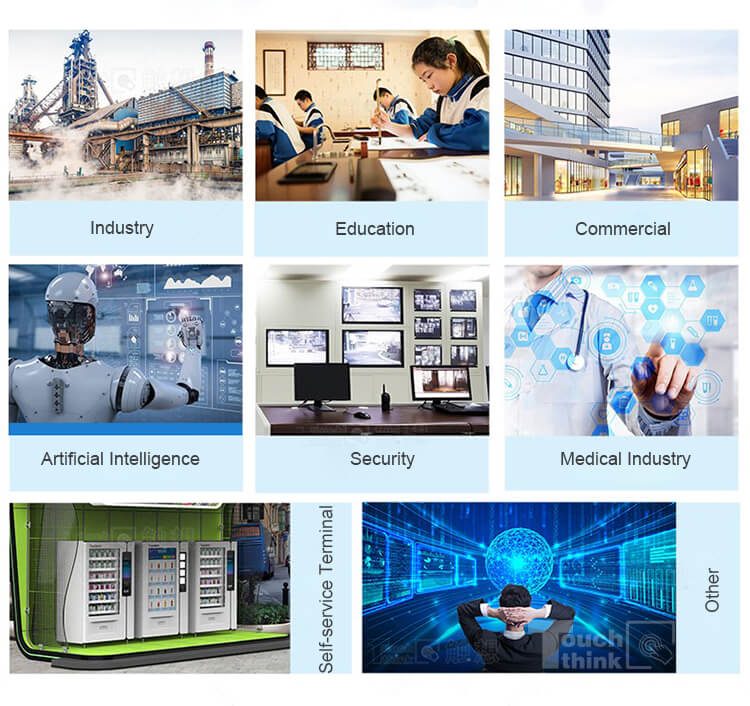 If you are interested in our 12 inch android tablets, please contact us in time!