The balancing machine is an instrument used to measure the unbalance of the rotor. It is a hard supported balancing machine with a large swing rigidity. The unbalance of the rotor is corrected with the measurement results of the dynamic balancing machine, so that the vibration generated during the rotation of the rotor or the vibration acting on the bearing is reduced to the allowable range, so as to reduce the vibration, improve the performance and improve the product quality.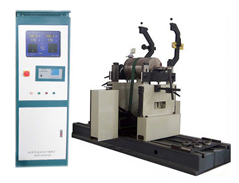 We have some customers from balancing machine industry, they are famous professional balance testing equipment manufacturers in China. Take one of our customer as example, their products are controlled by industrial computer, displayed on industrial grade monitor with or without touch screen, and equipped with printing, scanning function. It support store more than 150 kinds of rotor data. Easy to operate and maintain, stable in performance and accurate in testing. They are widely used in motor, fan, water pump, printing, paper machine, spinning machine, electric tool, internal combustion engine manufacturing, machine tool, aerospace, grinding wheel manufacturing, agricultural machinery and other industries, receiving trust and praise of majority users in the market.
Touch Think industrial panel PC used in the balancing machine, equipped with touch screen display and human-machine interface.
1. Single-Chip Microcomputer TTL level communication, offer RS232 serial port, RS485 serial port for communication, CAN interface, support audio playback function and 90 degree inverted display.
2. Supporting HMI configuration software hmimaker, "0" code, "0" programming, "what you see is what you get", such as making PPT, simple and fast.
3. Support the use of various single-chip microcomputers, Mitsubishi, Siemens, Delta, Xinjie and other PLC communication.
4. MCU or PLC drive controlled, 7 inch, 8 inch, 10.1 inch, 10.4 inch, 11.6 inch, 12 inch, 15 inch, 15.6 inch, 17 inch, 17.3 inch, 19 inch, 19.1 inch, 21.5 inch, 22 inch, 24 inch display size are avaliable.
5. Industrial touch screen, industrial grade main board, human-machine interface configuration with software customization development.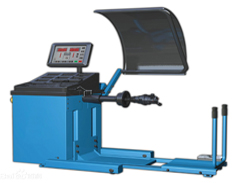 Configuration of the Balancing Machine
1. Hardware Features
1. Dual serial port for choosing: RS232 and RS485 level, TTL level serial port by single chip microcomputer.
2. Support 51, DSP, PIC, ARM and other MCU development and use.
3. Support Siemens, Mitsubishi, Omron, Delta and other PLC, support Modbus Protocol.
4. Adopt to FPGA + ARM with high-speed processing performance for the picture and text, fitted with TF card on circuitboard.
5. Support 128M-32G TF card and audio playback function interface is available.
6. Industrial LCD screen, LVDS LCD interface, support 4/5-wire resistive touch screen or non-touch screen with embedded shell.
7. Snap and easy installation for embedded to cabinet.
8. Resolution: 800x600, 1024x768, 1366x768, 1920x1080, 1280x1024.
9. Flash storage capacity: 512Mbit [64MB].
10. Color: 16 bit true color display (65K color).
11. Brightness: 350nit~1500nit.
12. Working temperature: - 20 ~ 70 ℃.
13. Operating voltage: 12V on-board RTC clock function circuit.
14. Support the buzzer on the time display board, which can be used for key tone or user alarm and prompt functions.
15. Interface mode: 6Pin_Terminal.