Laser equipment can be used in a large number of industries of equipment manufacturing and processing, such as Kitchenware and bathroom, cabinet, sheet metal processing, mechanical accessories, advertising industry, medical equipment, fitness equipment, elevator manufacturing, and so on.
Laser equipment provides processing and manufacturing for these industries with the following advantages:
1. Production cost reduction
No mold, no tool wear, less material waste, lower labor cost.
2. High processing efficiency
Fast cutting speed, short production cycle, fast forming, and cutting.
3. Automation operation
It can realize automatic cutting layout, nesting, CNC system, easy to operate.
4. Good cutting quality
Narrow cutting seam, smooth and beautiful cutting surface, no slag hanging, no burr, high precision.
Touch Think industrial display used in laser cutting equipment has the following features
Meet the needs of industrial equipment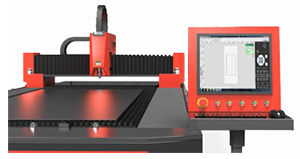 The industrial LCD monitor needs to display on the control panel of the machine, and the computer-focused graphics and professional laser cutting software make the focused laser propagate along the metal surface with the machine to be irradiated. The industrial display realizes the directional movement of precise cutting, making the operation more humanized. Equipped with the industrial-grade motherboard and the front panel of the industrial display to reach the protection level of IP65 dust-proof and water-proof, which can adapt to the cutting environment with large dust, iron chips, and vibration. In fact, the so-called industrial monitor, literally, can be understood as a kind of monitor applied in industrial sites. Due to its display screen being used in various industrial sites, it has requirements on the viewing perspective, the brightness of the LCD screen, and other aspects. The standard viewing angle of Touch Think industrial touch screen monitor is 160/160 by default, and the brightness is 400nits by default. However, we support upgrading and customizing it according to the using environment and the specific requirements of customers. The viewing angle can be upgraded to 178° full viewing angle, and the brightness can also be upgraded up to 1500nits. An automatic photosensitive camera is also can be built-in to provide users with a good operating experience, which can reduce the operation error and ensure the accuracy of product cutting.
Solution
After communication and discussion with customers, the touch display function is finally realized by connecting the Touch Think 19-inch industrial touch display and the main control computer of the laser cutting system, the 19 inch industrial LCD meets the rich graphics and control display interface of cutting software, the resistive touch screen connects with the main control computer through RS232 serial port, and the fully closed aluminum alloy enclosure and fastening type interface plug-ins have good firmness and shock resistance performance. The embedded installation mode also effectively prevents dust and iron chips from entering the control cabinet.

Industrial Touch Screen Monitor For Industrial Laser Cutting Machines