The laser machine is a general term for laser marking machine, laser engraving machine, and laser cutting machine. This article mainly introduces the laser marking machine. The working principle of the laser marking machine is to focus the laser on the surface of the marked object with a very high energy density and to vaporize the surface material through burning and etching. The effective displacement of the laser beam precisely burns the pattern or text.
It can realize permanent identification on products, and its indelible permanent identification can help enterprises realize the purpose of anti-counterfeiting of products.
At present, in the marking and printing industry, laser marking has occupied 90% of the market. The laser marking machine can print all kinds of serial codes, batch numbers, bar codes, QR codes, labels, characters, symbols, etc. the character size can range from millimeter to micron, which is of great significance to the anti-counterfeiting.
Touch Think Industrial Touch Panel Computer Applied on Laser Marking Machine
With the continuous development of electronic technology, laser and computer technology are organically combined. Users only need to program and draw pictures on the computer to realize the pattern of the laser on the carrier. Under this development trend, industrial panel computers become more and more important. The standards for industrial panel computers to adapt to laser marking machines tend to be strict and high-performance.
In the aspect of adapting to industrial touch panel computer, the first is the compatible application of various drawing software; The second is continuous marking operation, which has strong performance support in long-term stable operation; At the same time, in terms of environmental adaptability, it can adapt to the working environment of laser marking machines, such as vibration, dust and electromagnetic interference.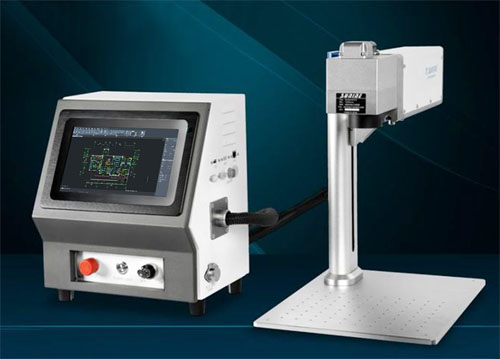 Then, in the application of intelligent automatic laser marking, what features do industrial touch computers generally need to have? We can take Touch Think industrial touch panel computers application as an example, a 15.6" industrial touch panel computer, embedded mount, model TPC156-W200.
Touch Think High-Performance Industrial Panel PC - TPC156-W200
Touch Think TPC156-W200 is an embedded industrial all-in-one panel PC, its design and performance meet the requirements of laser marking machines. Adopting with Windows system, offering a simple interface and operation, high performance, high integration and stability, and low power consumption, it is suitable for the operation platform of the man-machine interface of automation equipment and supports 7x24 uninterrupted operation.

In terms of durability, this touch panel PC adopts an aluminum alloy structure, adopts an industrial-grade LCD touch screen; seamlessly front panels fully fit, and with front IP65 dust-proof and waterproof protection for harsh applications. What furtherly, this panel PC has been tested qualified in constant temperature and humidity quality. Fully enclosed design, while having heat dissipation holes on the rear cover for heat dissipation, easy to install and maintain.
Touch Think 15.6-inch industrial panel PC configuration and features:
1. Default with Intel Celeron J1900 2GHz quad-core 2G DDR3 + 32G SSD, upgradeable.
2. Aluminum alloy wire drawing material, fully enclosed, fanless, efficient heat dissipation, anti-interference, anti-corrosion.
3. Streamlined design, 3mm ultra-thin front panel, suitable for embedded/panel-mount installation.
4. Wide temperature-resistant LCD screen, high resolution, resistive, capacitive, and Non-touch screen for optional.
5. Support module customization, including 3G / 4G, card reader, infrared sensor, and so on.
6. Diversified interfaces, such as DC12V, HDMI, VGA, USB, etc., support I/O expansion, meeting various connection requirements
Touch Think industrial all-in-one panel PC can not only match laser marking machine equipment but also apply to industrial automation equipment such as laser welding machine, laser cutting, CNC lathe, and visual inspection. Multiple customized solutions is acceptable. For more details, welcome to inquire.