Few biometric technologies have sparked our imagination as much as facial recognition. Again, its arrival in 2020 has sparked profound concerns and surprising reactions. Top technology and provider TOUCHTHINK presents you with the facts about facial recognition. The impact of artificial intelligence - it's getting better all the time.
Face Matching
Before we move on, let's quickly define two keywords: "recognition" and "identity verification". Biometrics is used to identify and verify a person using a set of identifiable and verifiable data that is unique and specific to that person.
Facial biometrics remains the preferred biometric benchmark. This is because it is easy to deploy and implement. There is no physical interaction with the end user.
A study published in June 2019 estimates that the global facial recognition market will generate $7 billion in revenue by 2024, thanks to a compound annual growth rate (CAGR) of 16% from 2019 to 2024. The two most important drivers of this growth are surveillance in the public sector and numerous other applications in different market segments.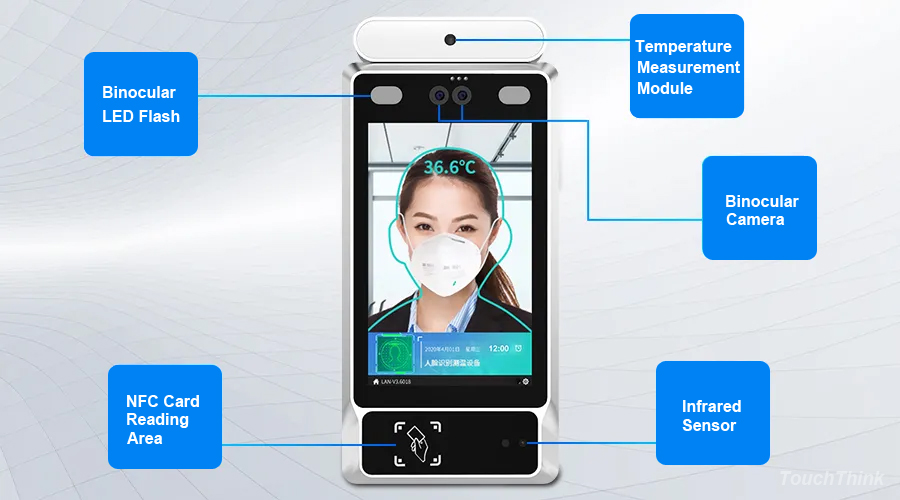 What's the use?
The following are the top three application categories that use facial recognition.
1. Security
The benefits of facial recognition systems for policing are obvious: detection and crime prevention. Facial recognition is used when issuing identity documents and is often used in combination with other biometric technologies such as fingerprints (to prevent ID fraud and identity theft). Facial matching is used for border checks and to improve performance in performing public safety tasks.
2. Health
It has made significant progress in this area after the COVID-19 outbreak. Thanks to deep learning and facial analysis, it has been possible to.
More accurately track patients' medication use.
Support pain management procedures.
Health face analysis.
Combination of body temperature measurement and recognition.
3. Banking and retail
This area is undoubtedly the least expected to use facial recognition. However, most likely, it promises the most. The pandemic has accelerated this emerging dynamic of online shopping, with many branches temporarily closing.
By placing cameras in retail stores, it is now possible to analyze shopper behavior and improve the customer purchase process. As with Facebook's recently designed system, salespeople will capture customer information from their social media profiles to generate professionally tailored responses. According to Yahoo, facial recognition payment systems will be in 3,000 stores by the end of 2021!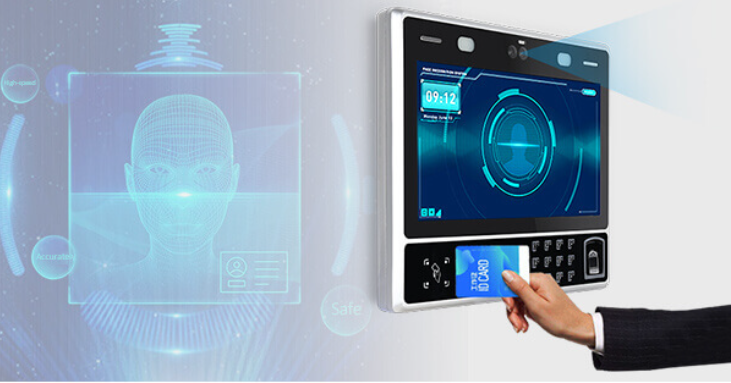 11.6" Face Verification Terminal
TOUCHTHINK
With the widespread adoption of facial recognition smart terminals, Touch Think has launched its own facial recognition temperature measurement terminal solution. Currently, the 8-inch face recognition temperature measurement terminal is widely used in personnel management and access control systems.
● Motherboard: RK3288 quad-core 32-bit CPU, 1.6GHz, 2G DDR3, 16G EMMC, Android 7.1 OS.
● Operating temperature: - 10℃ to 60℃; Storage temperature: - 20℃ to 70℃.
● Touch: Capacitive touch, supports 5-point touch.
● Anti-vibration: 5-19Hz/1.0mm amplitude; 19-200Hz/1.0g acceleration.
● Anti-jamming: EMI/EMC anti-jamming standard.
● Interface: 1*DC2 0, 1*USB, Wigan output (support 26Bit and 34Bit format), relay terminal, 1*RS485.
● Support upgrade customization: monocular, silver/black appearance, NFC/RFID/ID card reader, barcode recognition, fingerprint recognition, etc.
Please click here to contact us for more information.