Since the occurrence of COVID-19, the application of science and technology has become a bright spot. Various intelligent devices and emerging technologies have been put into the anti-epidemic work one after another, which has been well demonstrated in practice and made a great contribution to reducing the impact of the epidemic on people's daily life.
In places with large traffic such as shopping malls, cinemas, and stations, epidemic control is particularly important. Timely detection of symptoms can effectively prevent the spread of the epidemic. In these places, face recognition devices are widely used. They can quickly and accurately identify abnormalities and provide the basis for the next action.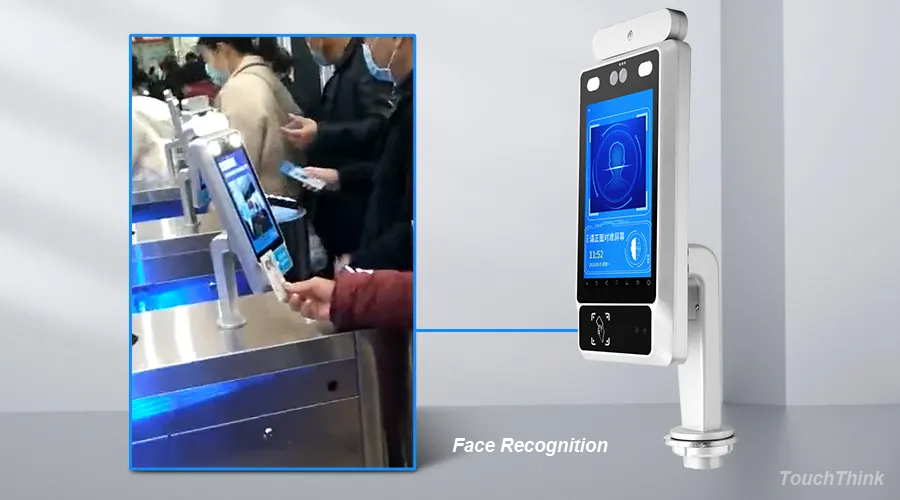 Face recognition devices have many advantages in epidemic prevention and control. They have multi-functions such as infrared temperature measurement, face recognition, etc., plus Internet information technology, from contactless temperature measurement, residence history, and query a number of information of people in and out. At the same time, all this information and data can be stored in the Cloud and shared across the country, forming a united front for epidemic prevention and control.
On the premise of ensuring the encryption of personal privacy information and ensuring data security, the original epidemic prevention and control means were intelligently upgraded, the whole process of electronic management and intelligent traceability were realized, and the efficiency of personnel access and access management was greatly improved.
In short, the main application of face recognition equipment is capture and comparison. Before the comparison and processing of system data, the rapid capture of facial data and the collection of body temperature are kind of a test for the structure and performance of intelligent facial recognition devices. In a variety of different environments, whether passing alone or in groups, it is primary to obtain the biological information of the people in front without omission. Then, it can match the Internet data to quickly identify and give the signal of "pass or not".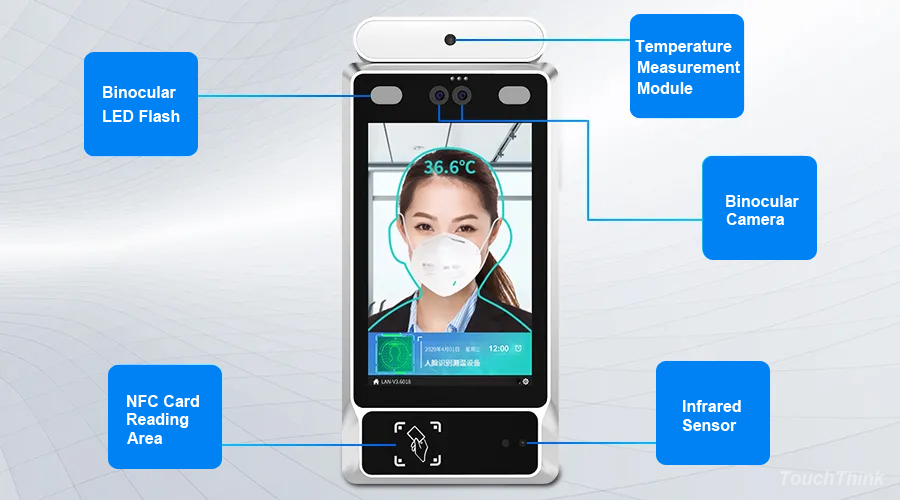 With the wide application of face recognition intelligent terminals, Touch Think has launched its own face recognition temperature measurement terminal solution. At present, an 8-inch face recognition temperature measurement terminal is widely used in personnel management and access control systems. Its basic features include a binocular 2 million HD camera, dual-LED fill light, temperature measurement module, NFC / RFID / ID card reader, and human body proximity sensor.
Standard configuration for Touch Think 8" face recognition terminals
● Motherboard: RK3288 quad-core 32-Bit CPU, main frequency 1.6GHz, 2G DDR3, 16G EMMC, Android 7.1 OS.
● Operating temperature: - 10 ℃ to 60 ℃; Storage temperature: - 20 ℃ to 70 ℃.
● Touch-type: capacitive touch, supporting five-point touch control.
● Anti vibration: 5-19Hz / 1.0mm amplitude; 19-200Hz / 1.0g acceleration.
● Anti interference: EMI / EMC anti-interference standard.
● Interface: 1 * DC2 0, 1 * USB, Wigan output (supporting 26 Bit and 34 Bit formats), relay terminal, 1 * RS485.
● Supports upgrade and customization: monocular, silver / black appearance, NFC / RFID / ID card reader, bar code identification, fingerprint identification, etc.
The face recognition temperature measurement terminal equipment solution launched by Touch Think provides high-performance hardware for information collection, which is favored by many software and integrators. At present, the Touch Think 8-inch face recognition temperature measurement terminal has the following common scenes in epidemic prevention cases: office buildings in the park, community access, pharmacies, hospitals, railway stations, etc. One-stop solution for real-time verification and query of face recognition, identity verification, thermal imaging temperature measurement, guide personnel to queue up and enter orderly, and reduce the risk of cross-infection.