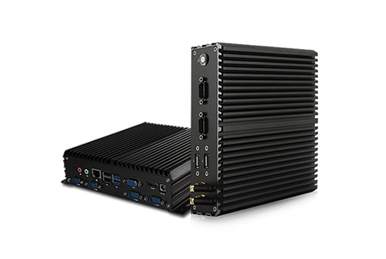 1. Using Environmental
Industrial mini pc is different from ordinary computer, because it is suitable for extreme environments such as ultra-low/high temperature, high dust, high vibration and so on. Therefore, when choosing industrial mini PC, it is necessary to check whether its parameters can meet the needs of its own application environment. Such as operating temperature, storage temperature, huminity, etc.
2. The space size for installing industrial mini PC
Industrial mini PC usually needs to be installed on the rack or other narrow space, so the size of the installation is the main limiting factor. According to the installation size, the height of industrial mini PC varies from 1U to 7U (1U = 4.45cm). At the same time, in the past decade, a smaller embedded industrial computer has been developed. Its length is only over ten centimeters, and its functions are more complex. Therefore, product specifications should be selected according to the size of on-site installation.
3. According to the feasible installation method on site
The installation methods of industrial mini PC can be divided into wall hanging, rackmount, desktop, embedded. Besides, you also need to consider the way of wires layout to avoid wiring difficulties.
4. Technical parameters
Just like choosing a personal computer, buying an industrial mini PC also requires a look at the configuration: processor (processing speed), memory, software, etc. What kind of configuration each industrial mini PC chooses needs to be considered comprehensively according to the equipment used ont-sites. If the configuration is too high to give full play to the efficiency of the industrial mini PC, which will also cause waste. While if the configuration is too low, which may decrease the operation speed on sites, which would reduce the production efficiency. Therefore, the technical parameters of industrial mini PC is really important.
5. Expansion for Interfaces
Considering the interface type of industrial mini PC, whether there are RS-232/485, CPCI, USB, PROFINET and other interfaces. If you would like buy the assembly machine, not the whole industrial device, you should pay attention to the interface when choosing the circuit board.
6. Brand
The stability, reliability and quality of industrial mini PC directly affect the success or failure of the whole project, so brand is also a very important factor. Touch Think's main products are industrial monitor, industrial computer, industrial all-in-one tablet PC and industrial mini PC. Products are widely used in medical, military, power, communications, financial terminals, intelligent instruments, network/information security equipment and other industrial automation control fields. We can fully meet the needs of our customers.