With the wide range application of industrial panel PCs, the automation level of cement plant has also been improved correspondingly. So what kind of industrial all-in-one PC should cement plants choose? What kind of configuration is more suitable for the working environment of cement plant?
The quantitative feeder is a mechanical and electrical integration equipment for continuous quantitative feeding and batching of materials on the production line of cement industry, and industrial tablet PC plays an important role in this system. At present, the configuration and performance of industrial all in one PC in market meet the needs of customers.
Touch Think industrial all in one PC support Windows, Android or Linux operating system, realizing perfect connection with quantitative feeder system. And the industrial computer shows excellent reliable and rugged performance in harsh environment of cement plant, such as dust-proof, high temperature resistance, vibration resistance and electromagnetic interference resistance.
At present, our industrial tablet PCs are widely used in more than ten big cement plant in China.
1. Functional features of Touch Think industrial tablet PC in quantitative feeder system:
The quantitative feeder system is composed of scale body, industrial all in one PC and electric control cabinet.
I. Main functions
1. Set the material ration through the dust-proof touch keyboard.
2. Automatic dynamic cumulative flow (output).
3. It can automatically peel and recuperate linearly.
4. It has audible and visual alarm functions such as upper limit, lower limit and slip.
5. Support print technical parameters and control reports at any time.
6. Support remote control for centralized management of the whole plant and form a distributed control system.
II. Main technical features
1. There are two control modes: group control and single control. The group control type is one unit of industrial all in one tablet PC controls the operation of 1-4 units of scales at the same time; the single control type refers to one industrial all in one PC only controls one scale. Both group control and single control mode have good man-machine conversation function, stable and reliable operation, easy for convenient debugging and maintenance.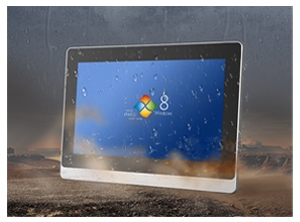 2. Strong anti-interference ability. The computer controller, the key part of easy failure, is industrial tablet PC produced by Touch Think company. Each interface board adopts photoelectric isolation and the system has high reliability.
3. There are two modes of motor speed regulation: slip speed regulation and frequency conversion speed regulation.
4. Rich communication functions. Such as 0-5V, 0-10V, 0-10mA, 4-20mA, RS232C, RS422, etc.
5. The motherboards, electric control part and components are all industrial grade quality, well-performed in terms of anti-vibration and shock resistance under harsh cement plant, and they are simple and convenient maintenance.
6. Popular language is used to program. the whole software fully embodies the structured program design, making the program clear and brief.
7. The system provides graphic screen and multi-language prompt, which is easy to debug, easy to operate and maintain.
8. Due to the features of the industry, the site environment is dusty and there are many signal interference sources, while the system support 7/24 hours long time running.
If you are a user in the cement plant industry, and looking for a suitable enterprise to purchase the industrial all-in-one PCs, welcome to contact us, we will supply competitive industrial all-in-one PCs that meet full needs for your projects !