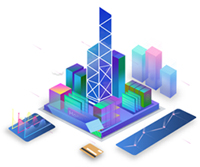 Public Building Energy Management
Solution overview
Public building energy-saving supervision platform consists of metering device, data gateway, data transmission Network, data server, management software, etc. The metering device is various types of remote transmission terminals; the data gateway collects data from the metering device and accepts the relevant settings issued by the platform; the construction of the transmission network is mainly the laying of communication lines; the data center is constructed through servers and other equipment to implement software storage, statistics, analysis and display of deployment and energy data.
Energy solutions for industrial companies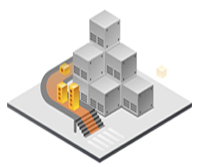 Solution overview
Enterprise energy management system is based on computer network technology, communication technology, metering control technology and other information technology, to achieve digitalization, networking and spatial visualization in terms of energy management, energy dispatching, energy metering, improve the basic energy data system. Establish a set of scientific and perfect energy utilization monitoring, management, and evaluation systems for critical energy-consuming enterprise, innovate energy management models, use intelligent technology to build databases, and build intelligent energy management information systems to achieve real-time, accurate dynamics supervision of energy utilization status for critical energy-consuming enterprises , strengthen energy conservation management with modern technical means, increase energy conservation supervision, and improve the management level of enterprise energy conservation work.
Workflow design of energy-saving control system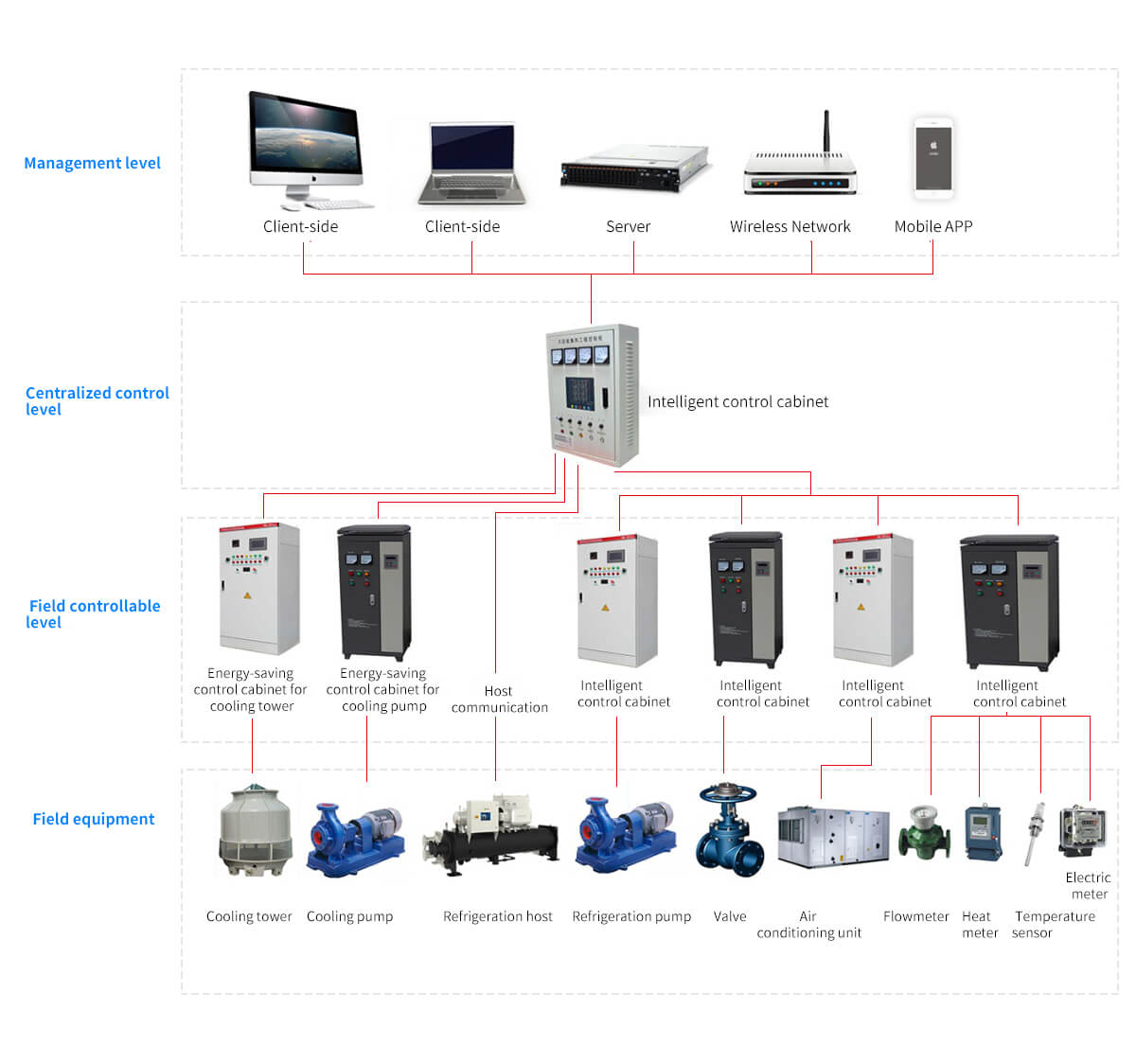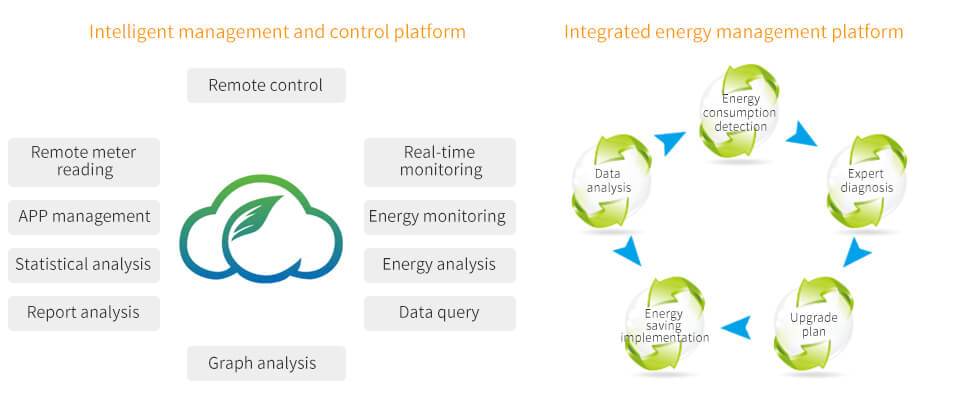 This is the workflow design of energy-saving control system of our customer, Tevogr company, located in Guangzhou. This energy management and control system centrally monitors and controls energy facilities and key energy-consuming equipment, and implements functions such as data collection, equipment control, parameter adjustment, and accident alarm. It focuses on solving many problems existed in enterprises, such as numerous energy equipments while with decentralized and independent energy systems, no united platform for monitor and dispatch, manual inspections are time-consuming and labor-intensive, and problems can not be found in time.
At the same time, a cost-oriented energy analysis and energy management system comprehensively uses energy data, production data, and environmental data to conduct energy management for enterprises on a unified platform. It focuses on solving the poor visibility of energy information and the lack of comprehensive analysis of influencing factors (such as output, temperature, etc.), weak management and other issues.
With the energy management system as the core, various public systems in the enterprise such as power distribution systems such as electricity distribution, air compressors, natural gas, boilers, waste heat, photovoltaics and other energy power systems, as well as water treatment, air conditioning, oxygen removal, smoke, video and other environmental systems, are integrated to achieve centralized monitoring and control on a unified platform.
Touch Think 7 inch and 12 inch industrial tablet PCs with Android operating system play important role in this system, they are embedded into the power distribution cabinets for providing high quality image and data display on the industrial grade monitors, and connect well with the whole system. Realizing 7/24 stable long time operation in -20 ~ 70°C temperature environments.