It adopts Embedded Touch Display, the touch screen communicates with the host computer through the serial port, the aluminum alloy shell and the fastened interface plug-in unit, which has good sturdiness and shock resistance; the embedded installation method of the panel can effectively prevent dust and impurities Objects enter the control cabinet.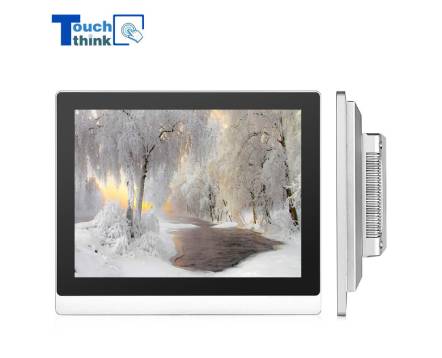 Embedded Touch Display
Product advantages:
1. Using aluminum alloy material, surface painting and frosting process, the overall heat dissipation effect of the body is improved several times
2. Ultra-thin design, save cabinet space
3. Rugged power terminals, DC wide voltage input, meet the use of industrial sites
4. Support panel embedded and standard VESA installation at the same time, flexible choice
5. Using Industrial-Grade LCD Board, enhanced anti-interference and filtering functions, effectively resisting interference from high-power motors, servos and laser generators inside the laser cutting machine, presenting high-quality display effects
6. It has strong anti-interference ability and can be used well in dusty and oily environments
7. The front panel reaches the IP65 protection level to prevent dust, oil, and moisture from entering the display
8. Simple embedded installation method, customers only need to open a square hole in the control panel, and after the display is embedded, the four hooks can be tightened to complete the installation operation, which is convenient for hole design and saves on-site installation man-hours
9. Both communication and display interfaces adopt fastened plug-in units to prevent on-site vibrations from falling off.
The company also provides Capacitive Touch Screen Displays and resistive touch screen displays, please feel free to contact us if necessary