Vehicle-mounted terminals go by many names. Vehicle Mounted Terminal, Vehicle Mounted Computer, Vehicle Mounted Unit. While the last term is essentially interchangeable, the main takeaway is that they are all installed in one type of vehicle. Vehicle Mounted Terminal has powerful computer functions in an easy-to-use configuration. They are specifically designed to withstand the vibrations of forklifts, delivery trucks, and many other vehicles. Vehicle Mounted units help to increase productivity and reduce errors. These units are also extremely durable as they are typically IP65/IP67 rated.
Vehicle mount Computer or a Rugged Tablet? Which is Right for You?
The answer is simple - it depends on how you use the units. Unfortunately, there is no one-size-fits-all solution here. Vehicle-mounted terminals tend to be more stationary as they are usually attached to forklifts or other vehicles. A rugged tablet can be mounted on the vehicle, but it is also easier to remove from the stand than a standard vehicle-mounted computer. Are you working in a refrigerated environment? In this case, you need to use an in-vehicle terminal. In-car computers are still more durable than rugged tablets. Rugged Tablets offer more functionality, but in-car computers are more durable.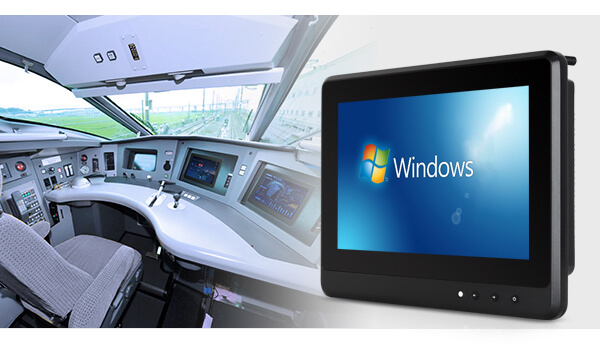 Touch Think in-vehicle terminal series adopts sunlight-readable TFT LCD, support Windows, Linux, and Android systems for transportation touch control and display solutions in critical environments.
Vehicle-mounted touch screen monitors and computers from Touch Think are engineered specifically for vibrate in-vehicle environments use. In a compact 10.1" display size with rugged alumunim alloy casing design, offering very reliable and effective touch control and display solution for in-vehicle application.
If you're not sure which configuration is right for you and your working environment, our experienced sales managers will be able to help. Contact us and let us help you!
Will Microsoft's termination of support for mobile devices affect my choice?
The short answer is no. Fortunately, Microsoft's choice to discontinue support for its mobile operating system will not affect in-car terminals or ruggedised tablets. These deployments all use the full version of Windows and users will continue to have a choice between Microsoft and Android. Is your company ready to switch all its devices to Android compatibility? The costs associated with changing the entire setup may be more than you can afford.
For more questions about in-car terminals, please contact us!