66 products of eight series including industrial panel PC for smart factory workstation terminal and production line automation from Touch Think company will display at the 9th China Information Technology Expo.
From April 9 to 11, 2021, the 9th China information technology Expo (CITE) will be held in Futian Convention and Exhibition Center, Shenzhen. As the largest electronic information Expo in Asia, the theme of the Expo is "innovation-driven high-quality development". Touch Think will bring a number series of products to show various application solutions for touch display devices in the field of intelligent manufacturing.
Focus on No.3 Intelligent Manufacturing Hall
In this exhibition, the Touch Think booth is located in the No.3 intelligent manufacturing Pavilion, which includes fields like intelligent manufacturing equipment, industrial automation, intelligent factory, system integration, mechanical transmission, machine vision, etc. Touch Think will display exclusive solutions for intelligent manufacturing applications, including 3 new product series and 66 products will be displayed, showing the strength and advantages of intelligent manufacturing touch display supporting field in an all-round way.
Intelligent Manufacturing & Industry Automation
Touch Think intelligent touch display device can be applied to SMT automation, 3C automation, industrial robot, automatic loading and unloading equipment, dispensing and spraying automation, test automation, assembly automation, plug-in automation, storage automation, flexible production line, non-standard automation equipment, placement automation, manipulator, manipulator and other scenes.
Smart Factory & Smart Warehouse
According to the control and display needs of specific scenes of smart factory and intelligent warehouse, it includes the specific applications such as warehouse, logistics automation, intelligent three-dimensional warehouse AGV, internal logistics automation, intelligent workshop, handling robot, elevator, drive belt, MES software, transfer system, bar code system, printer, bar code scanner, forklift, commercial vehicle, cable support, vacuum adsorption transfer system, AGV robot, sorting robot, etc., Touch Think providing professional industrial touch control & display solutions for these applications.
Machine Vision & System Integration
Touch Think provides reliable touch control & display overall solutions for machine vision & system integration fields, including machine vision integration, industrial measurement, instrumentation, factory automation system, robot system integration, non-standard automation, transmission & control system, remote monitoring, embedded system, industrial image processing system, test & detection equipment, industrial 4.0 intelligent factory, and high-end CNC system.
Mechanical Transmission & Motion Control
Touch Think also provides supporting touch & display solutions for mechanical transmission & motion control fields, including sensors, controllers, hydraulic transmission components, pneumatic transmission components, fluid transmission and components, mechanical transmission components and components, sliding and rolling bearings, gear motors, linear technology, sealing technology, and other supporting applications.
Touch Think Offers Six Solutions For Intelligent Manufacturing
Intelligent manufacturing field
Closely linked with the theme of the exhibition, in the No. 3 intelligent manufacturing Pavilion, Touch Think displays four production applications and 6 intelligent manufacturing classic solutions for visitors. The four application scenarios are automatic production line, vehicle intelligent automation, automatic control, and industrial intelligent cabinet; six application cases are MES management in workstation, SOP electronic Kanban for production line station machine, intelligent warehouse AGV forklift, and PLC automatic control, all these showing the professional strength of Touch Think in the intelligent manufacturing field.
Automatic production line solution
For workshop production line upgrading and workstation management, Touch Think independently develop and design manufacturing execution equipment, adapt to the mainstream manufacturing execution system, accurately transmit information, meet the requirements of material traceability, production task segmentation, real-time status display of production line, etc. task scheduling and production scheduling management are widely used in smart factories and workshop production lines.
Intelligent warehouse AGV forklift
Aiming at the supporting application of intelligent warehouse AGV forklift, and in order to adapt to the harsh environment of high vibration, high dust, and strong electromagnetic interference, Touch Think 10.1-inch vehicle-mounted Android all-in-one panel PC, adopting self-developed anti-interference industrial motherboard, equipped with JWS3288-I high-performance chip, offers stable performance, high-efficient operation, aviation connector design, fully enclosed metal shell, anti-shock and dustproof. And the external camera / CAN interface / scanning gun is available to connect to meet the requirements of the AGV forklift's safe and efficient operation.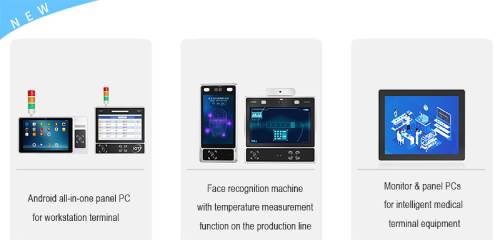 Three New Arrivals
Workstation Touch Control & Display Terminal For Smart Factory
10.1-inch and 11.6-inch workstation terminal all-in-one panel PC, industrial-grade MES manufacturing execution equipment, adapt to the mainstream manufacturing execution system, independent selection of identification module, meet the requirements of material traceability, task scheduling, and production scheduling management, widely used in smart factories and intelligent manufacturing fields.
Face recognition machine with temperature measurement in the production line
To meet the dual needs of identification and body temperature monitoring, this face recognition machine with temperature measurement in manufacturing enterprises with a large number of workers, can monitor the body temperature of employees in real-time, give the abnormal alarm, ensure work safely, and effective production operation; at the same time, it can upgrade and customizes different identification modules according to the requirements of customers, so as to meet the multiple identification needs of the production line.
Intelligent medical terminal equipment touch control & display solution
According to the special application requirements in the medical field, to meet the requirements of intelligent medical detection equipment, diagnosis, and treatment equipment, and self-service equipment, Touch Think independently developed and designed an industrial touch display product with high anti-magnetic interference, high efficiency, mute heat-dissipation, dust-proof, water-proof and vibration proof, which is suitable for the hospital environment, meets the supporting application needs of intelligent terminal equipment for the smart hospital.
66 products of eight series from Touch Think will display at the Expo
To meet a variety of fields of touch control & display requirements, Touch Think independently developed and designed a series of new products, aiming at different demands of embedded system, commercial application environment, heavy industrial scene, vehicle supporting the application, face recognition application, industrial control series, all these products produced with optimized and advanced details, meet the actual application needs of customers.