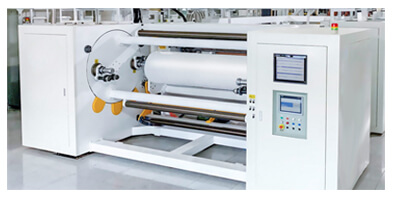 "Touch Think provides very fast feedback when updating software to meet customer needs."
Industrial all-in-one panel PC with PLC improves the availability and reliability of environmental film equipment.
Abstract: Guangdong Simcheng develops and produces cast film line equipment. They use modular, integrated PLC + HMI industrial panel PC to control the production line of cast film line, Bi-axially oriented film line. These panel PCs provide Simcheng with easy-to-use interface, fast response to alarms and precise temperature control.
Guangdong Simcheng is a company with 17 years of experience in manufacturing cast film line and Bi-axially oriented film line, it includes Aluminum plastic membrane equipment, lithium battery membrane equipment, PVA membrane equipment, which are widely used in diaphragm of lithium battery. In order to meet the needs of their customers, Simcheng adopts a powerful control system to provide the automation ability of the equipment.
Simcheng uses integrated PLC panel PC of Touch Think series to control their equipment. These modular, integrated industrial all in one panel PC with PLCs provide a flexible and easy-to-use control platform. Simcheng uses Touch Think 7 inch, 10.1 inch and 15 inch, 15.6 inch HMI panel PC on their product line and equipment, These panel PCs built with a variety of I/O interfaces, functional modules, which are stuck on the back of HMI panel PC together with CPU to form an integrated PLC + HMI controller.
Touch Think provides Simcheng with clear technical support and elegant product's aesthetic advantages.
The industrial HMI panel PC alert users of any immediate errors or problems through the alert management system. Professional software system installed in the panel PC to maintain the optimum temperature range for the extrusion process. And the HMI touch screen of Touch Think series has the following powerful control options: audio, video, PDF reader and VNC browser, which makes the process of operating the machine more direct and intuitive.
In addition, Touch Think company provides Simcheng with full before an after sales service, three-year warranty in all. Simcheng's engineers are also impressed by our products. "Touch Think provides very fast feedback when updating hardware or software according to customers' needs." Simcheng's engineers said. Simcheng Machinery has established a technology and business partnership with us.