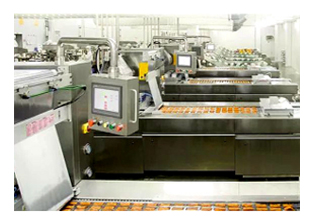 Food processing has a long history of development, most foods have made by hands in history. While for the modern food processing and manufacturing industry, with the continuous promotion of industrial reform, the industrial structure of food processing and manufacturing in China is also changing. Nowadays, it is one of the important ways for domestic food processing and manufacturing enterprises to enhance the added value of food to carry out deep processing with the help of modern technology and automation equipment.
Compared with the traditional manual production, the automatic food processing equipment greatly reduce the human participation, thus reducing the food safety risks and effectively improving the food safety. In the automatic food processing production line, bar code scanner, voice module, PLC controller, scale module, touch display device and other automatic equipment constitute the monitoring system to complete the processing and production. Among them, as the control center of the production monitoring system, touch display device is not only responsible for sending programming instructions, but also for data analysis, production data recording, production failure warning, data upload to the cloud,. etc.
Application of Touch Think industrial all in one PC used in fresh food processing integrated machine
As a manufacturer focusing on industrial touch panel PC with all-in-one design, Touch Think has rich experience in many industrial application scenarios, one of which is food processing and manufacturing.
1. Application products: Touch Think 15.6 inch industrial all in one Panel PC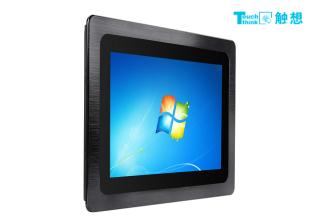 2. Focus of Products:
(1) The whole shell of the product is made of high-quality aluminum alloy, which has the advantages of light weight, high-efficiency heat dissipation and beautiful appearance. And combined with the flat and seamless design of the front display panel, the product achieve the function of IP65 dust-proof and water-proof, which meet the environmental requirements for some food materials need to be washed and more powder to be used during processing.
(2) Built-in Windows operating system, optional with Win7, Win8, Win10 and Linux, simple interface and easy to operate.
(3) The industrial all in one PC adopts industrial main board J1900, integrated with high-end all solid-state capacitor and Intel chip, combined with large-area fin shaped aluminum block for heat-dissipation, which adapt to the high load operation of food processing production line for 7 * 24h long time.
(4) In the food processing industry, most of industrial panel PCs are use wall mounting mode, but Touch Think also support other installation such as embedded, desktop, cantilever and VESA.
(5) Due to the wide range of food processing processes from raw material processing to packaging, different application scenarios requires that the all-in-one PC has more flexibility. Touch Think can support customized services such as size, screen, touch mode, functional module, operation environment,. etc.
3. Application Advantages
In general, the excellent performance of industrial all in one PC in automation system and technical support plays an important role in promoting food processing enterprises from improving production efficiency to massive production. At the same time, in the whole process of food production, industrial panel PC is also a huge driving force to reduce labor intensity, labor cost, energy consumption and enhance safety production.