Background Introduction
Under the background of increasing human cost and weakening manufacturing cost advantage, automatic spraying machine has become the best choice for many enterprises in spraying process. With the development of science and technology, viscose technology is widely used in more and more industries, such as leather industry, gift packaging industry, automobile manufacturing industry, paper production industry, building materials industry, etc. are inseparable from viscose technology, and even some hardware industries need to use viscose technology. Spraying machine is an important equipment for photoresist coating in modern optoelectronic industry. It can spray glue on products of different sizes and shapes, and edit and operate process parameters by computer system controller.
For traditional enterprises, production automation level is not very high and manual production is mostly used in enterprises. In order to improve the quality and efficiency of glue coating, the new automatic glue spraying machine is equipped with industrial intelligent equipment, which can meet the requirements of consistent product quality and high productivity, at the same time, reduce labor intensity and improve working environment. It is time-saving, convenient, easy to operate and labor-saving.
Functional Requirements
1. For the automated hot melt glue machine matching production line, it can input program to set the spraying material, and realize the automation of the whole spraying process.
2. The automatic hot melt glue spraying machine has the function of detection and control. During the whole use process, it can automatically detect the position of spraying glue and the amount of glue produced according to the actual situation, and automatically stop running once there is abnormal power supply and overvoltage.
3. Hot melt glue sprayer machine should equip alarm function. In the process of using the equipment, if abnormal phenomena occur, it will alarm to remind users to avoid accidents.
4. The automatic spraying machine can maintain high speed spraying in linear operation, realize the continuity of operation and ensure the production efficiency.
5. Programming control of hot melt glue machine can realize spraying glue of various shapes, whether regular or irregular, which has strong practicability.
Principle Description
According to the requirement of the adhesive technology of the bottom plate of the packing box, glue is applied at the edge of the bottom plate 2.5mm, and the glue width is 4-5mm. It is required that the amount of spray glue is even, no spots, knots or filaments.
The design of NC spraying machine is mainly composed of mechanical, electronic control and pneumatic parts. The mechanical part of NC spraying machine is mainly composed of bracket and transmission part to realize the trajectory movement of spraying gun. The electronic control part is mainly composed of a computer and a control driving board. On the basis of judging the signal of the sensor, the spraying program is run to control the operation of X and Y servo motors. At the same time, the aerodynamic part of the spraying is controlled to complete the precise spraying work. Aerodynamic spraying part mainly consists of spraying pump, solenoid valve, glue spraying gun, glue water pipeline, pneumatic pipeline and so on. The NC spraying machine is programmed by CAD/CAM technology, and the NC spraying system is realized under the organic combination of CAD/CAM module, software module, control board module, servo module and pneumatic module.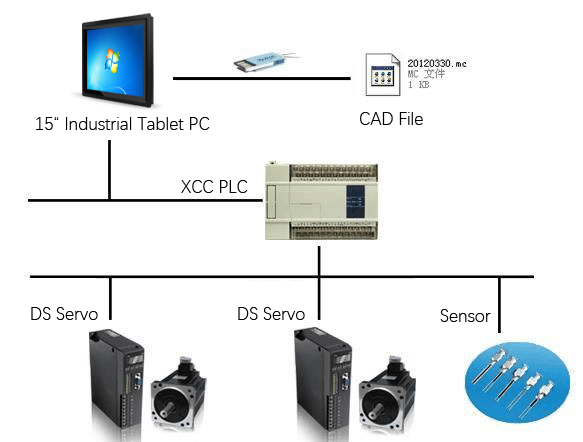 Why Touch Think
1. 15 inch industrial tablet PC with 3mm ultra-thin front panel, perfect for embedded mount. Excellent operation experience.
2. Industrial grade motherboard, 2G+32G storage, stable and smooth operation, multi-serial port and USB interface can be connected to a variety of external devices.
3. Support 365*24 hours uninterrupted operation function; IP65 rating dust-proof and waterproof for front panel.
4. Aluminum alloy material, high efficiency heat dissipation, anti-magnetic and anti-interference performance in multi-signal environments.
5. Five-wire resistive touch screen, support any objects touch
6. Support plug-and-play, auto-alarm function
The glue sprayer machine based on the hardware platform of Touch Think 15 inch industrial tablet PC has the advantages of short design cycle, low cost, high-quality, high efficiency, stable performance and product practicability. The spraying machine produces products of different specifications with strong stability and good consistency of spraying quantity. It not only improves production efficiency and quality, but also reduces labor intensity and development and manufacturing costs.