BAJ high-speed air-jet loom electronic control system is an integrated solution of high-end air-jet loom independently developed and produced by one of our customers, which is suitable for the mainstream air-jet looms at home and abroad. The system adopts modular design to support the customized requirements of electronic let-off, electronic take-up, electronic dobby, electronic jacquard, folding in edge, double warp shaft, outer winding, electronic twist weaving, etc. Cooperate with customers' Cloud information platform to provide users with intelligent textile solutions.
System Topology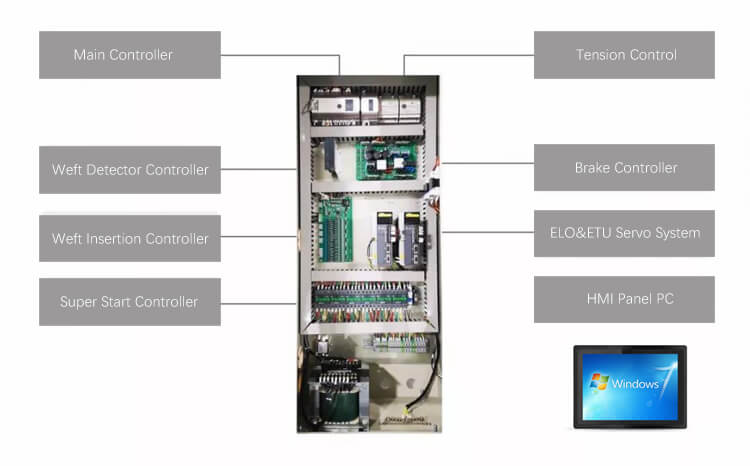 Touch Think Industrial HMI Panel PC Used in the high-speed air-jet loom electronic control system
System Features
1. High performance special main controller is adopted, and the maximum applicable speed is more than 1500RPM.
2. Offer electronic take-up, electronic let-off, and a series of security protection.
3. It supports 8-color weft selection and 48 groups of solenoid valve nozzle control. The number of solenoid valves can be increased according to specific requirements. With the help of an automatic weft insertion algorithm, energy-saving and air-jet consumption can be effectively reduced.
4. It supports many kinds of compensation methods, such as translation compensation of fabric, ten weft compensation, let-off compensation, take-up compensation, etc. Adapts to all kinds of fabrics and control flexibly.
5. Support controllable weft-density, electronic dobby, electronic jacquard, air beating, stop prying, speed-shift control, stable tension control, to ensure fabric quality.
6. Support more than 12-channel fold in edge control, intelligent automatic weft insertion control, double-axis control, XNET bus control to achieve high-speed electronic weave.
7. Support access to Cloud information platform, equipment configuration, data acquisition and analysis, remote control, remote fault reminder, and troubleshooting.

Field Applications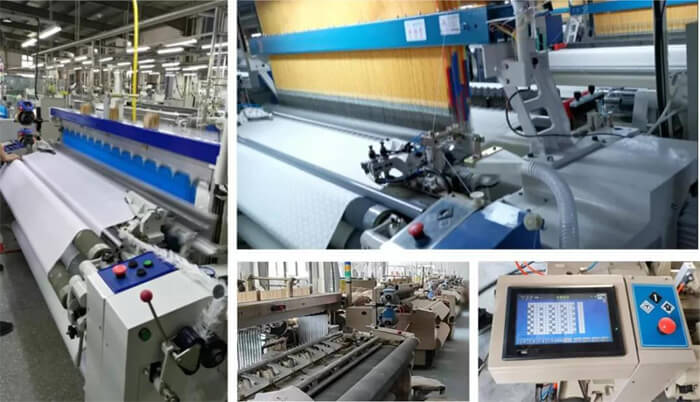 ---
Touch Think Industrial Panel PC For Industrial Automation
| | | | | | |
| --- | --- | --- | --- | --- | --- |
| Model | LCD Display | Resolution | Aspect Ratio | Touch Screen Type | Get A Quote Now! |
| TPC070-W-QD | 7" | 1024*600 | 16:9 | Capacitive / Resistive / Non-touch | Inquiry |
| TPC080-W-QD | 8" | 1024*768 | 4:3 | Capacitive / Resistive / Non-touch | Inquiry |
| TPC101-W2 | 10.1" | 1280*800 | 16:10 | Capacitive / Resistive / Non-touch | Inquiry |
| TPC104-W2 | 10.4" | 1024*768 | 4:3 | Capacitive / Resistive / Non-touch | Inquiry |
| TPC116-W2 | 11.6" | 1920*1080 | 16:9 | Capacitive / Resistive / Non-touch | Inquiry |
| TPC120-W2 | 12" | 1024*768 | 4:3 | Capacitive / Resistive / Non-touch | Inquiry |
| TPC150-W2 | 15" | 1024*768 | 4:3 | Capacitive / Resistive / Non-touch | Inquiry |
| TPC156-W2 | 15.6" | 1920*1080 | 16:9 | Capacitive / Resistive / Non-touch | Inquiry |
| TPC170-W2 | 17" | 1280*1024 | 5:4 | Capacitive / Resistive / Non-touch | Inquiry |
| TPC173-W2 | 17.3" | 1920*1080 | 16:9 | Capacitive / Resistive / Non-touch | Inquiry |
| TPC190-W2 | 19" | 1280*1024 | 5:4 | Capacitive / Resistive / Non-touch | Inquiry |
| TPC191-W2 | 19.1" | 1440*900 | 16:10 | Capacitive / Resistive / Non-touch | Inquiry |
| TPC215-W2 | 21.5" | 1920*1080 | 16:9 | Capacitive / Resistive / Non-touch | Inquiry |
| TPC238-W2 | 23.8" | 1920*1080 | 16:9 | Capacitive / Resistive / Non-touch | Inquiry |
---