In recent years, with the continuous expansion and development of business, most of our customers from industrial automation field have continuously improved production automation technology, strengthened investment and efficiency in product development and process automation. The large-scale application of machine vision in production process is an important measure to continuously improve production automation.
Application Introduction
Machine vision inspection has become a very common tool in modern industrial production. However, the traditional manual detection effect will be affected by the quality, working state, experience and other factors. The detection efficiency is low, and the instant fatigue of human eyes may cause a significant loss. Compared with human eyes, machine vision can better detect the errors in the production process, better detect the quality problems of products, improve the efficiency of industrial production and the production automation degree, and improve the accuracy of industrial production, so as to speed up the process of work and save time.
This article introduce the machine vision system of one of our customers is applied to the detection of product size and surface defects, which greatly improves the efficiency and automation of production detection.
Project Requirements
The automatic production line requires that the equipment can work continuously and stably for 24 hours, with compact structure, no noise and vibration, and superior electromagnetic compatibility. After strict testing and screening, Touch Think 15.6 inch industrial tablet PC is selected as the information interaction terminal of machine vision system.
Solution
1. This 15.6 inch industrial tablet PC is used to display the interface of machine vision software. Through the touch screen, users can directly open the control interface of machine vision software, check the data of software operation, and set and modify the relevant data according to the production process requirements.
2. Connect the main switch through LAN interface, transmit data to machine vision detection intelligent camera and other machine vision supporting equipment (light source, alarm device, etc.).
3. The machine vision camera is installed in the product detection production line, which transmits the image data of the product to the main computer for image data processing. When the defective product is detected, it will alarm and remove it through the transmission system.
Product Features
15.6" LED backlight touch LCD
Light and thin design, front panel IP65 dustproof and waterproof
Intel Celeron J1900 2.0GHz high efficient while low power consumption processor
4*COM, 4*USB, 1 GbE, HD Audio, VGA
Support many installation methods: panel mount, embedded mount, VESA75/100, desktop, wall-mounted,.etc.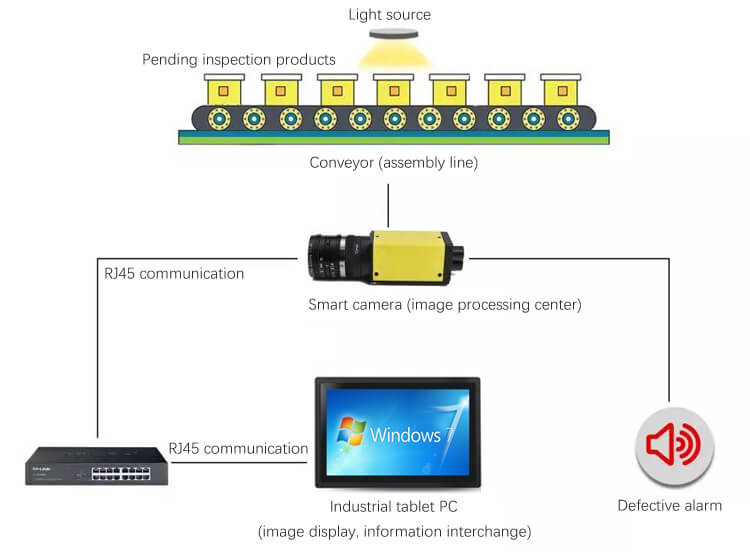 About Touch Think
Our mission is to develop industrial computers and related products that are most suitable for this application scenario for global industry users, and provide customers with high-quality products and services. After years of efforts, We have been widely recognized by customers in the fields of industrial automation, factory automation, container terminal, intelligent warehouse management, steel manufacturing, digital mine, modern fleet scheduling, MES workstation, industrial equipment manufacturing, etc.