Industrial touch displays are widely used in laboratories of universities and colleges. It has good anti-interference performance and strong environmental resistance. It can work without obstacles at high and low temperatures. In addition, in recent years, industrial touch displays have also been used in various vending machines because it has a Capacitive Touch Screen that can ensure the stability of work 24 hours a day. In addition, it is also used in some applications in the workshop control cabinet. Through the application of embedded tablet computer equipment, it is faster and more efficient. So what are the advantages of professional industrial touch displays?
What are the advantages of industrial touch displays?
High security
Taking into account the particularity of Industrial Touch Displays, most of them use industrial drive boards to make them safer and more stable. In the first step, their components usually use industrial-grade components from well-known brands at home and abroad. The control chip adopts the industrial-grade display chip of the big brand, which can ensure the long-term stability of the industrial touch display.
Anti-magnetic and anti-static
Overall, the best cost-effective industrial touch displays have a longer lifespan. It uses a pressure-resistant design, anti-static design, anti-interference design, and anti-magnetic design. Motherboard power management usually uses imported brand chips. It has the characteristics of high reliability, wide operating temperature, and low relative humidity requirements.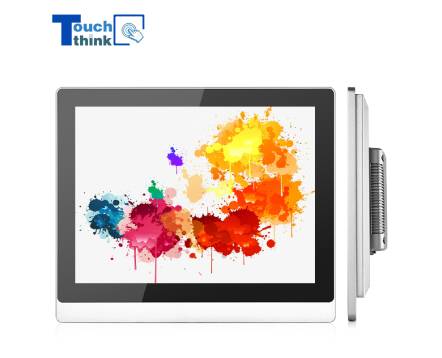 Capacitive Touch Screen Monitor
Very good picture quality
Industrial touch displays have been carefully designed, including multilayer structures, and their image quality should be better. For example, it uses an industrially controlled LED-backlit HD LCD screen. Indoor colors are still excellent, making the screen display effect of the industrial touch screen better.
Good heat dissipation
According to the manufacturer of the industrial touch display, it has a strong waterproof capability and fully meets the dustproof and waterproof standards. When it is installed in the control cabinet, it can prevent water droplets and water vapor from splashing into the scene and avoid affecting the operation of the equipment. In addition, it also has excellent heat dissipation. Many industrial touch monitors are made of aluminum alloy, which is not only beautiful and texture, but also the heat dissipation performance of the product has been improved.
Industrial Touch Display Monitor Supplier stated that many displays have also been used in the bicycle-sharing industry. As a smart and cost-effective display, it has become popular in the industry. It plays an irreplaceable role in various public places, medical equipment, office self-service systems, and industrial automation equipment.