Industrial touchscreen displays are becoming a common and key technical feature in many industrial environments and projects. The capabilities of each new generation of industrial displays are becoming more and more advanced with each generation, the user interface is easier to navigate and use than ever before. In addition, industrial displays are more affordable and easier to maintain than in the past. Touchscreens are integrated into machines and can also be found in industrial computers for data transfer on distributed systems.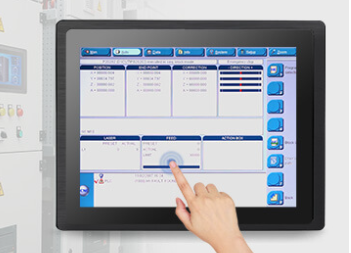 If you're wondering whether this is a worthwhile investment for your business, read on to find out more about the benefits of industrial touchscreen displays.
Ease of operation
Industrial touchscreens make it easy and efficient to operate and control machines using just one user interface. A variety of operations/inputs (e.g. zoom in/out, rotation) can be performed via multi-touch functionality. Because the user operates the electronic equipment by directly touching the image he sees on the display, the operation will be intuitive and therefore anyone can operate it from the first use.
In addition, having a high-resolution touchscreen display will have obvious benefits as the user will have an excellent visual experience.
Easy to clean
Industrial touchscreen displays are very easy to clean and maintain. Fingerprint smudges and marks can be wiped away with a soft microfibre cloth. The touchscreen monitor also comes with a durable housing that prevents dust, water, and other debris from penetrating the surface and causing internal damage.
Durability and resilience
Because these displays are designed for industrial use, they include certain protective features that ensure excellent long-term performance. Industrial touchscreens are durable and can withstand a variety of harsh environmental conditions and rough use. Ideal for industrial sites, building automation, warehouses, electrical distribution centers, medical equipment, and retail, and even for safe and stable operation in extreme marine environments. Touch Think industrial displays can be customized to the specific parameters required for each application.
Speed and efficiency
Touchscreens are operated by capacitive touch or resistive touch. This means that you can use your finger or stylus to perform a variety of functions with great precision, speed, and efficiency. The intuitive design of these displays enables them to automatically detect accidental touches, such as wiping across the screen or actually performing a function, in order to prevent system errors. Functions can be performed faster by direct touch, without peripheral devices such as a mouse.
Safe and reliable
Whether permanently installed or as a portable device, the reliability of touchscreens is an important link in the industrial production chain. In general, industrial touchscreen displays offer excellent safety and reliability as long as you provide them with the appropriate protection.
Touch Think stands for high security and reliability. Our industrial touchscreen monitors are so durable and robust that they eliminate downtime and ensure smooth industrial production. The requirements for touchscreens vary considerably, depending on the individual branch of the industry. However, thanks to its long experience as an industrial display & panel PC manufacturer, Touch Think is able to produce a touchscreen display solution that is suitable for your project.
Touch Think offers world-class, customizable touchscreen displays for industrial environments. Contact us today to find out more.