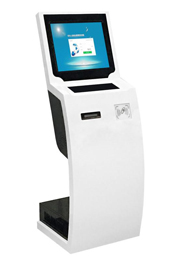 Nowadays, touch query integrated machine has already become a high-end electronic touch product available in the market, which brings a lot of convenience to everyone's life an nd w d work. However, due to the development of touch query all-in-one machine is not very long, people do not know very much about it, so when consumers purchase touch query all-in-one machine, they are often troubled by various problems.
Although the touch query all-in-one machine has a unique touch function, it is still belongs to one of the computer products, normally, industrial grade computer with Android or Windows OS and industrial touch screen are equipped in the touch enqury all in one device, such as interactive touch screen kiosk, free standing self service query machine, vending machine and self-service navigation machine in public areas. Then how to choose the suitable operating system for the all in one device to ensure reliable operation has become a problem for many users. At present, the touch query all-in-one computers in the market are basically adopt to Android and Windows operating system. Which system is more suitable for touch query all-in-one computers?
Here listed some features of these two system.
Touch query all in one device with Windows OS
(1) In terms of the configuration cost of Android and Windows OS version, the cost of Windows is higher than that of Android. Conventional selection systems include Win7, Win8 and Win10. The Windows system update is backward, existing many loopholes, sometimes it is unstable and vulnerable to viruses and Trojans, easy to cause file loss or open failure.
(2) The system can't be customized, can't be developed in depth, the cost of genuine system is very high, and windows touch query integrated machine needs to be activated in a way if it is not genuine. And Microsoft system does not have open source, only unilateral connection and adaptation is available.
(3) The version of the system's own software is relatively low level, so it needs to uninstall and upgrade or install the third-party external software by itself.
(4) All software and programs are pre-installed on Disk C, which increases the burden of the system. Even if the system is uninstalled, there are still a lot of garbage fragments left, which is easy to slow down the system.
In addition to the touch screen, the hardware configuration of Windows all-in-one machine is similar to that of PC in other aspects. It requires CPU, hard disk, memory, etc. Most of them are inserted into the interface, which may cause looseness during transportation, resulting in failure to start the machine. There are too many interfaces need to be maintained, and due to these accessories are produced by different manufacturers, the compatibility failure is prominent, such as blue screen, memory error code, etc.
(5) Abnormal shutdown is easy to cause system collapse or file loss.
Touch query all in one device with Android OS:
(1) The open source system can be developed and customized in depth. For example, all Internet TVs are Android systems developed and customized in depth, and the stability has been recognized by the market.
(2) Android industrial main board is integrated designed. A large number of software and hardware technicians are attracted to join in R&D of much kinds of industries with Android OS due to the openness of the system. At present, Android touch query integrated machine supports connect with most of the software and hardware needed for office, business, teaching, entertainment, etc. The stability is relatively mature, and multi-functional application App can be installed.
(3) The system version is updated quickly to solve the software and hardware compatibility problems found in the market, and the upgrade is simple and convenient. Android operating systems offering range from basic 4.2 version to current 7.1 version.
(4) The hardware of the Android touch screen all-in-one machine is integrated package, and all hardware is packaged on the main board, so the components won't loose during the transportation. And after a long time of professional compatibility test by the manufacturers, there is no concern about compatibility problems. And system problem can be solved by U disk's re-upgrading or system upgrade. The operation process has been greatly optimized and can be completed without professionals' guide. The system files are invisible, not easy to infect virus and with low maintenance cost.
(5) It does not need to shut down according to the process steps. It can shut down directly without causing system collapse.
(6) Android system is widely used in touch screen all-in-one machine, its cost is lower than that of Windows. In the field of commercial display terminals, Android Market share is mostly bigger than Windows system.
Android system itself is born for touch, so it has the best performance in supporting touch. Many applications developed based on Android OS have significantly higher touch experience than those based on Windows. In addition, Android system also supports keyboard input and mouse-control operation.
Conclusion
Under the same experience configuration, no matter the hardware cost or system copyright problem, cost of Windows all-in-one machine is higher than that of Android all-in-one machine, which is also a common fact known in the market.
In a word, compared with Windows all-in-one, Android touch screen all-in-one device has more and more advantages in system stability, hardware stability, developability, maintenance cost and reliable performance. More customers tend to choose Android operating system in touch all in one devices.