Medical resources refer to the general term of providing medical services and production factors, including medical expenses of personnel, medical institutions, medical beds, medical facilities and equipment, knowledge, information, and skills.
After a wide-ranging and long-lasting outbreak of the COVID-19, many people have a further understanding of medical resources. The adequacy of medical resources has become a hot topic. At present, although the domestic epidemic situation has been controlled, the international epidemic situation is still in the spreading stage. No one can predict how the future epidemic situation will develop, but in any case, sufficient medical resources should be equipped to cope with the unknown future, which is a problem to be considered.
Medical resources are not only linked to the level of economic development but also seriously affected by government policies and investment ratio. By 2030 to 2050, according to the population statistics, China's elderly will be close to 500 million, which will be the time when more medical resources are needed. However, the reality is that China's population is decreasing, the relationship between doctors and patients is not well, and the enrollment of university medical schools has continued to decline in recent years, which is a signal.
How to deal with this problem, many people provide suggestions from reality, such as increasing investment, improving the medical staff's salary. Some people also focus on future development and make some changes to the hospital through new technology. For example, at present, many hospitals install self-service terminals to solve the problem of insufficient medical staff by simply picking up reports and taking s-ray films, and using robots to deliver meals, disinfect and even operate on patients.
In the future, medical robots will become an important medical resource in smart hospitals.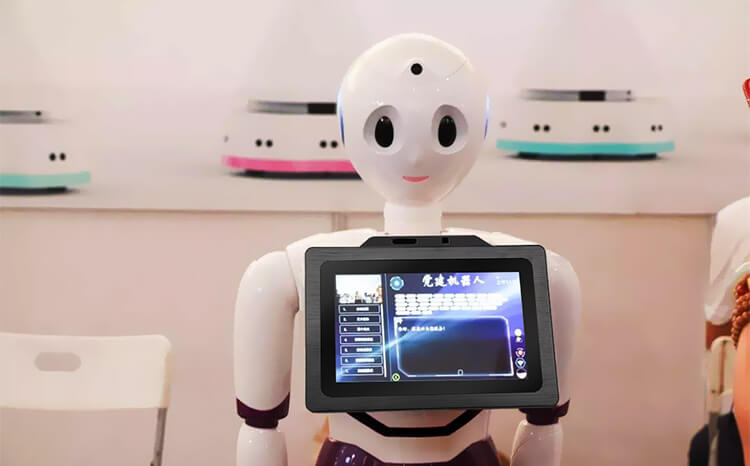 For robotic surgery, surgeons can operate machines far away from the operating table. The medical robot is composed of a console and an operating arm. With the cooperation of the computer system, operation monitor, robot control monitor, input and output equipment, more refined medical operation can be completed.
In the hospital environment, some applications of medical robots, such as monitor, console, etc., all need high-resolution touch display devices. The sensitive touch screen can cope with the doctor's meticulous operation, long-term operation, and sudden emergency is not allowed. The stability of the equipment also has high requirements.
Touch Think brand Android industrial all-in-one touch panel PC, equipped with a self-developed industrial motherboard that adapts to the requirements of medical robot touch equipment, with strong compatibility. And it offers industrial-grade performance in terms of environmental adaptation, hardware, and software support. And in terms of the control operation, setting, and installation, it meets the requirements of medical robot control equipment.
Recommended products:

Industrial touch display monitors
• Integrated design saves space and reduces tedious operation procedures;
• The aluminum alloy fuselage design is robust and durable, reducing the frequent updating of medical equipment;
• 3mm front panel, embedded in medical equipment to form complete all-in-one equipment;
• Sensitive touch screen enables medical staff to identify operating equipment while wearing gloves;
• Industry-grade rugged core boards ensure long time stable running;
• The mainstream interface design can be customized to support medical multi-function;
• Strong compatibility, suitable for operation in various special environments;
• Low power chipset saves energy consumption and reduce the pressure of high current under the operation of much medical equipment.