In terms of market size, the market size of Industrial Displays is less than 1% of the market size of consumer displays. The current market size of consumer displays is US$100 billion, while the market size of industrial displays is only US$1.2 billion. However, as the industry's demand for touch screen technology continues to grow in the low- and medium-volume markets such as handheld devices, monitors, displays and other interactive applications, especially in the medical and industrial fields, the market for industrial LCD modules with touch screen technology is increasing Gradually pick up.
At a recent media meeting held by a motor company, a motor company's LCD business stated, "Although projected capacitive touch screens have been widely used on iPhones and iPads, they are rarely used in the industrial field. In response to demand, the LCD module equipped with a projected capacitive touch screen for the industrial field was launched. The module has high visibility and high durability.
In addition, its unique detection and control processing technology can be operated through a protective glass with a thickness of 2.8mm, can be operated with gloves, and can be detected even when water droplets are attached to the touch screen.He also pointed out, Our projected capacitive touch screen LCD module has a liquid crystal in the middle, a protective layer on the top, and a control circuit below. We integrate these three parts to reduce failure rate and interference. Other general products are separated, and each part may interfere with each other.
When talking about future product development strategies, two types of products will be focused on. One is products that emphasize high technology and are used in outdoor and medical equipment; the other is standardized products that emphasize high cost performance and are used on ATM and POS machines.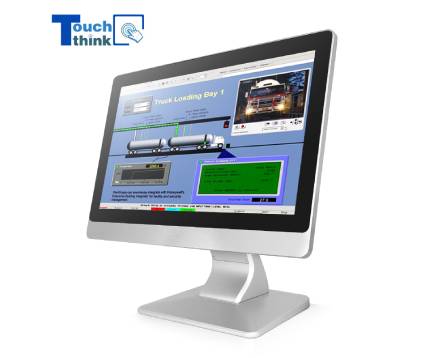 Capacitive Touch Screens
He is very optimistic about the application of projected capacitive touch screens in the industrial field, because such products are widely used and can be used in industrial automation, gas station terminals, aircraft displays, automotive GPS, medical equipment, bank POS and ATM machines , Industrial measuring instruments and high-speed trains, etc.; in addition, Mitsubishi is working hard to reduce the cost of projected capacitive touch screens and make them more cost-effective; and the intuitive interactive mode of the touch screen can shorten the training time and reduce the software Cost of opening. Therefore, the future of projected Capacitive Touch Screens in the industrial field is still very promising.
Industrial touch screens usually use resistive screens, but today's touch products have developed powerful and responsive capacitive screens to completely replace resistive screens. With the development of electric power, metallurgy, and traffic lights, the requirements for industrial computer are also increasing. Relatively driving the demand for industrial computer touch screen, the touch screen is also a high standard requirement.
The light transmittance and clarity of the capacitive touch screen is better than the four-wire resistive screen, and the capacitive screen has serious reflection. Moreover, the four-layer composite touch screen of capacitive technology has uneven light transmittance to light of various wavelengths, and there is a problem of color distortion. The reflection between the layers also causes the blurring of the image characters. The main disadvantage of the capacitive screen is drift: when the ambient temperature and humidity change, and the environmental electric field changes, it will cause the capacitive screen to drift, resulting in inaccurate capacitive touch screen outermost Silica protective glass is very scratch-resistant, but it is afraid of nails or hard objects. If a small hole is knocked out, it will damage the interlayer ITO, whether it damages the interlayer ITO or the inner surface ITO layer during installation and transportation. The capacitive screen will not work properly.
It is understood that there are few industrial control OS or UI interface development applications suitable for capacitive screen operation, and there is no certain industry standard. The market for industrial control capacitive screens is growing very slowly in the pre-installation market in China. In this regard, basically those touch IC or capacitive screen manufacturers that have previously cooperated with international manufacturers in the industrial control field have taken advantage of foreign electromechanical equipment import channels to dominate the industrial control capacitive panel market in China. In the after-installation or retrofit industrial control market, the original system is generally used for temporary debugging or data processing through a wireless connection through a commercial tablet such as an IPAD.
As the Industrial Internet involves industrial information security, all aspects of research and development in industrial control mainframes or industrial control panels are very cautious. The interface interaction methods currently used for industrial control hosts or flat boards are basically mouse, keyboard and resistive touch screen. When inputting production materials, most of them still use traditional mouse and keyboard methods. When performing local data adjustment on site, they are performed through Resistive Touch Screens. In the future, industrial capacitive touch screens will gradually replace resistive screens.