Face recognition is a kind of biometric identification technology based on facial feature information. It has the features of accurate recognition, contactless, and unattended. It is a popular recognition method and is widely used in many fields such as airports, train stations, supermarkets, cinemas, office buildings, smart communities, and government agencies.

The face recognition system is a comprehensive application in the fields of artificial intelligence, Big Data, and Cloud Computing. It matches the face recognition equipment through the face recognition algorithm, and completes the face recognition task through four procedures: capture face information and detect, Face image preprocessing, faces image feature extraction, matching, and recognition.
According to statistics, in 2020, under the influence of the epidemic, the shipment of face recognition turnstile is estimated to reach 410000 units, with a year-on-year growth of 50.2%. Most people believe that contactless recognition, infrared temperature measurement, and intelligent traceability can quickly and effectively prevent the epidemic. This cognitive change has triggered the explosive growth of face recognition equipment.
At present, Touch Think has rolled out two types of face recognition devices, which are developed to match software providers and integrators. It designs two sizes of 8-inch and 11.6-inch, comprehensively upgrades the appearance, structure, function, and adaptability to meet different application scenarios, and supports upgrades the recognition mode according to the needs of the scene.
Face Recognition Motherboard Scheme
Touch Think customized face recognition board scheme for face recognition application, matching face recognition algorithm application, to meet the needs of zero-second operation recognition, adopting RK3288, RK3399 high-performance Android Architecture Board, the motherboard structure and components are more in line with face recognition technology standards, Stable running performance, high extensibility, to meet the system upgrade and function expansion.
8-inch Face Recognition Equipment
The Touch Think 8-inch face recognition equipment equipped with small size motherboard, monocular/binocular camera for option, and equipped with NFC recognition module, also support upgrade RFID / ID card reading and recognization, the sensor sensing through automatic wake-up, gate turnstile is the mainstream installation method, but wall mounting and desktop bracket installation also available in some applications, such as office buildings, parks, Bureau halls, and financial places.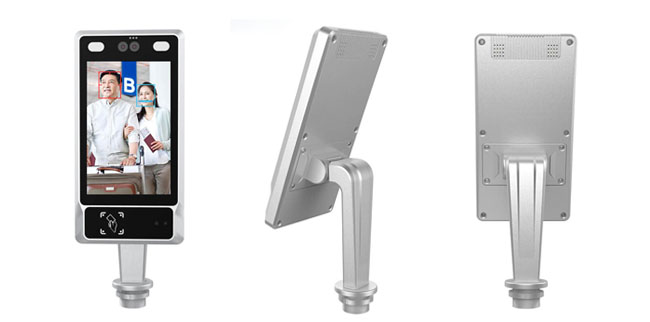 11.6 inch Face Recognition Equipment
11.6-inch face recognition equipment, also known as a multi-functional intelligent terminal device, has features of multi-function, multi-field applications. The main application scenarios include smart factory, public security system, smart community access control management, etc. the identification functions are compatible, including touch button, fingerprint collection, barcode scanning, etc.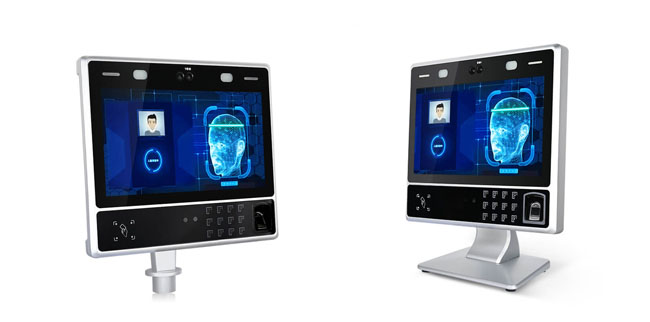 Functional Features
8-inch and 11.6-inch face recognition devices, in addition to the appearance size, function expansion, and their own application scenarios, have the same recognition technology functions, such as high definition camera, liveness detection technology, temperature measurement module expansion, 0.5m recognition distance, effective recognition linear distance of 1m, automatic sleeping, LED fill light, RGB camera fill light source, control interface in SDK, etc.
Temperature Measurement Module
In the current environment, identity recognition can not meet the needs of basic recognition, and body temperature has become the additional information of identity recognition. Face recognition devices equipped with body temperature monitoring module is common in many scenes such as community, hospital, traffic and so on. In essence, the main function of face recognition is to recognize people's identity. The real scene is complex and changeable, the face recognition device can rapid identification of identity, and through identity locking, connection, carrying information.
Application Scenarios
Compared with the same type of face recognition devices in the market, Touch Think face recognition devices have more advantages. They're built with industrial-grade quality and performance, and suitable for various application scenarios. Liveness detection technology ensures the application security in financial payment scenarios, identification technology, and Big Data connection make the application of public security inspection scenarios more complete, further simplify the traffic procedures and eliminate paper tickets in traffic scenarios.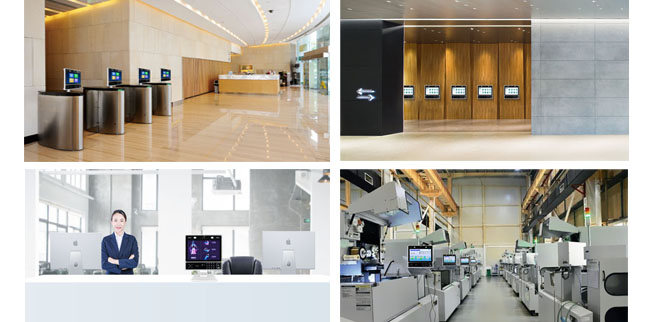 Corresponding to the different scene applications, the features of face recognition technology are different, such as recognition efficiency, accuracy, facial database, temperature measurement module, etc. Today, accurate face recognition is closely related to people's food, housing, and transportation. Touch Think face recognition devices, with advanced technology, self-developed architecture motherboard, multi expanded functions to meet application scenarios' requirements, etc., has been recognized by many partners. In the future, we will continue to optimize and upgrade our solutions to further expand the possibility of face recognition.