There is no doubt that mobility has had a profound and lasting impact on the way businesses get work done in this space. When choosing a vehicle mount computer, you should consider a number of factors to ensure that your investment will help improve employee productivity and increase business revenue. Consider the features that an onboard computer should have in order to provide the most value and fastest return on investment for your warehouse.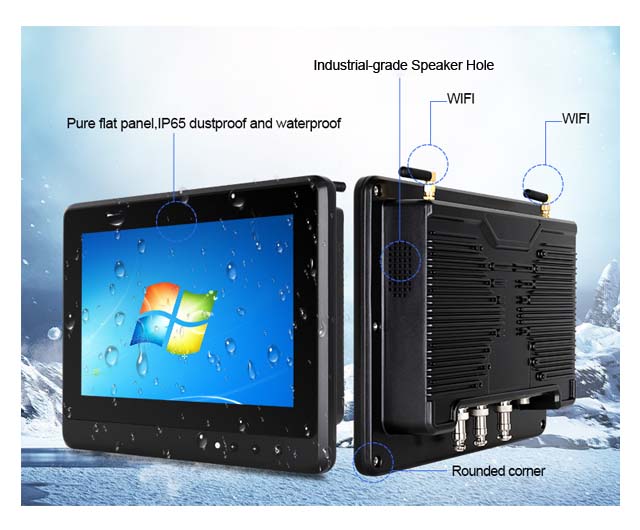 Ruggedness
In the field, mobile technology is exposed to water, dust, drops, falls, impacts, chemicals, and exposure to extreme heat and cold on a daily basis. Consumer-grade tablets are not designed to operate and withstand these types of harsh conditions.
The computer or tablet you install should be rugged enough to withstand potential shock and vibration. By choosing a rugged computer, you can rest assured that you will not experience frequent breakdowns, repairs, or replacement issues. Spending a little more upfront on rugged equipment can result in a higher return on investment.
Size
Screen size is an important decision when considering the installation of an onboard computer. How large of a screen do your employees need to be most productive? This depends on your application and the tasks the forklift driver must complete. Also keep in mind that larger tablets installed will take up more space in your vehicle and may require different power requirements than forklifts.
The right mobile in-vehicle tablet for your business is critical to continued future success, and TOUCHTHINK can guide you through the selection process for a rugged in-vehicle computer system, ensuring the right mounting options for your application needs.
Processing Power
Depending on your specific application, you need to consider the computer power required to run them successfully. Computers designed for industrial use have more processing power than consumer-grade computers and some commercial-grade computers. The right computer will allow your employees to run applications without wasting time waiting for pages to load or data to be processed. In addition, when considering applications or software upgrades, investing in a more powerful onboard computer now will help you move forward.
Flexibility
Clearly, rugged tablet computers offer workers the flexibility to work virtually anywhere in the field. Rugged tablets come with a broad portfolio of accessories that can be installed, carried, and charged in the field to fit any environment. For example, the rugged tablet can be equipped with a mounting unit for forklifts. This accessory protects the tablet from drops and shocks that could shorten its life of the tablet. Consider the following features.
Multiple mounting options to meet the needs of your vehicle model;
Power options and conversion kits for easy installation;
Removable screen and keyboard options for replacement.
Multiple modes
Conditions for vehicle operation vary depending on the facility environment. Rugged in-vehicle computers are required to effectively handle voice prompts in noisy environments. Screen layout features and intensive scanning applications should operate easily despite low light or dramatic temperature changes. Voice options for hands-free operation, power switching, and ignition control should also be available.
Now you know the tips. Please click here and leave us a message about the type you are interested in, we'll answer you as quickly as the lightning.